Benedict Cumberbatch Knows What He Wants On Doctor Strange's Awesome Mixtape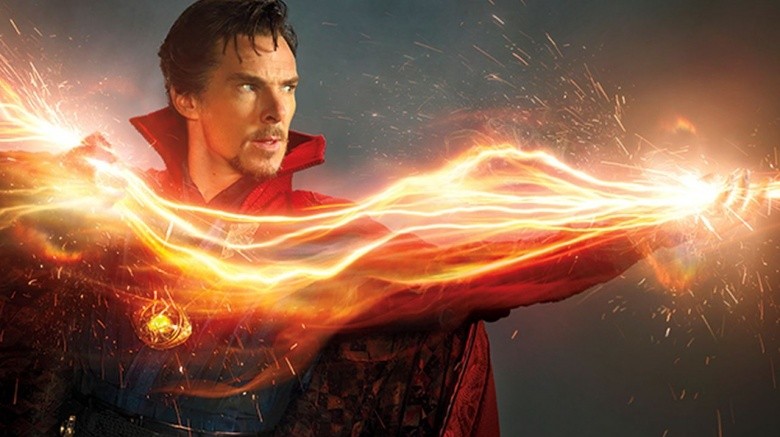 Benedict Cumberbatch doesn't need Star Lord's help when it comes to making his own awesome mixtape.
In a recent interview with Collider, the Doctor Strange star talked about the music in the film, which included Earth, Wind & Fire, Pink Floyd, and Beyonce, saying that, if Stephen Strange were to make a mixtape a la Star Lord in Guardians of the Galaxy, it would be "awesome."
"I think, you know, Radiohead would feature, Elbow," he said. "I'm just mentioning all my favorite bands. No, I mean, if [director Scott Derrickson] can go from Chuck Mangione to Pink Floyd, I think you're covering a lot of bases. It would be a very, very interesting time as a DJ."
Cumberbatch also joked that Strange and Star Lord should exchange tapes to help get Chris Pratt's character out of the 80s.
"Both Star-Lord and Strange have quite a lot of music going on in their worlds," he said.
In the interview, which came ahead of Doctor Strange's DVD and Blu-ray release on Feb. 28, Cumberbatch also gave kudos to the film's Oscar-nominated special effects department, which lost out to The Jungle Book at the Sunday ceremony.
"It's all smoke and mirrors, all of it," he said. "It was phenomenal, I mean, it was so realistic, I remember at one point there was a grip who went in to fix a piece of machinery in a machine shop that was just part of the set dressing. These places on set actually worked. I mean, they were extraordinary acting environments where not only you, but also the camera could just spin 360 degrees and you leave the environment you're in. So that's a huge help."
If you're a fan of Doctor Strange, read up on the insane history behind the character and see the biggest Easter eggs you may have missed from the film.