The Iliza Shlesinger Rom-Com That Everyone's Watching On Netflix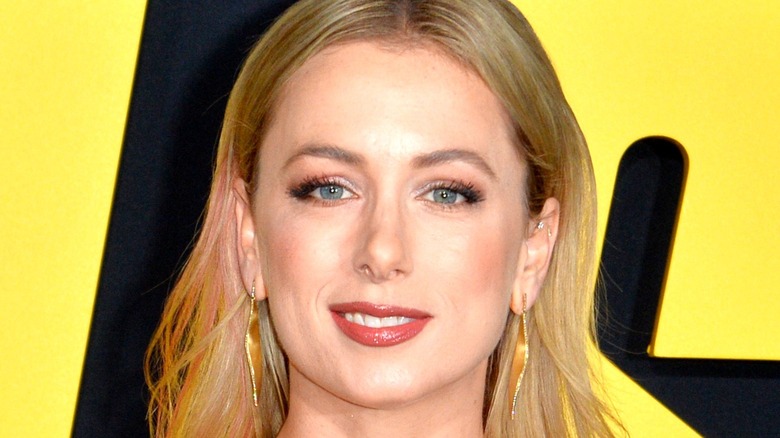 Shutterstock
Iliza Shlesinger has been a comedic mainstay at Netflix, where she released five comedy specials from 2013 to 2019 and landed her own sketch show in 2020. Now, she has her own movie, a romantic comedy based "mostly" on her own true story.
Written by and starring Shlesinger as Andrea Singer, "Good on Paper" is fellow comedian Kimmy Gatewood's directorial debut. It stars Ryan Hansen ("Veronica Mars," "2 Broke Girls") as Dennis Kelly, Andrea's love interest, with Margeret Cho ("30 Rock," "Drop Dead Diva") and Rebecca Rittenhouse ("The Mindy Project," "Once Upon a Time in Hollywood") playing Andrea's friends, Margot and Serena, respectively.
The movie starts with Andrea and Dennis meeting on a plane, where Dennis recognizes her as a comedian and introduces himself as an accountant. The two hit it off after that, until Dennis' apparent "perfection" starts to become too suspicious for Andrea and her friends, who begin to devise schemes to get him to reveal whatever secrets he may be hiding.
Good on Paper is a funny yet serious examination of catfishing (or 'cuttlefishing')
With a perfect 50% split on Rotten Tomatoes (as of June 23, 2021), you mathematically could not find a movie critics are more divided on. However, those who enjoyed the film cited the cast's strong performances, especially Shlesinger's as a confident, funny woman whose only weakness appears to be Dennis. While remaining comical and self-aware, the film also makes strong statements made about how manipulative men can deceive strong, intelligent women, and includes a compelling mystery surrounding whether Dennis is one of those men or not.
In her review for RogerEbert.com, Monica Castillo wrote, "It's a strangely specific yet somewhat universal tale — something that could happen to anyone ... Despite the movie's darker aspects, Gatewood and Shlesinger escape with some decent laughs and pointed questions. 'Good on Paper' sometimes gets silly, sometimes serious, but it never waivers from its mission of being funny through it all."
"Good on Paper" is currently streaming exclusively on Netflix.