Fatherhood's Anthony Carrigan On What It's Like Working With Kevin Hart - Exclusive Interview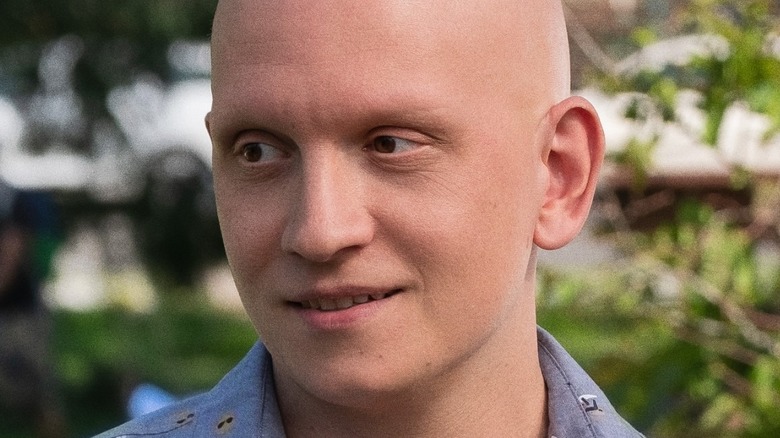 Philippe Bosse/Netflix © 2021
Acclaimed actor Anthony Carrigan has been a constant fixture since 2008, when he made a guest turn on "Law and Order: Criminal Intent." Before too long, Carrigan earned gigs as a series regular on the crime drama "The Forgotten" from 2009-2010 and a recurring role on the comedy drama "Parenthood" in 2011, but that was only a preview of much bigger things to come.
Carrigan's breakout role came in 2014 as the menacing villain Victor Zsasz in "Gotham," a DC series that examined the origins of Bruce Wayne and Jim Gordon. In the midst of his haunting recurring role of Zsasz, the actor was fortunate enough to guest star as another DC villain — Kyle Nimbus, aka the Mist — on "The Flash."
Carrigan's forte for playing bad guys no doubt led to his biggest TV role yet, as the hilariously polite Chechen mobster NoHo Hank opposite Bill Hader and Stephen Root in the critically acclaimed crime comedy series "Barry." Carrigan's been a scene-stealer for the past two seasons on the HBO hit, reflected in the fact that the role earned him a Primetime Emmy nomination for Outstanding Supporting Actor in a Comedy Series in 2019. But while Carrigan has proven that he has a penchant for playing villains, his latest role in "Fatherhood" shows that he has much more range. 
In "Fatherhood," Carrigan plays Oscar, who along with Jordan (Lil Rel Howery) is best friends with Matt (Kevin Hart) — a man suffering from the tragic loss of his wife, Liz (Deborah Ayorinde), a day after their daughter, Maddy, was born. Facing the demands of raising Maddy (Melody Hurd) alone and the pressure from his mother-in-law Marian (Alfre Woodard), to move back to his home state of Minnesota so she can help bring up the child, Matt stays put in Boston, where he relies on Oscar and Jordan for support. 
In an exclusive interview with Looper, Carrigan talked about his work on "Fatherhood" and the inspiration he gained from Hart, as well as other career highlights including "Gotham," "Barry," and "Bill & Ted Face the Music," and his dream superhero role. Written and directed by Paul Weitz, and also starring Paul Reiser, DeWanda Wise, Thedra Porter, and Frankie Faison, "Fatherhood" — based on author Matthew Logelin's true-life tome "Two Kisses for Maddy: A Memoir of Loss & Love" — debuts on Netflix June 18.
Dealing with the gamut of emotions in Fatherhood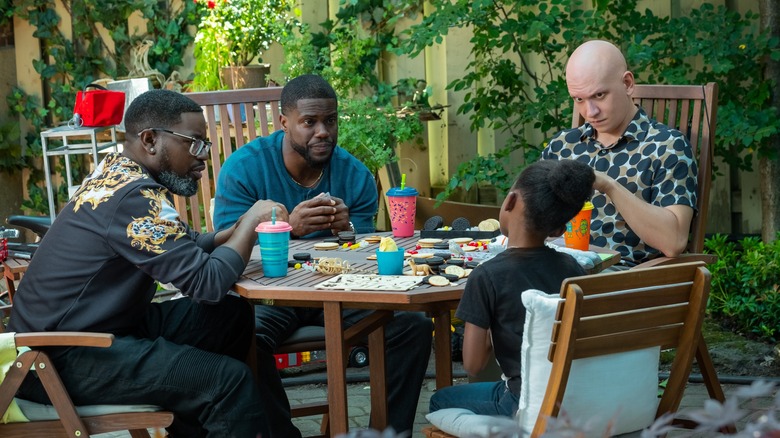 Philippe Bosse/Netflix © 2021
"Fatherhood" is an entertaining film that is often funny, but also dramatic and very emotional. It's interesting for somebody like Kevin Hart to be involved in a film like that, starting off with such a gut punch. But for any actor, really, it presents you with an interesting mix because it's got tragedy, it's got comedy, and obviously, like real life, there are both, aren't there?
There really is. And it's such a difficult line to toe, but I feel like this film does such a wonderful job balancing this real authentic depiction of what it means to go through loss, what it means to be grieving, and all the nuances and complexities that come with it — and then also the real-life stuff that comes with it as well. But then, to be in the next scene, it could just be about the comedy and laughing, and having a good time. I think this film has something for everyone, really.
Your character and Lil Rel's character don't meet Liz in the film since she's only in flashbacks with Kevin's character. How do you grasp that loss as an actor? Is it all there on the page? Is it in Paul Weitz's script that helps you ground your role? You can clearly see that you're feeling Matt's pain, too.
Yeah, absolutely. I mean, I think Paul's script certainly had everything there, for the most part. But then that's the fun thing as an actor, to see if there are those question marks, that's the fun stuff where you get to say, "Oh, okay, what is Oscar doing during the wake? How is he trying to kind of be supportive, and how is he trying to kind of help out?" Those are the things that as an actor, you have to have those questions answered, but that process is really rewarding. And yeah, we talked a lot about it, too — a lot of conversations with Kevin and with Paul, just about the nuances of it and what the relationships are. "Would he know this person? How he would react with this person?" So, fleshing all that out is the kind of nuanced storytelling that I think makes the movie really special.
Finding comedy amid the pain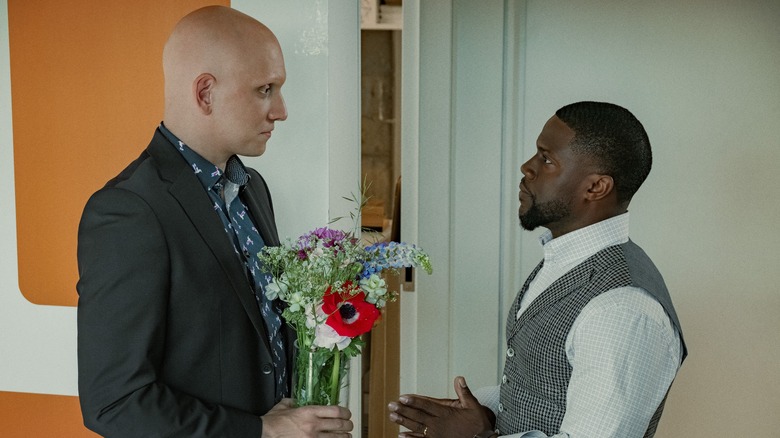 Philippe Bosse/Netflix © 2021
Standup comedians, I think, often root their comedy in some sort of pain. Somehow, they're either masking it or they're confronting it, and that's where the comedy comes from. I've never talked with Kevin Hart so I don't know if that is what his method is, but the fact that he could be a dramatic actor, did that surprise you at all?
I wasn't surprised by it, because Kevin is so talented and brings so much to every role he does. I mean, there's no mistaking, there's no hiding Kevin Hart. He's larger than life and just has so much presence onscreen. And to me, I was just wondering, "Well, when is he going to decide to kind of do something on the more serious side?" Because it's always fascinating to me to see people who can go there comedically, choose to do something and show that other side, and Kevin certainly did that with this film. He's authentic and he's grounded, and he just gives a wonderful turn.
I think what's wonderful about the trio of you guys together in "Fatherhood" is that it demonstrates how vital the importance of friendship is, especially in a situation as dire as the one Kevin's character is in. Was that part of the appeal of the script for you, the strong bond your characters had as friends?
Oh yeah. I mean, I think that's something that everyone can relate to is, you can't figure something out and you don't have your partner to call or whoever it may be. It's like, who do you reach out to? You reach out to your buds; you reach out to your friends. You're like, "Hey, how do I do this?" And I think it's a really beautiful message that when you have people like that show up in support, it might be hilarious and it might not get done immediately, but you can make it happen. And just the idea of getting to work with Kevin Hart and Lil Rel Howrey ... I mean, I was sold instantly. I couldn't wait to get on set with them and start playing around.
About that singing trio ...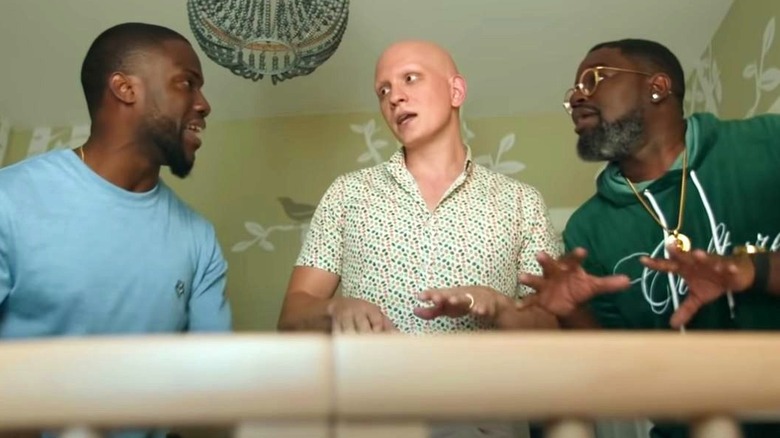 Netflix
Part of that playing around, of course, includes that musical trio.
Yeah, totally. The barbershop trio. [Laughs]
The "Goodnight Maddy" song, which will be of course on the "Fatherhood" soundtrack, I would imagine.
Of course, naturally. Yes, yes. Yeah.
But your character, Oscar, had the guts to step forward and say, "Hey guys, this isn't working here."
Right. [Laughs] Well, yeah. I mean that whole scene, it was a miracle that we were able to get through it because we were all cracking up and especially Lil Rel would go into his higher registers. Yeah, it broke me, but it was fun. It was moments like that, that were not necessarily anticipated, that just kind of bubble up because we were essentially just trying to get this baby to stop crying and then going through all the tactics — which I'm sure a number of parents can know or can just relate to [saying], "I just need this kid to sleep. What am I going to do?" And they try any number of tactics to do it. So we just came up with a brilliant song. [Laughs]
Hart's positivity was a guiding light on set, Carrigan says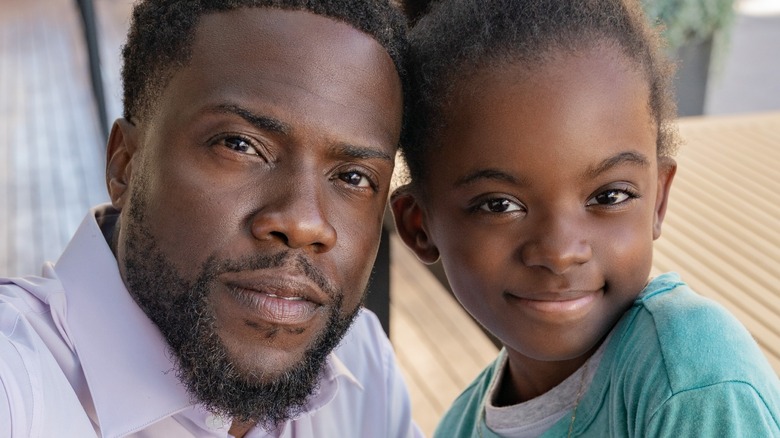 Kevin Kwan/Netflix © 2021
Kevin in his professional career, I think, has made it a priority to stress the importance of his own family in all of this, with his children. Could you feel that love for his family coming through in his performance?
Absolutely. You can tell that in a number of those scenes that he was really going to a deep place, when he was saying his lines, that there's real truth to it, and there's real honesty. And he actually had his family on set a lot of the time and I'm sure that was a huge catalyst in terms of just relating to what his character is going through. So it was just really wonderful to see him processing what this character needed to kind of go through in order to grow and become a good father.
I've seen a lot of Kevin's interviews and he is incredibly inspiring. When I talked with Lil Rel a little bit ago, I was saying, "The guy's a positive life force." That positivity not only must influence your performance in the film, but maybe after the project? I mean, did you finish the film with the feeling, "This guy has kind of given me a new lease on life?" Just the way he comports himself, he's such an incredibly positive individual.
Oh, he's so driven. Yeah, he's incredibly driven. And I think in order to do what he does, you need to have some unearthly drive and understanding of exactly what it takes. So I was extremely inspired to be around him and yeah, inspired by this story as well. So all in all, we were just really blessed to all come together for this and to make this wonderful film.
Becoming NoHo Hank in Barry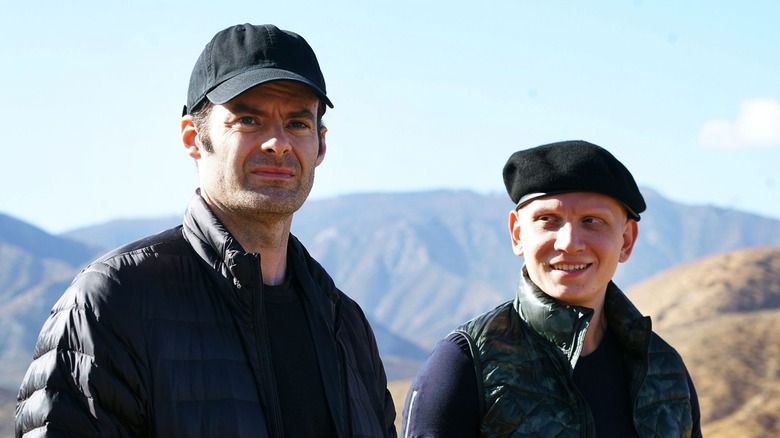 HBO
I have to ask you about NoHo Hank.
Yeah, totally. [Laughs]
One of the greatest roles ever. Ever!
Oh, thank you. Thank you so much.
When you're playing a bad guy like Victor Zsasz in "Gotham," I mean, obviously you make that bad guy scary. But when you're NoHo Hank in "Barry" you're scary by definition — I mean, you're a mobster — but you're funny at the same time. You must love that as a performer. I mean, you're getting the best of both worlds with that role, aren't you?
I'm getting the best. I mean, because yeah, he's a mobster and he's trying to kind of run this huge crime syndicate, but he's also kind of hosting people with juice boxes and little finger sandwiches. He's the politest gangster I think I've ever come across. To play that kind of a contradiction is such a blast.
Well, it must be wild not only knowing that you have this great role, but come on man, let's face it: You upstage Bill Hader and Stephen Root so many times. I'm sure that's something you never could have imagined happening.
I mean, I'm on cloud nine. I think it might hit me years down the road. But yeah, I'm just doing my best to be in service of this phenomenal show amidst these hero actors. I mean, hero actors. Everything they do, I'm just like, "Wow, wow, wow, wow." I'm just trying to keep up and yeah, and I'm just having a good time at it.
Do you think that NoHo Hank has opened up opportunities for you? Because again, you're so polite. You can be a great friend, but you can scare Barry as well. Do you think that had something to do with the fact that you were cast in "Fatherhood"?
Definitely. I really think so. There's a bit of a progression from playing a character like Victor Zsasz, who's just a cold-blooded killer, to then playing a sunnier villain; a villain, nonetheless, but certainly a sunnier one. And then getting to just play a normal guy, if you can call Oscar normal. I mean, I think he's normal-ish and that was really refreshing to kind of just play a normal dude. That was a dream. And this movie in particular, I mean, I'm so excited for everyone I know to see it.
A most excellent adventure with Keanu & Alex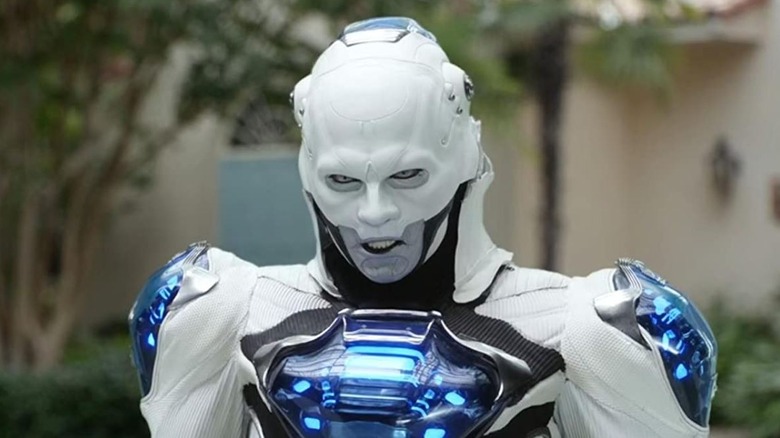 Orion Pictures
I have to bring up a memorable comedic role of yours as Dennis in "Bill & Ted Face the Music." How much fun was it playing opposite Keanu Reeves and Alex Winter? I mean, it seemed like you guys were having a blast.
Oh, it was a dream. It was an absolute dream. I mean, I was a huge fan of the franchise growing up and I mean, I watched "Bill & Ted's Excellent Adventure" on VHS. I was huge fan. And then to be there acting opposite them ... It was unreal. I also didn't know what I was going to do with that character at first. They just kind of offered it to me and then I was like, "Okay, I got to figure something out with this." So I took a big swing, but I think it worked out.
Such a cool looking character, too.
I know!
You've got a Victor Zsasz action figure out there, I know, but you need one for Dennis as well, man.
For Dennis, I know. Yeah, for sure. Dennis would be ... I mean, what a cool action figure that would be. That sounds amazing. I'm down for it.
After DC, Carrigan says he wouldn't mind catching a cosmic wave in the MCU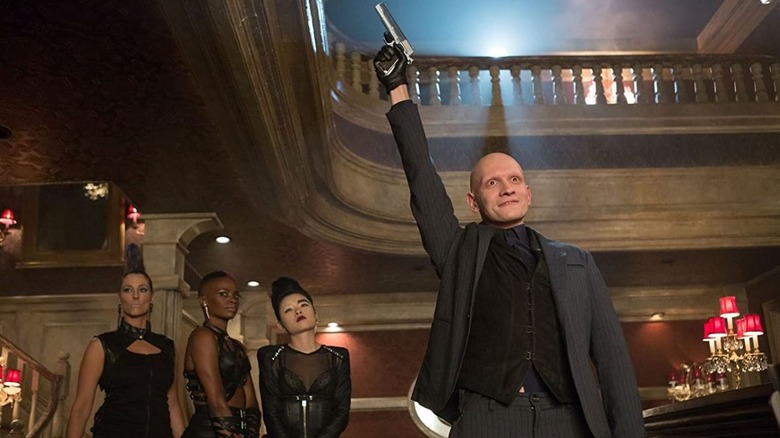 Fox Televsion
You mentioned "Gotham," of course, and you've also been in "The Flash." Have any thoughts been swirling around for more comic book roles, supervillain or superhero, that you would like to play? Would you like to play something in the Marvel Cinematic Universe? Obviously, you've gotten a couple of great opportunities in DC already.
Yeah. I mean, look, I'm open to all of it. I mean, I know what it means to be a comic book fan and [while] I wasn't as hardcore as many comic book fans, I certainly have such deep appreciation for comic book characters. I would love to. I would love to continue playing [comic book roles], whether it's for DC or Marvel. Yeah. I mean, specifically, it would be kind of fun to do a superhero because I've cut my teeth with supervillains, but it would be nice to switch it up a little bit, but I don't know. I love it all.
Anybody specific on either side?
I don't know. I mean, at times, I think that I would make a pretty good Silver Surfer. I just need some silver body paint or CGI, rather. That would probably be preferable to silver body paint. Yeah, Silver Surfer. I don't know. Gosh, there's a ton of them [I would like to play]. I love them, yeah. Especially the bald ones. I'm like, "Sign me up."
And now we have to let people know because of course, I'm bald as well — I talked with Mark Strong recently, and he said that automatically everybody thinks, "Oh, he's got to be the villain." But he can play good guys, too! And certainly, you've proven that you can play a good guy, so come on, man, let you be a superhero!
Exactly! Bald guys have notoriously been cast as the villain throughout history. We can do more than playing villains and pirates. Just trust us. [Laughs] Give us the keys. We'll do good, I promise you.
"Fatherhood" debuts on Netflix June 18.