How Emily Blunt Felt When She Joined John Krasinski In A Quiet Place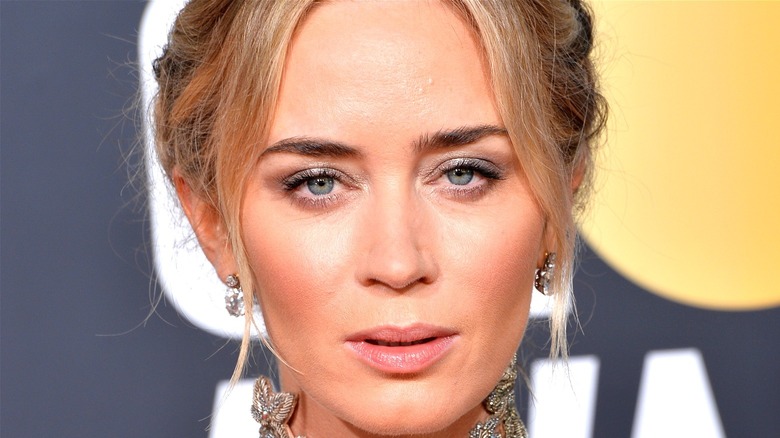 Shutterstock
Actors Emily Blunt and John Krasinski — who also happen to be married — are each famous in their own right. Blunt first rose to prominence as the snarky first assistant to Miranda Priestly in 2006's "The Devil Wears Prada" opposite Anne Hathaway and Meryl Streep. Since then, she's gone on to star in a range of films, from the 2016 thriller "The Girl on the Train" to "Mary Poppins Returns" in 2018. Krasinski, meanwhile, became a household name with his breakthrough role as Jim Halpert on "The Office." Since then, he's gone on to have a successful film career, both in front of and behind the camera.
For Krasinski's third directorial project, the horror film entitled "A Quiet Place," in the true spirit of nepotism he hired his real-life wife to star opposite him. The two play Evelyn and Lee Abbott, a married couple who must protect themselves and their children from blind monsters with super-sensitive hearing. Blunt also returns to star in the sequel, "A Quiet Place Part II," which Krasinski wrote and directed as well, marking their second film collaboration.
Couples often work together in Hollywood — frequent collaborative couples include the likes of Kristen Bell and Dax Shepherd, as well as Melissa McCarthy and Ben Falcone. But mixing home life with work life is risky for any couple, actor or not. Here's what Blunt has said about joining her husband for "A Quiet Place."
Blunt says it was a 'relief' working with Krasinski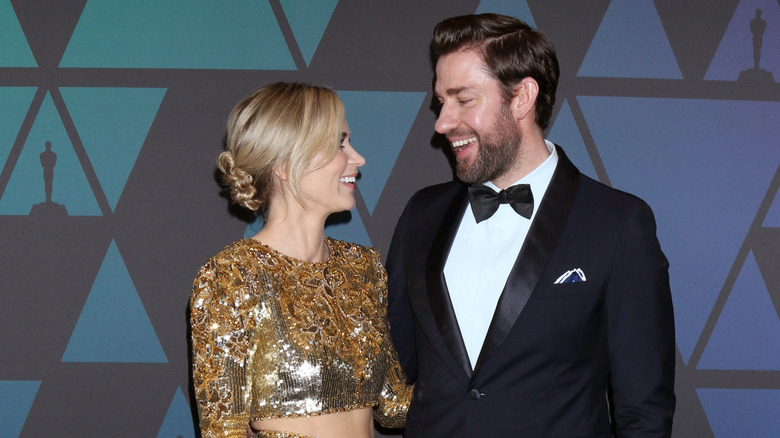 Shutterstock
During an interview with ET Online, Krasinski revealed he had some apprehensions about asking Blunt to star in his film. He was afraid that she'd either turn it down or only agree to it as a favor for him, neither of which he liked. He said, "I just chose the third option, which was not to talk to her about it at all." But, it turns out that Krasinski was worried for no reason, because Blunt showed no sign of hesitation herself. As soon as she read the script, she declared that she wanted to take on the role of Evelyn.
Still, there was some worry in the back of both of their minds that they might not mesh well in a professional setting. But, again, the couple had nothing to worry about. Speaking to The Wrap, Blunt said, "It was a wonderful relief actually, to get on set and realize just how creatively aligned we were and how in tandem we were and what we felt about the film and how we wanted to approach it." Blunt also had much praise for her husband as a filmmaker, adding to The Wrap, "It was thrilling to see him blossom."
And while speaking to ET, Blunt also addressed how many of their friends teased that they would be divorced by the end of filming, yet it actually brought them closer together. "We've always been great partners in life, but I think professionally we'd never had that experience," she said. "And ultimately because the movie means so much to us and seeing each other in a professional realm and also allowing that sort of new side that we saw in each other was really bonding, it was like very cool."
Fans of "A Quiet Place" would definitely agree that these two make a great professional team.