The Scene In It's Always Sunny That Danny DeVito Refused To Do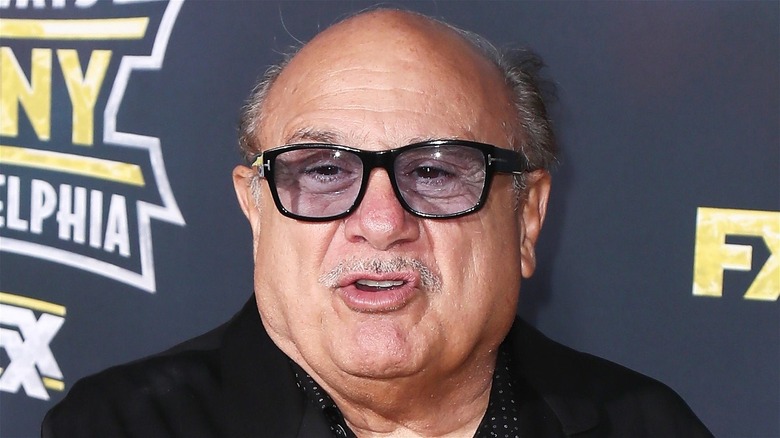 Leon Bennett/Getty Images
If you're familiar with the work of Danny DeVito as the loose cannon and former sweatshop owner Frank Reynolds on FX's record-breaking sitcom "It's Always Sunny in Philadelphia," then you probably doubt the entire premise of this article. What could possibly be so tasteless and offensive that it would inspire Danny DeVito to take a pass? Ever since his introduction to the series as the (presumed) father of Dee (Kaitlin Olson) and Dennis Reynolds (Glenn Howerton) in Season 2, Frank's love of gambling, scheming, risk-taking, and abandoning morality has gotten him and the Gang into all sorts of inimitably bizarre situations.
Judging by the beloved shenanigans Frank has gotten up to in the last 13 seasons, it's easy to assume that DeVito has never said no to anything the showrunners have asked him to do, and that he has as few reservations as his character. Just look at his track record: He gladly agreed to a scene in which Frank sews himself into a couch naked, falls out of a window, slathers himself in hand sanitizer, and crawls across a dirty public restroom floor. He pooped the bed. Also, he once wore skinny jeans. DeVito was famously so game for anything and everything that he almost drowned filming one Season 11 scene (via Business Insider). 
So given his existing performances, we'd be hard-pressed to imagine where DeVito draws the line. (Content warning: "The line" goes pretty far.)
Danny Devito had to play a 'get out of jail free' card for this episode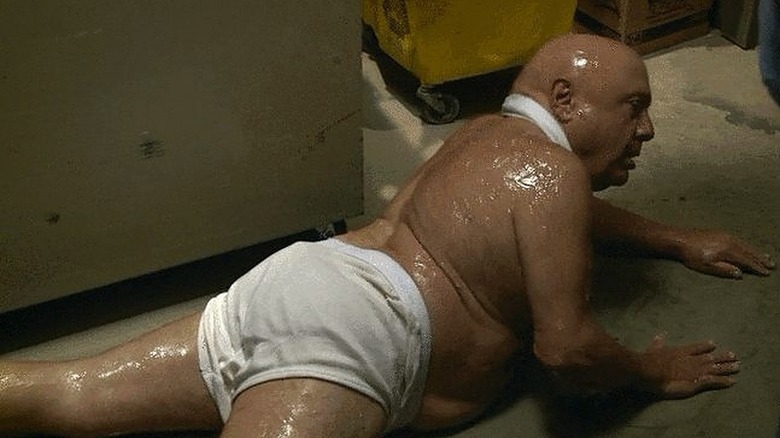 FXX
No matter how reprehensible, "It's Always Sunny" isn't afraid of doing whatever it takes to push the envelope, and most of the time, this means pushing the actors, who do many of their own stunts (per Yahoo! News), to their limits as well. For evidence of this, look no further than that time when Rob McElhenney gained 50 pounds in Season 7 just to mock other sitcoms that routinely made their characters more conventionally attractive as they progressed (via Reuters).
Most of the time, though, when the tight-knit cast and writers push the boundaries of the unacceptable, everyone is on the same page. But one April Fool's Day, Glenn Howerton revealed on Reddit that the showrunners sent DeVito a fake script that was just about as outlandish as they could imagine, and for the first time ever, he called them up and said, "I can't do this, guys."
The plot, written into a spec script someone had sent to the show, involved Frank Reynolds going to jail and immediately being sexually assaulted. So he joins the white supremacists for protection, and the first thing they do is sexually assault him. The same thing happens again with the prison guards ... You get the idea. It's off-putting (to put it mildly) and controversial at every single level. To be fair, that's true of most "Sunny" storylines, but for once we may have discovered their limit. We certainly discovered DeVito's.
If you or anyone you know has been a victim of sexual assault, help is available. Visit the Rape, Abuse & Incest National Network website or contact RAINN's National Helpline at 1-800-656-HOPE (4673).