Should You Be Worried About The Latest News Surrounding Robert Pattinson's The Batman?
Any new version of a long-standing, fan-favorite superhero will always be an exciting and interesting prospect, and Robert Pattinson's "The Batman" is nothing if not interesting. With "Cloverfield" and "War for the Planet of the Apes" director Matt Reeves at the helm, it's shaping up to be an intense movie, and the first trailer reminded many people of David Fincher's work on "Seven" and "Zodiac," but with a Caped Crusader thrown in for good measure.
With Robert Pattinson, Zoe Kravitz, Paul Dano, Jeffrey Wright, Colin Farrell, John Turturro, Andy Serkis, and Barry Keoghan all starring in the film — it's clear that this is going to be something special. It'll see Bruce Wayne in his second year of crime fighting as he goes up against the Riddler, who is seemingly waging a war on corrupt city officials. All the pieces certainly appear to be in place, but with that said, the production has been somewhat troubled. Pattinson himself even caught COVID-19 last year, just as the film started work again after its initial pandemic delay.
A recent update about the 2022 film has some fans concerned that it might not be going so smoothly. We're here to reassure you, that probably isn't the case.
The Batman headed for the dreaded reshoots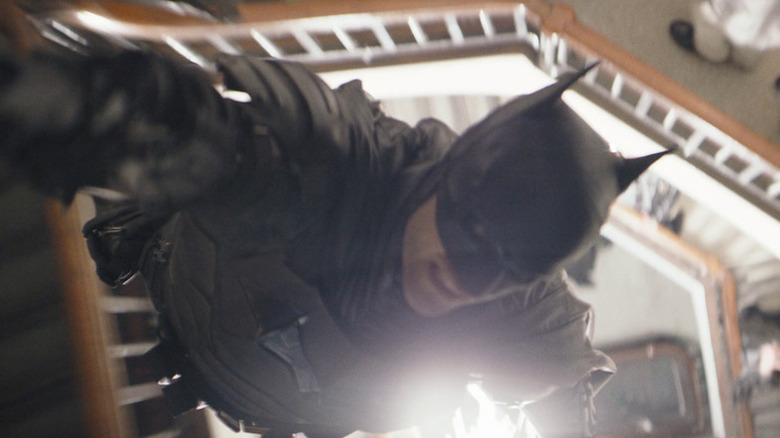 Warner Bros./DC Entertainment
While Matt Reeves confirmed in March 2021 that production had been completed, an unnamed source recently told Scottish outlet The Daily Record that the film is returning to Glasgow for reshoots in the middle of July. The initial shoot also partly took place in Scotland, with Glasgow doubling for the new version of Gotham City, inhabited by all these villains and the Dark Knight himself.
The source explained, "Filming will take place at the Necropolis again and also in the Merchant City and should take around a week in total ... Then they'll be heading down to York for a further two weeks' work with a view to completely finishing production by the end of July." The source also revealed that of the main cast, Robert Pattinson and Colin Farrell are the ones returning, suggesting the focus will be on "some of the stunt scenes."
Because "The Batman" has had a difficult production thus far, it's easy to see why this could look like trouble in Gotham. Reshoots are often indicative of a film in late-stage tumult. That said, it's common practice for big-budget blockbusters to do additional reshoots following principal photography for reasons entirely unrelated to the underlying film's general unworthiness. In this case, we don't even know for a fact if these reshoots are actually happening, or if this is just a fan-circulated rumor. Even if the reshoots are real, they're likely to implicate specific scenes that don't look quite right, and shouldn't be read as suggesting that Warner Bros. is disappointed with the overall quality of the film.
In the meantime, excuse us while we go watch that gorgeously grim trailer for the millionth time.