How Nancy Carell Felt When She Joined Steve Carell On The Office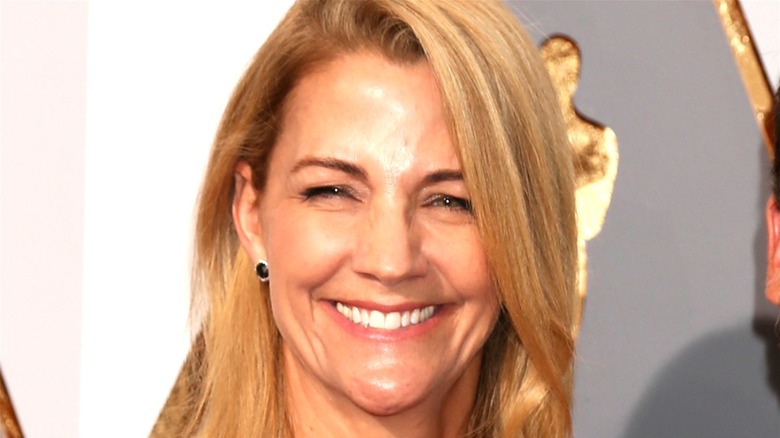 Shutterstock
It can be a risky move for any couple to collaborate on a project together. The blending of personal and professional relationships can be a great experience for some, like Emily Blunt and John Krasinski, who have been married for over a decade and together, they churned out two major box office successes: "A Quiet Place" and "A Quiet Place Part II." Krasinksi said his wife was his "best cheerleader" (via Deadline). However, working together can be a recipe for disaster, as the strain of working so closely with one another can wreak havoc on a romantic relationship.
Steve Carell and his wife, Nancy, are one of the couples who managed to perfectly blend their personal and professional relationships. The duo have been married since 1995 and have often worked together on projects over the years. The two overlapped as correspondents on "The Daily Show" in the early 2000s, both appeared in Steve's first starring film role, "The 40-Year-Old Virgin," and in 2017, they co-created the TBS comedy series, "Angie Tribeca."
So how did Nancy feel when she was cast opposite her husband in "The Office," the show that turned him into a Golden Globe winner?
Nancy Carell felt intimidated working with her husband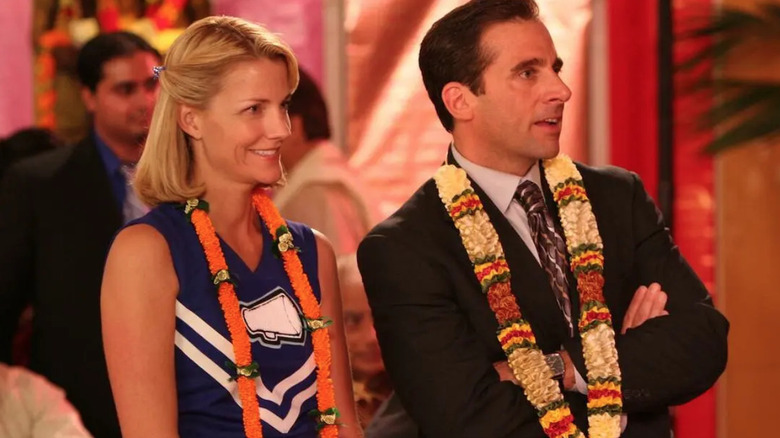 NBC
Nancy Carell was cast in "The Office" as Carol Stills, a real estate agent who first appears on the show in the Season 2 episode, "Office Olympics." Carol sells Michael Scott his condo, and soon, the two begin dating. Carol appears several more times throughout the show, with Michael once proposing to her after only a few dates. The two fictional characters eventually break up.
On an episode of the Earwolf podcast "Office Ladies," hosts Jenna Fischer and Angela Kinsey recalled speaking with Nancy about how she felt appearing on the show alongside her husband. Kinsey said she asked her about her experience and Nancy said she was "so intimidated because he's so good. I mean, he was really nice to me, of course. But I've sort of you know, I had retired and having our kids. That's what I was doing. I was being a mom. So I felt a little rusty. But it was so much fun."
Fischer added that Nancy was "so great. And Steve's face would just light up every time she came to set, either if she was in a scene or if she was just coming by with the kids for a visit. I mean, his adoration of her was just, would go all across his face."
Nancy Carell is a comedy veteran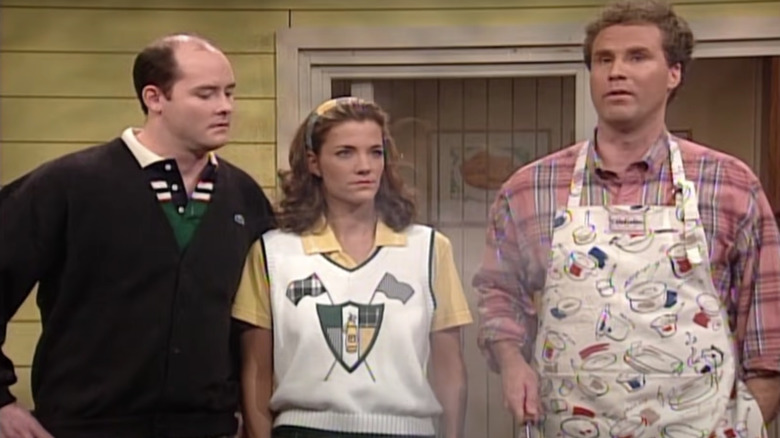 NBC
While the world knows Steve Carell from "The Office" and his roles in films like "Anchorman," "Despicable Me," "Little Miss Sunshine," and "The Big Short," his wife Nancy is also a comedy veteran. Starting in Boston College, Nancy was part of the school's improv troupe, My Mother's Fleabag, and after graduating, she joined The Second City in Chicago where she met her future husband. In 1995, she was cast on "Saturday Night Live" and soon moved on to join a now legendary team of correspondents at "The Daily Show with Jon Stewart," which included her husband Steve, Stephen Colbert, Ed Helms, Samantha Bee, and Rob Corddry, and would go on to play a role in Mike Judge's animated series, "The Goode Family." 
The comic actress took time away from performing to focus on her family, but clearly still likes to act here and there in roles after her retirement, especially with her husband. In a 2016 interview with Entertainment Tonight she said the two "tend to get along very well" when working together and Steve said Nancy makes him laugh "more than anybody."