Why Captain McKenna From 21 Bridges Looks So Familiar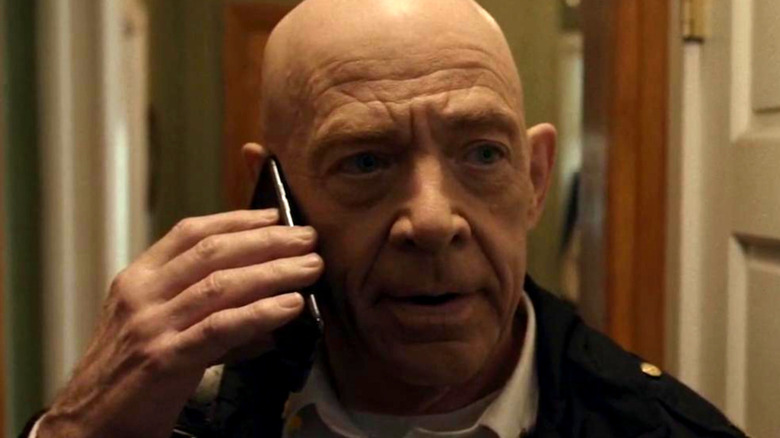 "21 Bridges" isn't one of Chadwick Boseman's most talked about or prestigious movies, but it's a really solid watch, with the tragically departed actor at the center of a great cast for an action/crime movie. It may not carry the same weight as Boseman's usual fare of biopics ("42," "Get On Up," "Marshall"), Marvel blockbusters ("Black Panther" and the three other movies in which he plays that role), and prestige dramas ("Da Five Bloods," "Ma Rainey's Black Bottom"), and shows the range that could have carried Boseman through a lengthy career as a movie star if only he'd lived longer.
One supporting actor who stands out in "21 Bridges" is J.K. Simmons, who plays Captain McKenna, the head of an NYC police precinct who turns out to be far more involved in the case than anyone realizes until late in the movie. Simmons has a surface gruffness with a strong sense of warmth underneath, which makes his character that much more interesting, and ultimately surprising. He's also a character actor with a long list of credits, so if you're having a hard time placing where you know him from, we can probably help with that.
J.K. Simmons definitely doesn't care for Spider-Man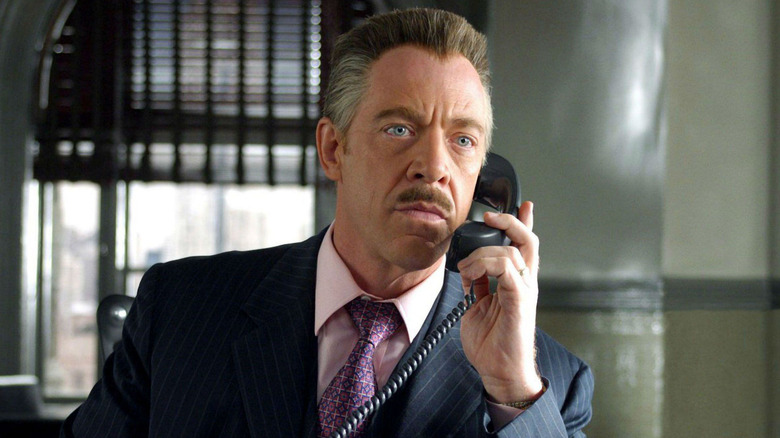 J.K. Simmons' most memorable role — as far as comic book fans are concerned — is J. Jonah Jameson in the three Sam Raimi "Spider-Man" films starring Tobey Maguire. Jameson is an irascible newspaper editor who simultaneously offers Peter Parker employment while spreading unfounded dirt about his alter-ego, Spider-Man, who Jameson considers a menace. For the part, Simmons wears a flat-top wig and mustache that make him virtually identical to the Marvel Comics version of the character. More recently, he returned to play a new version of J. Jonah Jameson in the post-credit stinger of "Spider-Man: Far From Home" — without the wig, but with the same attitude toward the wall-crawler.
In 2017 he briefly appeared as another iconic superhero supporting character, Gotham City Police Commissioner Jim Gordon, in "Justice League." The assumption then was that he'd go on to play that role in future DC Comics movies, but that seems unlikely now that Jeffrey Wright is officially taking over as Gordon in "The Batman."
J.K. Simmons can also be a great father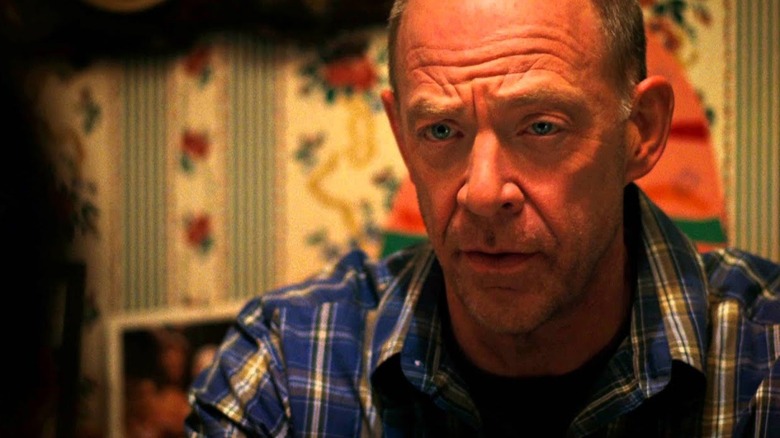 Immediately after the Raimi Spider-Man trilogy ended, J.K. Simmons got to show off his warmer side in the 2007 comedy "Juno," written by Diablo Cody, directed by Jason Reitman and starring a young Elliot Page as the title character. Simmons plays Juno's father, who supports her fully when she gets pregnant as a teen and decides to give the baby up for adoption. The great Allison Janney plays his wife, Juno's stepmother — and the two of them have phenomenal comedic chemistry, but it's Simmons who plays the primary parenting role in the film.
This was actually Simmons' second film with Reitman. He also appeared in the director's debut feature, "Thank You For Smoking," as an executive in a tobacco lobbying group. Jason Reitman is clearly a big fan of Simmons' work, as he's cast the actor in almost all of his films to date. In addition to "Juno" and "Thank You For Smoking," Simmons appears in "Up in the Air," "Labor Day, "Men, Women & Children," and "The Front Runner," as well as providing an unseen voice on the telephone in "Young Adult."
J.K. Simmons makes a terrifying teacher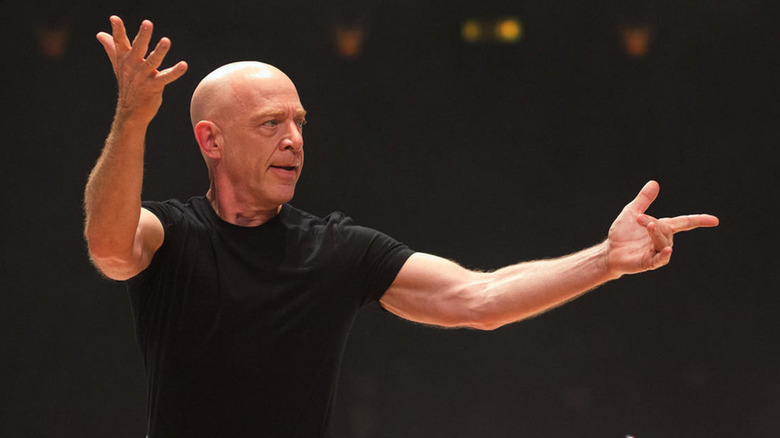 In 2014, J.K. Simmons won his first (and so far only) Oscar for Best Supporting Actor for the role of Terence Fletcher in Damien Chazelle's "Whiplash." Fletcher is an extremely strict — and frankly abusive — bandleader and instructor at the fictional Shaffer Conservatory in New York City, who forms an extremely tumultuous but meaningful mentor/student relationship with the film's protagonist (Miles Teller). Fletcher is the kind of teacher who drives students either to ruin or to greatness, and the film problematizes that conflation. If "Juno" showed Simmons' softer side, "Whiplash" displayed his hardest edge, with him slapping Teller repeatedly, and even throwing a chair at him.
Simmons seems to have made as positive an impression on Chazelle as he did on Jason Reitman, since he went on to play a supporting role in Chazelle's follow-up film, "La La Land." Over the years, of course, J.K. Simmons has also appeared in many films for other directors, including The Coen Brothers' "Burn After Reading," Gore Verbinksi's "The Mexican," Mike Judge's "Extract," and Karyn Kusama's "Jennifer's Body" (the last of which was written by "Juno" scribe Diablo Cody).
Palm Springs provided a perfect comedic outlet for J.K. Simmons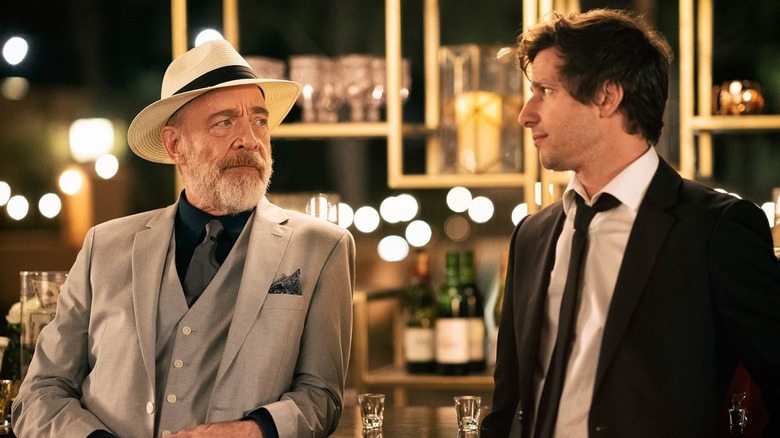 More recently, Simmons had a key supporting role in one of 2020's best comedies: "Palm Springs," directed by Max Barbakow. The film is a romantic comedy that stars Andy Samberg and Cristin Milioti as a burgeoning couple caught in a time loop that forces them to relive the same day over and over again. Simmons plays Roy Schlieffen, a third character trapped in the loop with them, who memorably enters the film shooting arrows at Samberg as revenge for accidentally getting him stuck in time. Although he's very much a villain at that point, by the end of the film he becomes a very sympathetic character, as a family man who fears not getting to see his children grow up. The scene between Simmons and Samberg late in the film, in which Roy explains how his outlook on life has changed, is genuinely moving and emotional, even in the midst of such a wacky film.
"Palm Springs" is Barbakow's first feature film as a director, but it will be interesting to see if he follows the lead of Raimi, Reitman, and Chazelle, and casts J.K. Simmons again. Honestly, he'd be a fool not to do so.
J.K. Simmons served time (on HBO)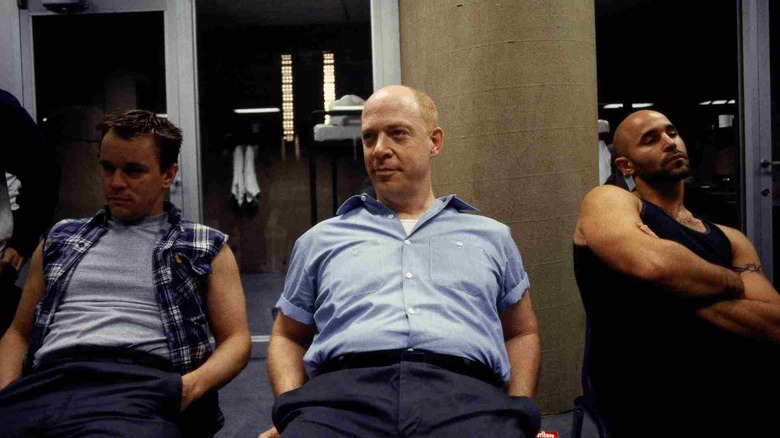 Way before his Academy Award win, J.K. Simmons first got noticed as Vernon Schillinger, the viscious white supremacist villain on HBO's prison drama "Oz." Fans of "Law & Order," on the other hand, will remember him as an extremely different character, Dr. Emil Skoda, a brilliantly empathetic (if sometimes unorthodox) psychiatrist who helps the police profile suspects. In addition to many episodes of the original "Law & Order," Simmons played Skoda several times on "Special Victims Unit," as well as on one episode of "Criminal Intent."
Simmons also appeared as a police commander opposite Kyra Sedgwick on "The Closer," and played a key role in the Hulu revival of "Veronica Mars." In 2017, he landed the lead role(s) in the Starz sci-fi series "Counterpart," in which he plays a low-level UN employee who discovered the organization is fighting a shadow war with an alternate Earth, and his counterpart (also Simmons) is a top agent for the other side. Unfortunately, the series only got two seasons, which was hardly enough time to fully explore its complicated premise.
J.K. Simmons is one of the most trusted people on television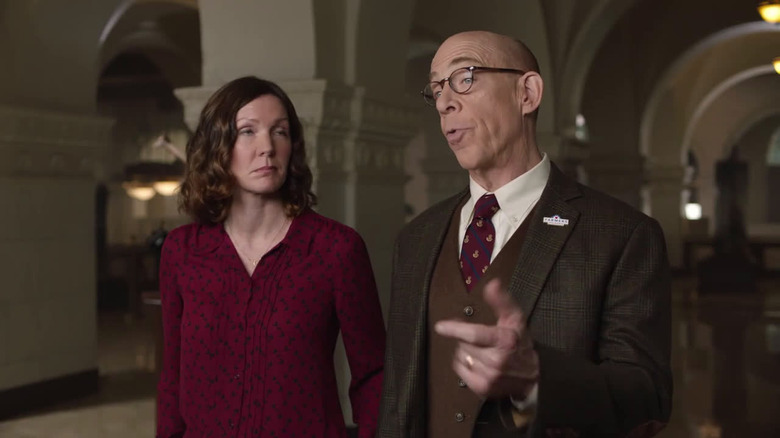 J.K. Simmons also joined the cast of the IFC comedy "Brockmire" in its third season, alongside a memorable guest appearance on "Brooklyn Nine-Nine" as a former cop. He also appears as a convicted murderer (and the title character's grandfather) in "Defending Jacob" on Apple TV+. He only had one scene in the Paramount+ series of "The Stand," as a general in charge of the military base from which a deadly virus spread, but unsurprisingly, he gives a memorable performance even with such limited time.
However, if you recognize Simmons from just one TV role, it might be Professor Nathaniel Burke, the spokesman for Farmers Insurance, a role he's been playing in their commercials since 2010. As the unflappable, bespectacled Burke, Simmons has narrated countless insurance-related tales, and even appeared alongside the Avenger, in an ad campaign that tied in with their first movie... which is a bit ironic now that he's moving into the MCU proper as J. Jonah Jameson. In a sense, though, that full-circle turn just shows how great J.K. Simmons is at playing so many types of roles that sometimes, it feels like he's everywhere.