15 Shows Like Animal Kingdom You Need To Watch Next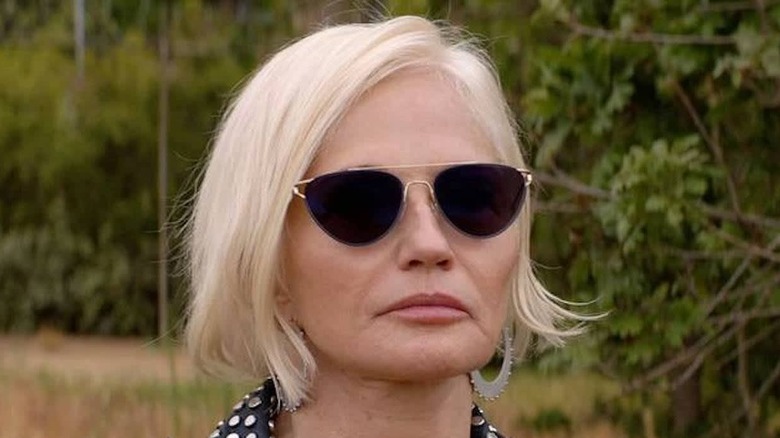 TNT
TNT's "Animal Kingdom," based on the Australian movie of the same name, is a wonderfully twisted network guilty pleasure. "Animal Kingdom" kicks off when 17 year old Josh "J" Cody moves in with his grandmother following his mother's overdose. However, granny doesn't spend her time knitting, baking cookies, or gabbing with other gals collecting social security. Instead, J discovers his grandmother is the ringleader of a gang of Southern California drug dealers and robbers. Who's in the gang? Well, it's composed of J's uncles, of course.
With a hook like that, it's easy to see why "Animal Kingdom" caught on with fans. It blends the perfect amount of criminal enterprise, family dysfunction, and fetishized California lifestyles that only exist on TV. However, its script is generally razor sharp and the show progresses in hard to predict ways. So for fans looking for other shows to fit their crime family fix, we've made a list of the best fifteen shows for "Animal Kingdom" fans to check out.
Sons of Anarchy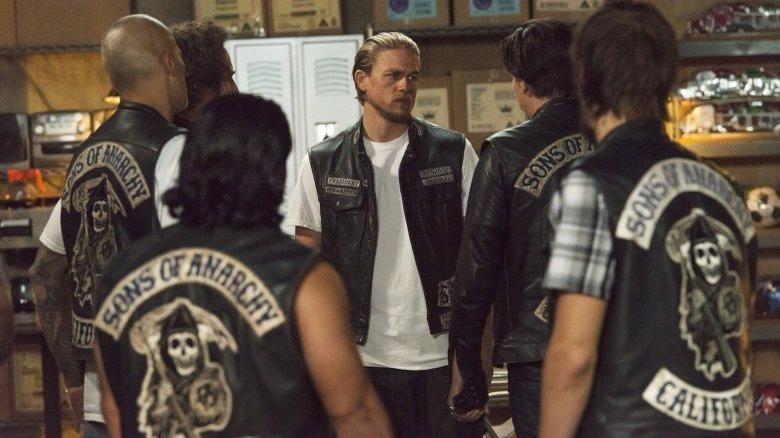 FX
"Sons of Anarchy," Kurt Sutter's Shakespearan saga of the titular Northern California biker gang, has everything "Animal Kingdom" fans will love — from gritty criminal arcs to monstrous moms. It also has bikes, an approach to emotional drama that's so sincere it belongs on a stage, and Ron Perlman. The story, described by some critics as "'Hamlet' in black leather," follows the trials and tribulations of Jackson "Jax" Teller, the son of the Sons' now deceased founding member, as he grapples for control of the gang with his stepfather. That's oversimplifying the show's many, many other threads, including runs with the IRA, white supremacists, the cartel, and the FBI, but it's the core conflict.
What sets the show apart from other crime dramas is the way it leans into the devastating personal relationships between its central characters. In the show's runtime, characters commit every kind of betrayal against other each including (but not limited to) murder, cheating, lying, and worst of all, ratting. The show is so absorbing because its audience is made to feel every twist of every knife used between brothers, club members, sons, mothers, and lovers. For anyone looking for a binge to follow up "Animal Kingdom," fire up your streaming service and hit the road with the Sons.
The Sopranos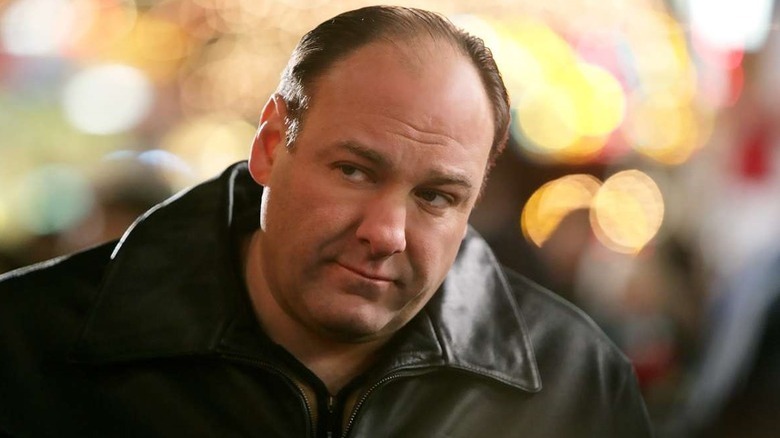 HBO
The crime family drama is one of the most popular genres on TV today. For any fans who like their family dysfunction served with a side of felonies, the don of the genre, "The Sopranos," is a must watch. "The Sopranos" is not only an early example of the genre — arguably the first example — it's also the best. "The Sopranos" tells the story of New Jersey mafia boss Tony Soprano and the effects his mob existence has on his own family. Seems straightforward enough by today's standards, but when it first arrived, it was unlike anything on TV.
The show didn't just feature excellent writing, acting, and stylish cinematography, it was also willing to ask hard questions of its audience and its characters. Should the audience like Tony? Should Tony's wife Carmela (brilliantly played by Edie Falco) remain married to the mob? Can people really change, and are our best days long gone? These were all questions the show dealt with week in and week out. That the show dealt with such intense and sometimes existential issues with humor and engaging mob storylines makes it a masterpiece. Skipping this show ... fuggedaboutit!
The Shield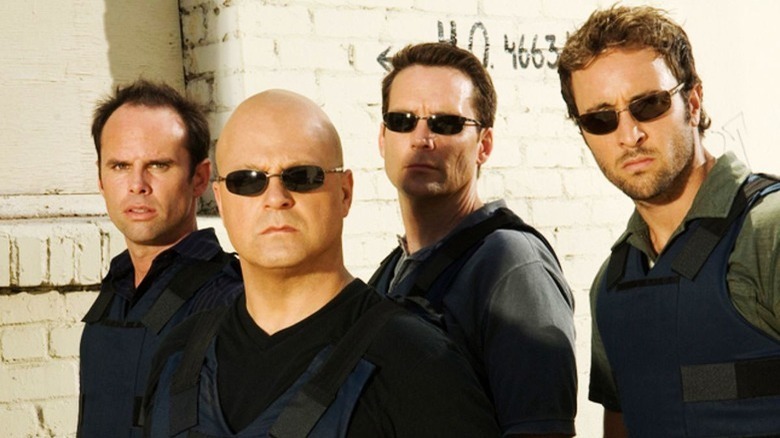 FX
For fans of the dire take on Southern California in "Animal Kingdom," look no further than the escapades of The Strike Team on "The Shield." Based loosely on the allegations of corruption in LAPD's gangland CRASH Unit, "The Shield" follows one Officer Vic Mackey and the special team he leads in the fictional neighborhood of Farmington, Los Angeles. There's corrupt cops and there's Vic. The pilot — and here's a minor spoiler warning — ends with Vic murdering the cop planted in his special unit as a mole.
From there, the show continues to up the ante, and season after season it delivers on a highly fictionalized portrayal of real life horrors: corrupt cops. While the grim subject matter and handheld shooting style may make for an all-too-realistic viewing experience for some, others will certainly be enraptured by the show's strong writing and powerful performances from series leads Michael Chiklis and Walton Goggins. Plus, anybody who does buy the ticket to take the ride will be rewarded with arguably one of the best series finales of all time.
Banshee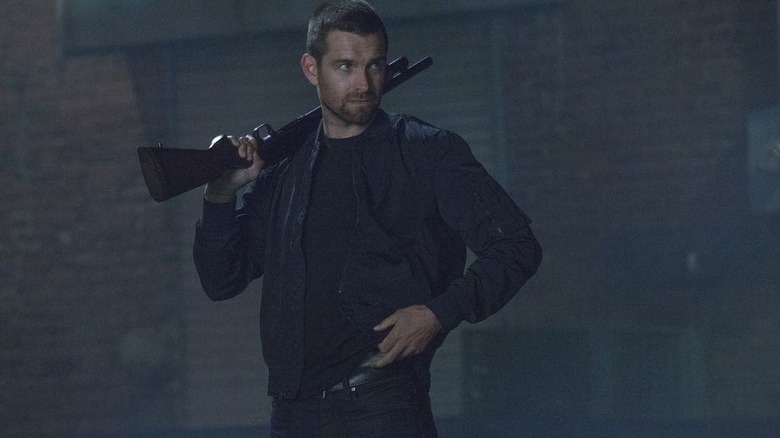 Cinemax
For fans of the pulp-y take on crime found in "Animal Kingdom," look no farther than Cinemax's "Banshee." Its set up — a freshly released robber arrives in a small town in Pennsylvania the same day as new the sheriff and then takes the sheriff's identity after the sheriff is killed in a bar fight — is ludicrous. It's such B-movie crime content you can practically picture the shower's creators pulling the show out the black and white depths of Frank Miller's "Sin City" comics.
However, the show's creators made two decisions that elevated the show well out of the schlock crime gutter: they hired veteran stuntman Marcus Young to choreograph what are some of the best fight scenes committed to TV, and cast Anthony Starr to play the series lead. Starr's turn as robber-turned-sheriff Lucas Hood is a masterclass in playing a role a little against type, playing Hood like a desperate animal. He's a man whittled down to reflexes and instincts by years of special training and PTSD. There are some episodes so well done, the audience is rooting for Hood to pull punches in the hopes he may save himself from his own wanton destruction. To see the fights, watch the show.
Power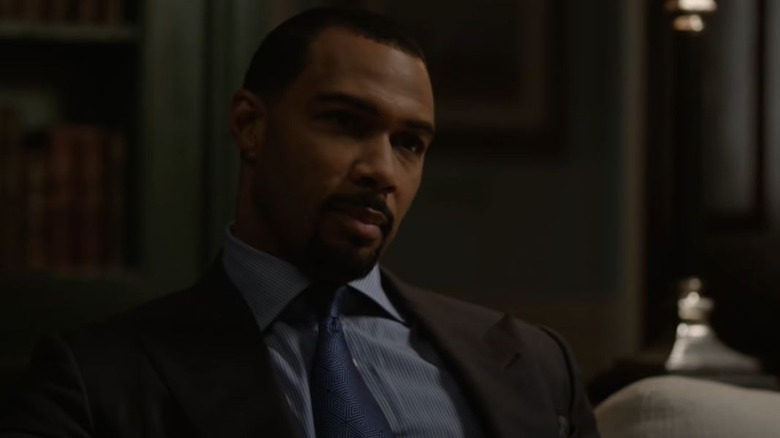 YouTube/Starz
"Power" tells the story of James St. Patrick aka "Ghost," a high clientele drug dealer who's decided he's going to try to hit the straight and narrow. However, his dreams of being a legitimate business owner and running New York's hottest club come into direct conflict with the people in his life who helped him build his drug empire. Lots of crime dramas deal with the idea of duality: can one person be two things? However, none of these other shows do it with the same style as "Power" — which makes sense considering the show was executive produced by Curtis "50 Cent" Jackson.
Style isn't the only thing the show has going for it. The show's cast does great work — particularly Omari Hardwick as Ghost, whose charisma radiates off the screen. It's also built up quite the following during its run: the start of it's fourth season in 2019 was met with the largest premium cable audience of that summer. The show's dedicated fan base continues singing its praises and evangelizing the show through word of mouth. The demand for more stories from 50's "Powerverse" was so strong, it warranted a spinoff series: "Power Book 2: Ghost."
Bloodline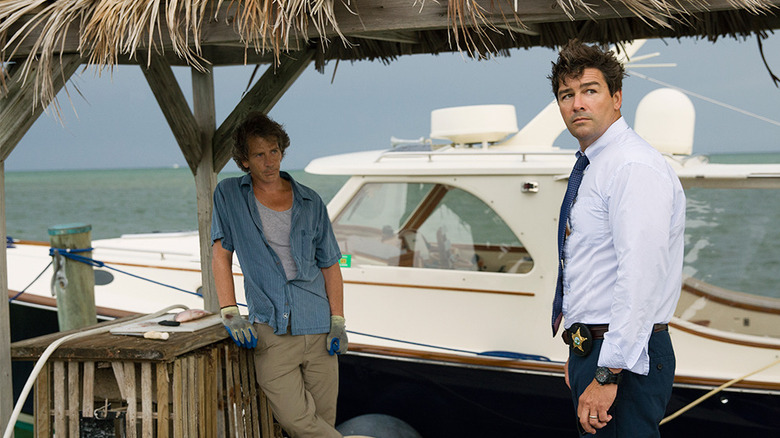 Netflix
There's crime family dramas and then there's the deep seated dysfunction at the heart of Florida's fictional first family, the Rayburns, in "Bloodline." The show was one of Netflix's first attempts at a totally original first rate drama. It's gorgeous, it's well written, and it balances the seedy with the realistic so it doesn't veer into a parody of the show it's aspiring to be. The most important element of the show is its absolutely stacked cast. The show boasts a roster of TV mainstays and legendary character actors young and old, including Kyle Chandler, Ben Mendelsohn, Linda Cardellini, Sissy Spacek, and Sam Shephard.
The fact such a great cast with great chemistry play off each other as siblings and parents with a mountain of skeletons in the closet makes the show endlessly watchable. Going into the plot in any detail truly ruins the fun of guessing which direction the show might go, but suffice it to say, "Bloodline" is a must watch for anyone who thinks crime shows are just a bit better when there's family involved.
Fargo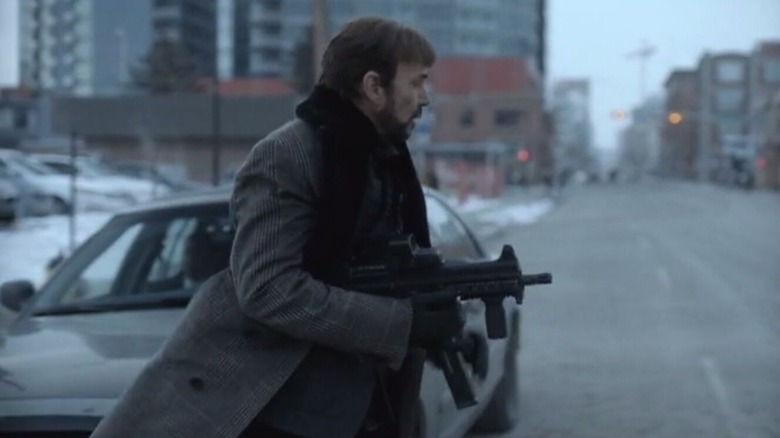 FX
Sometimes networks take a beloved movie or book and scale it down for TV to horrendous effect. Other times they find a voice so unique and talented it can turn a Coen Brothers' masterpiece into one of the best anthology series to make it to the small screen. Such is the case with FX original series "Fargo." The voice behind the show's success: Noah Hawley. Over the course of four seasons, Hawley brilliantly transports everything that makes "Fargo" (the movie) so darkly wonderful — the shocking violence, over-polite criminals, irony, existential questions, and small crimes that inevitably snowball into big crimes — into four totally original stories all set in separate time periods.
Sure, some tropes remain the same across each version: there's generally a brave put-upon small town sheriff just smarter than the baddies (but certainly not as dangerous), there's an innocent, a heavy, and a tragic fool whose get-rich-quick scheme results in a lot of bodies. However, seeing the ways these elements are remixed season to season makes coming back for each "true crime" story feel like a fresh experience. Billy Bob Thorton's portrayal of Lorne Malvo, the main villain of the first season, is worth the price of admission alone. Readers be warned, when the first season's over, the second will immediately feel like a can't miss.
Breaking Bad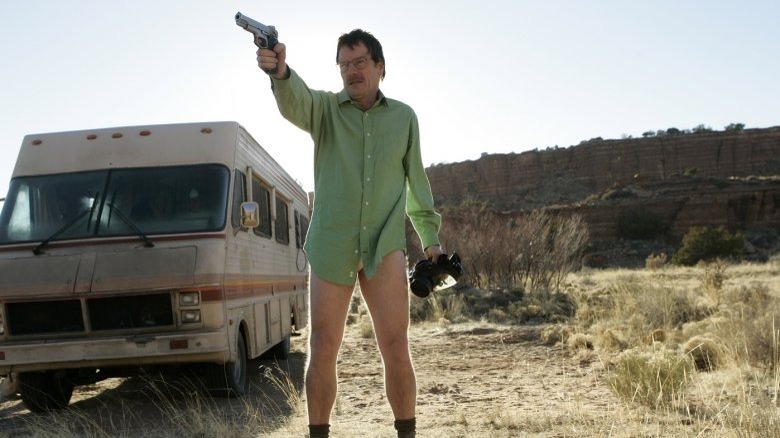 AMC
"Breaking Bad" winds up on a ton of best TV show lists and, from the pilot alone, it's not hard to see why. Vince Gilligan's Odyssey of a mild mannered high school chemistry teacher turned meth kingpin is one of those rare shows that's truly hard to step away from. The acting is superb — it made star Bryan Cranston a household name — the plotting is tight, the characters are fleshed out people, and most importantly, the show revels in consequences. Each decision, big or small, ripples out across A and B plots, character arcs, and, in some truly wonderful payoffs, even seasons.
However, the show is never really slow. There are some building moments, but episodes feed into one another as if the show was a 1950s serial, and audiences will be hard pressed to turn it off once it gets going. For a brief moment in time, not much else captured the zeitgeist like "Breaking Bad" and, looking back on it now, it's not hard to see why. For any readers missing "Animal Kingdom" who have yet to follow protagonist Walter White's descent into the New Mexico equivalent of Hades, give this modern tragedy your full attention and a weekend or two of binging.
Peaky Blinders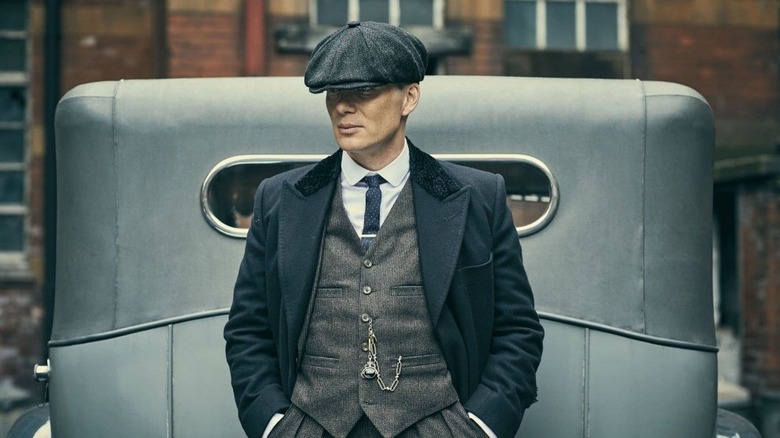 Netflix/BBC
For anyone looking for stories of gangs outside of the usual settings — say, New York City, New Jersey, Los Angeles, or Miami — look no further than "Peaky Blinders." Set on the mean streets of Birmingham following the conclusion of the First World War, "Peaky Blinders" follows the dealings of the titular gang as they fight other criminals, rig horse races, drink, plot, and dodge the dogged pursuit of Sam Neil's Major Chester Campbell. The Peaky Blinders, so named for the razor blades kept in the rims of their hats, are led by the cunning and ambitious Thomas Shelby (Cillian Murphy).
The show's title credits, depicting Shelby riding his horse through his territory in Birmingham to the sounds of Nick Cave's and the Bad Seeds' slow burn "Red Right Hand," tells the audience all they need to know about what they're in for. "Blinders" is dark, dangerous, enthralling, and oh-so-early 21st Century stylish. Plus, creator Steven Knight's vision of the criminal underworld following WWI in England continues to expand as the show goes on. With said expansion comes new corners of an already rough and tumble world and new faces, including the mean mug of Tom Hardy as rival gangster Alfie Solomons.
"Ozark"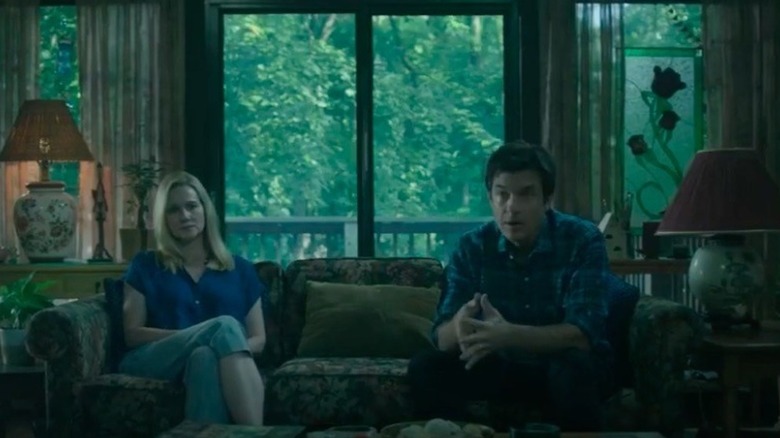 Neflix
"Family man wrapped up in the drug business" may sound a lot like a previous entry on this list. While "Ozark" and "Breaking Bad" have similar premises and leading men in crime dramas who started in TV comedies, their execution couldn't be more different. Where "Breaking Bad" centers its story around the effects of change, "Ozark" kicks its story with the initial change having already taken place. We don't watch Jason Bateman's Marty Byrde break bad, we find him pretty damn broken, and preparing to get in deeper with the criminals whose money he launders.
As an example to express just how different a show "Ozark" is from any of its contemporaries, consider a scene from an episode early in the show's first season. After mounting questions from the kids, Marty's wife, Wendy played by Laura Linney, flat out tells her kids the truth about their family's current situation. No season after season of wacky and increasingly unbelievable near misses of the truth's discovery, just a quick, candid conversation in the kitchen. Moments like these showcase the show's true strength — it knows how to keep ratcheting up the stakes. Any crime fan looking for the next thing to bump their heart rate and make their palms sweat, look no further than "Ozark."
Greenleaf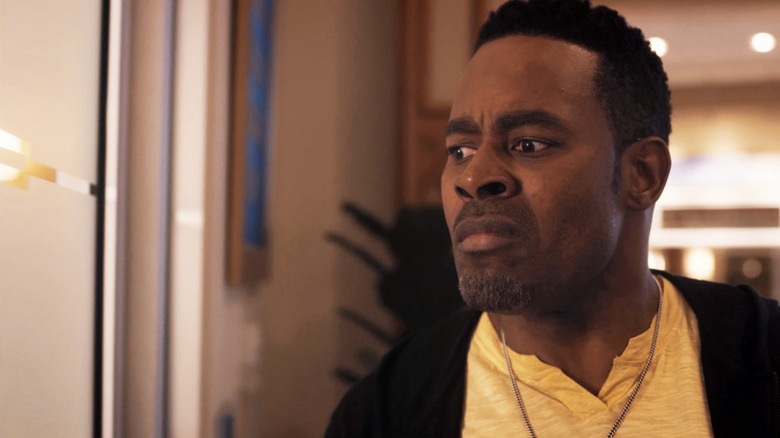 OWN
For genre fans who like the intrigue of crime dramas and dubious family dynamics, but not the startling violence, look no further than the Oprah Winfrey Network's first scripted show "Greenleaf." The show follows the law-bending Greenleaf family, made wealthy by their Memphis area megachurch, and the constant swirl of drama surrounding their lives. The action of the show kicks off when the family's estranged daughter Gigi Greenleaf, played by Merle Dandridge, returns home after twenty years following the mysterious death of her sister.
While the show focuses on Gigi's quest for the truth, it also broadens its scope to focus on her thorny relationship with her parents Bishop James (Keith David) and Daisy Mae (Lynn Whitfield). While other shows on this list lean into the self serious mode of high drama, "Greenleaf" finds a wildly entertaining spot in the melodramatic — especially in its performances. For anyone who wanted to see Lady MacBeth done by way of a diva Memphis megachurch matriarch, look no further than Lynn Whitfield's Daisy Mae. While many shows have taken the trappings of a good soap-opera to new heights before, there's nothing else quite like "Greenleaf" on right now.
True Detective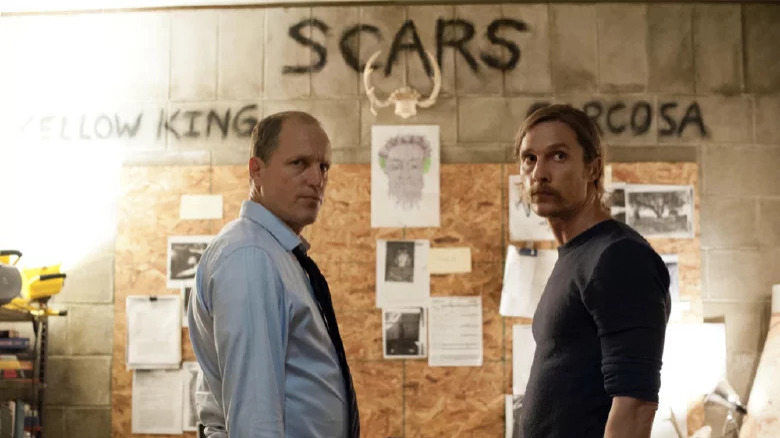 HBO
Writer/producer Nic Pizzolatto's eye for the gothic, particularly the Southern gothic, and ear for updated hard boiled dialogue makes "True Detective" a one of a kind viewing experience — at least in the first season of the anthology series. Each season of the show follows a new batch of coppers as they deal with the case of their careers and its consequences — to say anymore would be a felonious spoiler and ruin the show's engaging premise.
However, what we can say is that each season contains an array of A-lister's including Matthew McConaughey, Woody Harrelson, Michelle Monaghan, Vince Vaughn, Colin Farrell, Rachel McAdams, and Mahershala Ali and its own one of a kind look. The way director Cary Joji Fukunga depicts Louisiana in season one makes it appear near-apocalyptic without ever veering into the unbelievable. Also, the first season contains one of the best single take shots of all time. For any fan looking to shake things up by watching the stories of men and women on the other side of the thin blue line, hunt down "True Detective."
"Snowfall"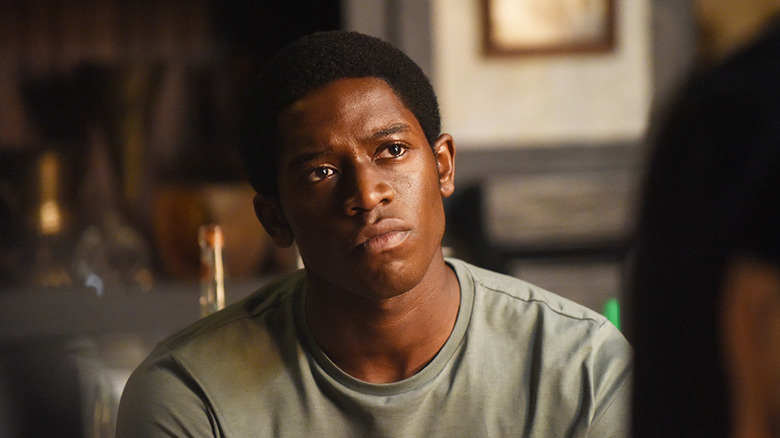 FX
"Boyz in the Hood" director John Singleton made a TV show about the impact of the early crack epidemic in Los Angeles — really, that should be a selling point for anybody to get on board with "Snowfall." Singleton is an empathetic storyteller — in other words, he doesn't drill the audience with "the how" of a plot or premise, instead choosing to zero in on "the why." In doing so, he grounds his stories in a character's decisions, so when a choice is made or not made, the audience understands the choice and the emotion behind the character's motivation.
"Snowfall" is a lot different than the other entries on this list. It doesn't follow the trajectory of single family, crime organization, or detective duo. Instead, plots branch out to characters at all different ends of the drug trade. Great detail and care was also put into creating the look of the show. For crime fans desperately looking for a story told with truly singular vision, "Snowfall" is a must see.
Ray Donovan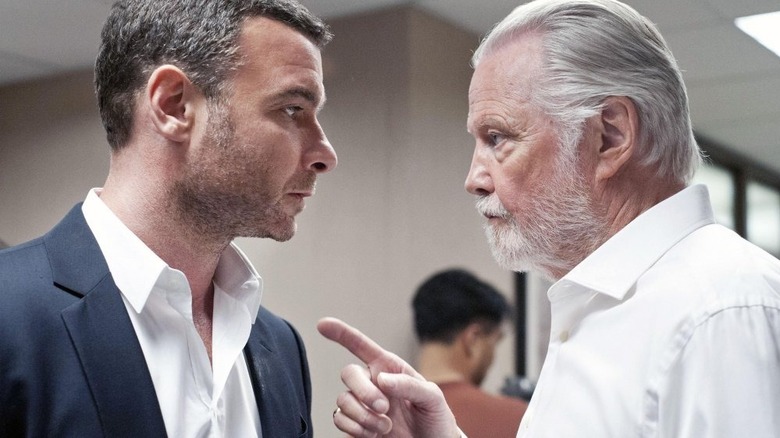 Showtime
Ray Donavan, from whom the show gets its namesake, has a complicated job — he's a Hollywood fixer. No, Showtime's excellent crime drama isn't about a PR guru, it's about an antihero who makes problems go away for a living. "Ray Donovan" works so well because its characters go beyond its engaging premise. Sure, watching Liev Schreiber charm or punch his way out of situations — including removing a dead girl from a champion boxer's hot tub, or get a producer out of a drug pinch — makes for intriguing TV. However, watching him trying to balance his high pressure job while keeping his ex-con father, played to perfection by Jon Voight, out of harm's way, elevates the show to moments of greatness.
The show's real feat is all in the writing. Whereas so many other shows with large casts often struggle to make everybody's plot and arc engaging, "Donovan" finds a way to keep everything level. If audiences are made to spend an episode focused mostly on Ray's dad or brothers, the quality of the overall story isn't diminished. It's another must watch for fans of "Animal Kingdom."
"Kingdom"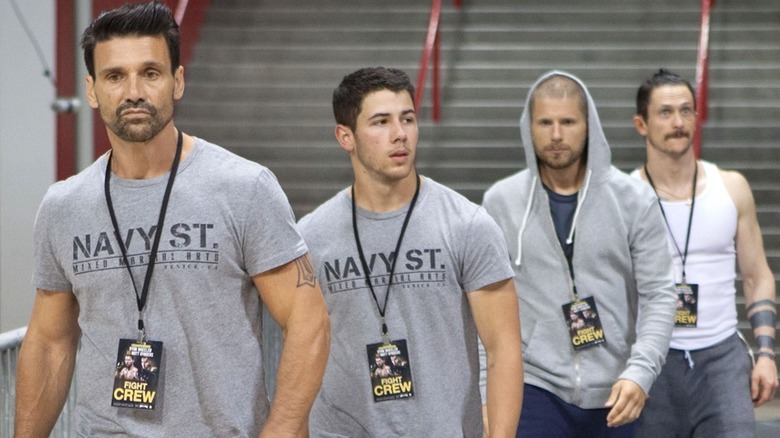 DirecTV
Rounding out this list is "Kingdom," a show about the struggles of a family running an MMA gym in Southern California. Gym owner and family patriarch Alvey Kulina, played by action star/Captain America's punching bag Frank Grillo, leans into the training of his MMA rising star son Nate (Nick Jonas) as a way to make money to support his gym. However, things get complicated when his other son, Jay (Jonathan Tucker), becomes a bit envious and starts operating in the family business with mixed motivations.
The show is expertly paced and criminally under viewed. "Kingdom" deals with issues largely relegated to other genres, particularly when it focuses on Nate's struggle with his sexuality. Centering on his struggle to come out and MMA makes "Kingdom" a family drama unlike any other. Sprinkle in some small crimes here and there, a recommendation from director James Gunn, and some truly visceral fight scenes — it's about modern gladiators, after all — and genre fans have a show they absolutely should bump to the top of their lists.