David Harbour Has Some Bittersweet News For Stranger Things Fans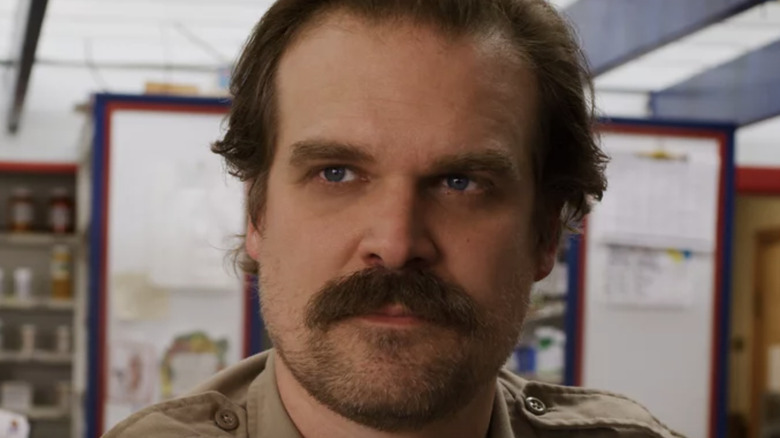 Netflix
According to one of its stars, "Stranger Thing" Season 4 will be instrumental in helping to set up the show's ending.
There is an immense amount of anticipation surrounding the next season of the Netflix original series right now, and it's not hard to see why. It's been almost two full years since "Stranger Thing" Season 3 premiered, but despite that, fans still don't know when the show's fourth season will make its long-awaited debut on the streaming service. That's largely because of the COVID-19 pandemic, which delayed production on the season last year. As a result, filming for "Stranger Things" Season 4 isn't set to conclude until possibly August of this year (via Jimmy Kimmel Live!), meaning that fans likely won't get to see the season itself until sometime in 2022.
Fortunately, the mystery surrounding the new season's release date hasn't stopped Netflix or members of the "Stranger Things" creative team from sharing teasers and story details with fans. The rumored return of David Harbour's Sheriff Hopper was confirmed all the way back in early 2020, and a recent teaser for the season hinted that it will continue to explore the backstory and origins of Millie Bobby Brown's Eleven. While fans do also know that the season won't be the show's last either (via The Hollywood Reporter), it does sound like it'll ultimately bring "Stranger Things" one major step closer to its overall conclusion.
David Harbour says Stranger Things Season 4 will set up the show's ending
During a recent interview with Collider, "Stranger Things" star David Harbour opened up a bit about what fans can expect from the show's highly-anticipated fourth season. The actor teased the season's expanded scope, saying, "It's bigger, that's the first thing. In scope, in scale, even in the idea that we're not in Hawkins anymore. We, locale-wise, we're bigger." Harbour also went on to tease how the season will shift the series focus toward its ultimate endgame, adding, "We're introducing new stuff, but we're also tightening and wrapping up in a certain direction to make it have a clear, clean specific, and definite ending at some point, which I can't really talk about."
Harbour's latter comments will, no doubt, come as a bit of a disappointment to all the "Stranger Things" fans out there who hope to see the series go on for many more seasons. Instead, the actor seems to tease that the Netflix series may be moving toward its final act. That's not totally surprising, given the shorter lifespans of most prestige television series nowadays, but it's a disappointing development nonetheless.
On the bright side, it does sound like "Stranger Things" Season 4 will actually manage to meet the bar set by its previous three seasons. In the same interview where he made the above comments, Harbour said, "It is really my favorite season. I just love it," before adding, "It's a big, beautiful season. I can't wait for people to see it." So, although the wait for "Stranger Things" Season 4 has been undeniably long, there's a high chance fans will feel like it was a worthwhile one in the end.