The Ending Of Intelligence Season 2 Explained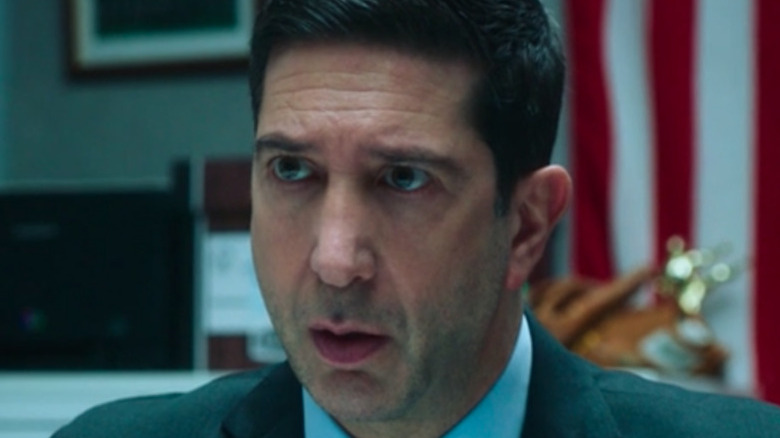 Peacock
The British comedy series "Intelligence" premiered its second season on Peacock on June 17. The sitcom stars David Schwimmer as disgraced NSA agent Jerry Bernstein, who is transferred to England as the NSA liaison to the U.K.'s intelligence counterpart called Government Communications Headquarters (GCHQ). Bernstein is an egotistic misogynist, who antagonizes the head of the agency, Christine Cranfield (Sylvestra Le Touzel), at every turn. Yet somehow, he also continues to be an asset to the organization, if only by accident.  
At the end of Season 1, Christine protects Jerry from being extradited back to the NSA. As the team celebrates, it is implied that Mary (Jane Stanness), who is one of the analysts at GCHQ, is a double agent working for the Russians. At the end of Season 2, we're given yet another surprising cliffhanger that may or may not be directly connected to the mole. 
Here's the ending of "Intelligence" Season 2 explained.
Mary is not a double agent; she's a triple agent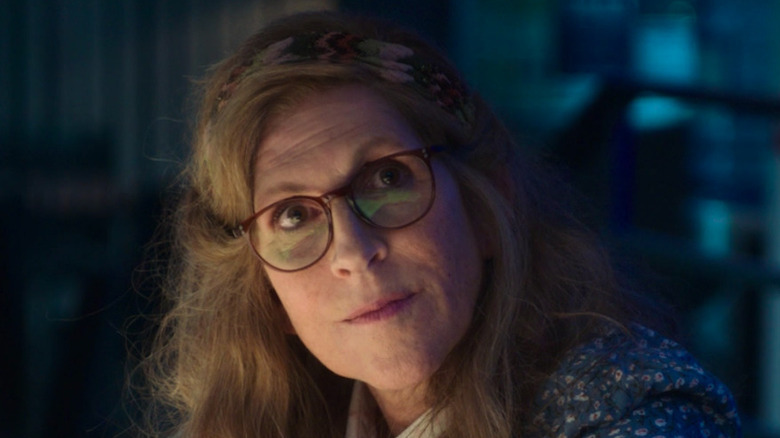 Peacock
In Season 1's last episode, it is suggested that Mary is a traitor who is conspiring with a Russian group. We see her secretly speaking Russian on her cellphone saying, "No one suspects a thing." However, in Season 2 it is revealed that Mary is only helping the Russians because they have taken her elderly mother hostage. Christina reveals that Mary is not a double agent, but in fact, a triple agent, feeding false information to the other side while pretending to betray her country. 
Though Mary's mother is eventually saved (thanks in part to another harebrained scheme cooked up by Jerry that is accidentally helpful), it is indicated that there may still be a mole at GCHQ. The pool of potential culprits grows as new characters pop up, including Charlotte (Diane Morgan) who works at the GCHQ branch in Bude, and is the new girlfriend of junior agent Joseph Harries, played by show creator and writer Nick Mohammed. 
Season 2 ends on a cliffhanger as Jerry is kidnapped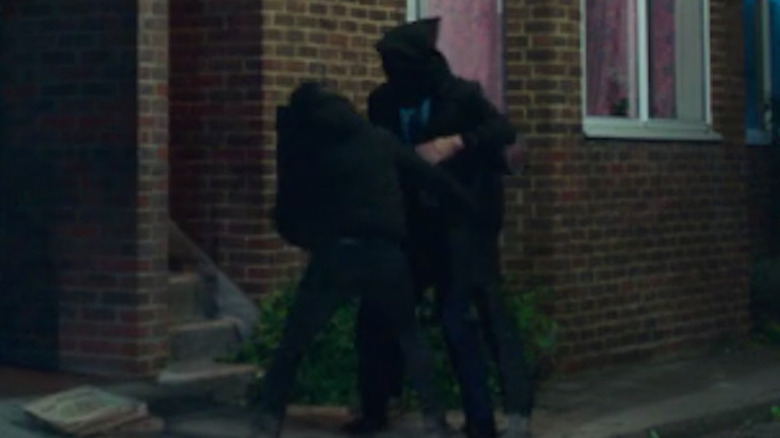 Peacock
At the end of this season, Joseph is fired by Christine. Though we have seen his lack of competence at his job through the entire series, and he has been given numerous warnings about his work performance, it is still a shock to see Joseph dismissed. Although Jerry is an insufferable narcissist, Joseph has been his ally and friend throughout his many ordeals. Although Joseph is fired, he continues to return to the GCHQ in hopes of regaining his employment. Jerry eventually shows a bit of compassion and hires Joseph as his assistant, showing at least a little character growth. 
However, it turns out that growth and compassion only go so far. When Jerry is informed that his application to a high-level post at the NSA has been accepted, he predictably jumps at the chance to return home, leaving Joseph without any prospects. Then at Joseph and Jerry's farewell party, we see Jerry being abducted and thrown into a van. 
The implication is that the real GCHQ mole is the responsible party. As for the reason behind the kidnapping, although Jerry is largely unhelpful, he may be seen as an important target on paper — given his GCHQ promotion and new NSA position. However, based on the various surprising twists in this show, its also entirely possible that the kidnappers took the wrong target, or that the NSA is somehow involved. Regardless, the rest of the GCHQ crew will surely rally to find him and perhaps give Joseph a chance to redeem himself and his job. 
There is still no confirmation yet about an "Intelligence" Season 3 renewal, so we'll have to wait and see whether Jerry's fate is resolved.