How Much A Signed Back To The Future Prop Was Worth On Pawn Stars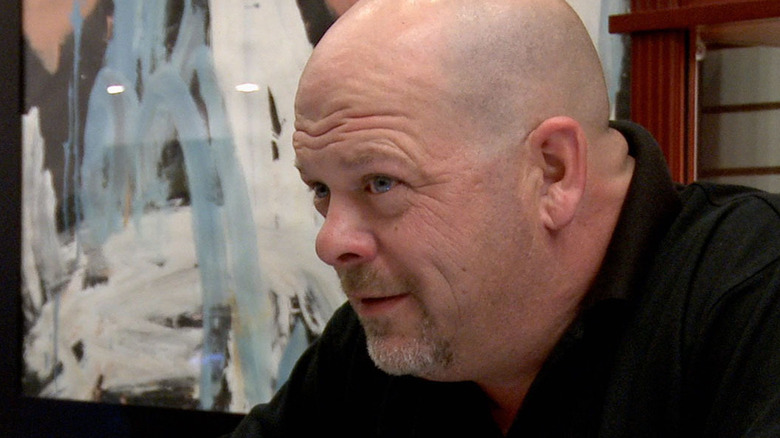 History Channel
"Pawn Stars" has seen some seriously big numbers go through its books in twelve years on our screens since first airing in 2009. Ancient artifacts, classic cars, music memorabilia, and just about everything in between has appeared on the reality TV smash hit, bringing millions worth of booty to the World Famous Gold & Silver Pawn Shop from collectors across America.
Just like the hidden treasures it trades, the show is now worth a fortune, becoming the History channel's highest rated title in 2011. The cast of "Pawn Stars" are also valuable — Rick Harrison, who helms the team, is worth an estimated $8 million (via History). Many of the treasures that helped them make big bucks — and, for film geeks like us, the most fascinating finds — are movie props. If you're a "Back To The Future Fan," this slice of sci-fi history brought by one hopeful seller might just grab your attention.
Instantly recognizable to fans of the '80s classic, the signed Grays Sports Almanac that arrived for valuation in Season 15 is central to the plot of "Back To The Future Part II." Showing the sports scores of the future, it's used by the loathsome Biff to make millions in gambling winnings — and the almanac's cocksure owner seems just as confident of a result inside the shop. To many "Back To The Future" fans, you can bet it's priceless, but let's find out how much it's actually worth.
A surprising detail limits the Sports Almanac's value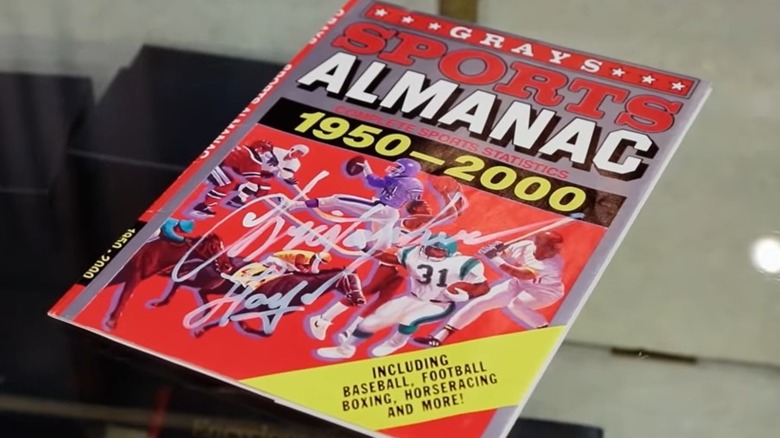 History Channel
Having tried to flog the Pawn Stars a DeLorean before — and claiming to have sold it himself for a healthy profit — the seller is confident he can convince them to hand him $7500 for the iconic prop. It's signed by several stars: writer Bob Gale, Doc Brown actor Christopher Lloyd, and Tom Wilson, who plays the almanac's villainous guardian, Biff.
The team consults "Back To The Future" prop master 'Dangerous' Bob Widin — dubbed as such by Steven Spielberg — to check the almanac is legit. It is indeed, with Bob confirming its official status as one of 24 screen-used copies from the film. Fascinatingly, it's tiny tell-tale signs that prove it to be the real thing — like the marks from the tape applied by Bob's own hand to stop the covers coming loose on set. But one detail limits the impressive item's value.
Surprisingly, the signatures on the almanac actually decrease its value, rather than adding to it. "The real collectors," Bob says, "want an absolutely pristine prop", so the stars' squiggles are a turn-off for many potential buyers. Disappointingly for the seller, Bob values the prop at just $2500. Looking to make a profit for themselves, of course, the Pawn Stars offer $1500 — a disappointing $6000 drop from the asking price. The spurned seller slinks away, but as Rick quips at the end of their exchange, "Maybe it'll be worth something in the future."