This Is Where The Central Perk Couch On Friends Really Came From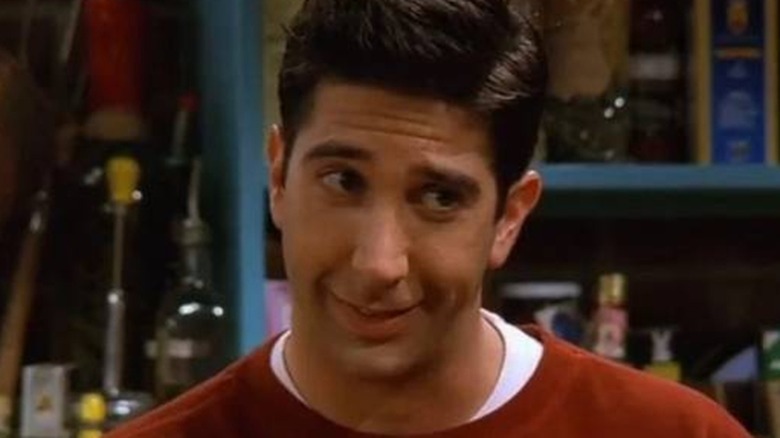 NBC
It has been said that "Friends" is about a specific time in your life when your friends are your family. You're young, possibly fresh out of college, and are doing your best to get your life together away from home and your parents. Collectively, Ross (David Schwimmer), Rachel (Jennifer Aniston), Chandler (Matthew Perry), Monica (Courteney Cox), Joey (Matt LeBlanc), and Phoebe (Lisa Kudrow) represented that experience in the late 1990s perfectly, especially through the settings they found themselves in. For instance, aside from their apartments, they spent much of their free time at the now-iconic Central Perk coffeehouse.
From the moment "Friends" debuted in 1994, the Central Perk of Greenwich Village, New York was at the heart of the program. Serving as the main cast's preferred hangout spot, they would often converge there to relax, work their 9-5 job, or, in Phoebe's case, perform a rendition of the song "Smelly Cat" for the restaurant's patrons. Of course, any description of the Central Perk's significance would be incomplete without some mention of the famous orange couch that the "Friends" gang never missed the chance to sit on.
Over time, the communal sofa took on a life of its own as one of the many symbols that represent the lasting legacy of "Friends." Although, its status today is quite surprising considering its humble origin.
The Central Perk couch was a lucky find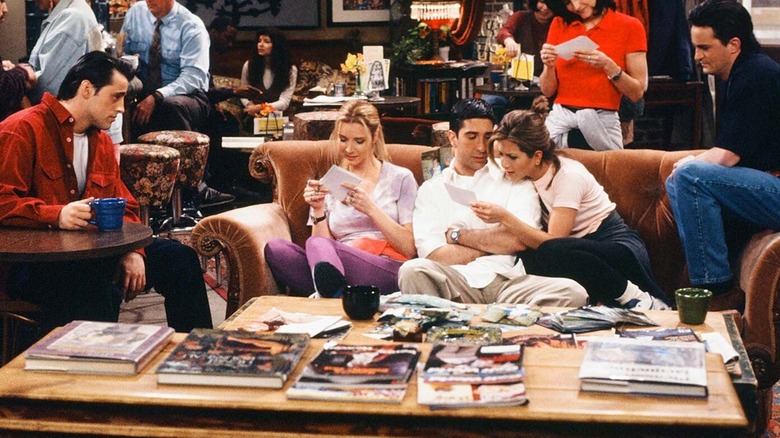 NBC
"Friends" ranks pretty high on the list of the most expensive television programs ever produced — noted by Insider that the salaries of its cast members drove the cost up to roughly $10 million per episode in its last few seasons. However, since most installments took place in a handful of the same few locations, the cost of putting together a backdrop for the series wasn't too high. Though itemized lists of expenses for each episode aren't readily available, we know for certain that the Central Perk couch didn't wind up on any of them.
According to USA Today, the orange couch didn't cost Warner Bros. a dime. Set decorator Greg Grande found it while digging through a basement on the studios' production lot in Burbank, California, so he dusted it off, brought it to set, and the rest is history. "Literally in the back corner, shoved under another piece, was this sofa with beautiful carved wood," he said in 2019, noting that its tattered condition made some at the network wary of its inclusion. Thankfully, director James Burrows stepped in and voiced his satisfaction with its worn aesthetic, pushing back the criticism as a fan of its "absolutely believable and real" presentation.
The article also notes that the famous piece of furniture is currently a fixture of the Warner Bros. studio tour. For any "Friends" superfan, this is a must-visit destination, and the couch's presence there is the perfect punctuation mark on its rags to riches story.