The Lady Gaga Duet From The Friends Reunion That Has The Internet Buzzing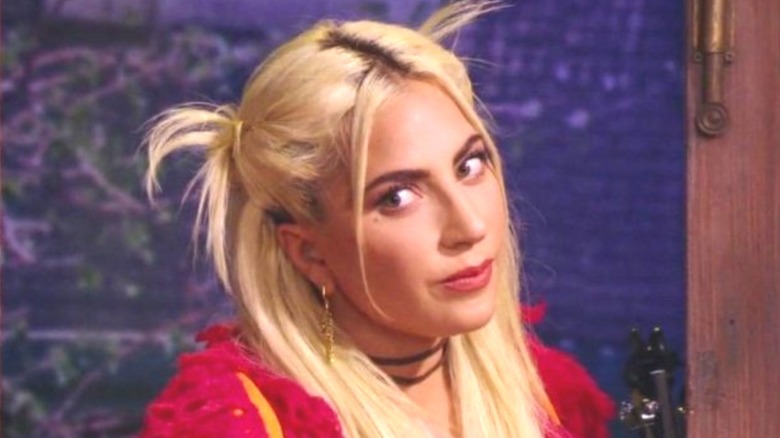 NBC/HBO Max
The "Friends" reunion on HBO Max has finally aired, and fans are still talking about the special days after watching it. Some highlights include a recreation of the famous trivia game from "The One with the Embryos," table reads of classic scenes, and an admission from on-screen couple Jennifer Aniston and David Schwimmer that they crushed on each other in real life.
"Friends: The Reunion" also features plenty of cameos from famous faces. While many of the notable cameos were from actors who appeared on "Friends" back in the day — such as Maggie Wheeler (who played Janice), Tom Selleck (Monica's mustachioed one-time boyfriend Dr. Richard Burke), and Elliott Gould and Christina Pickles (Jack and Judy Geller) — there were also some exciting appearances from other celebrities. These names included Cindy Crawford and Cara Delevingne, both of whom modeled famous looks from the show, as well as "Game of Thrones" alum Kit Harington, who named his favorite scene from the sitcom.
But it was Lady Gaga who had one of the most memorable moments of the reunion, performing a duet with one of the Friends.
Lady Gaga and Lisa Kudrow's amazing 'Smelly Cat' duet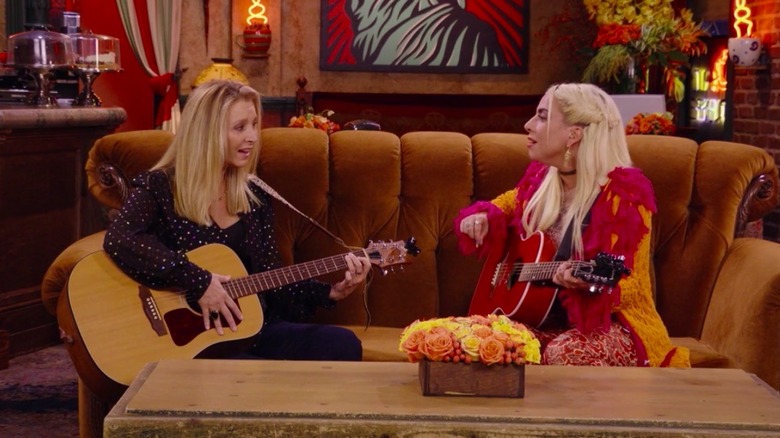 NBC/HBO Max
Who could forget Phoebe's song "Smelly Cat"? As the resident musician of the Friends — and on the Central Perk stage — Phoebe performed numerous songs throughout the show's run, but the most famous of those is undoubtedly "Smelly Cat." It was only fitting that Lisa Kudrow break out her guitar for another rendition of "Smelly Cat" during the reunion.
But the return of "Smelly Cat" was made even more exciting with the appearance of superstar Lady Gaga, who stepped onto the Central Perk set and told Kudrow that she just happened to be walking by with her guitar when she heard her singing "Smelly Cat." After calling "Smelly Cat" one of her favorite songs, Lady Gaga asked to join Kudrow in the rendition.
The two then belted out the song together, sitting next to each other on the famous Central Perk couch, much to the delight of fans everywhere. And it wasn't just fans who were elated; Kudrow enthusiastically spoke of the moment to ET Canada, saying, "Forget that it was 'Smelly Cat,' but just being able to sit next to Lady Gaga and she's belting anything was thrilling."
"Friends: The Reunion" is available to stream now on HBO Max.