Blindspotting Season 2 - Everything You Need To Know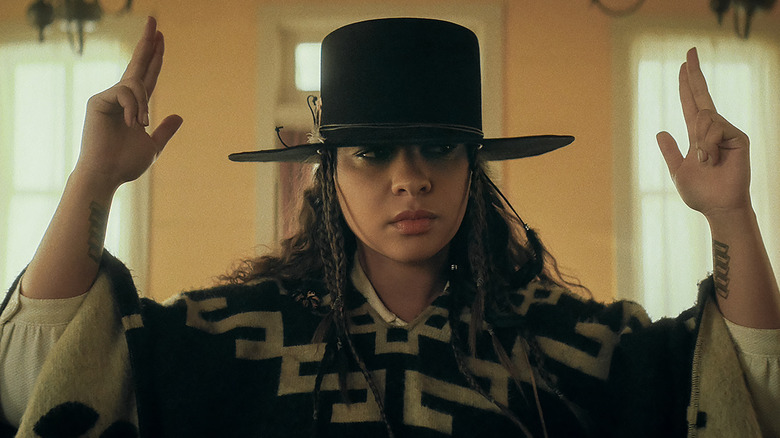 Starz
In June 2022, the "Blindspotting" universe officially expanded with the premiere of the "Blindspotting" television show on Starz. The series arrived three years after the movie of the same name starring and co-written by Daveed Diggs ("Snowpiercer," "Hamilton") and Rafael Casal ("Bad Education"). "Blindspotting" tells the story of two friends, Colin (Diggs) and Miles (Casal), who live in Oakland, California. Colin struggles to keep himself on the right side of the law as he gets closer and closer to the end of probation — a goal that is hampered by Miles, a man who frequently invites violence and chaos into their lives. "Blindspotting" was met with both critical and commercial acclaim upon release, gaining box office success. The movie ultimately earned $4.3 million domestic and $5 million globally, a considerable return on its $340,000 budget. 
Out of the movie's success sprang Starz's "Blindspotting." Announced in September 2020 via Deadline, the "Blindspotting" show was confirmed to be a continuation of the movie. It would follow Jasmine Cephas Jones' character, Ashley, who was originally introduced in the movie as Miles' long-term partner with whom he has a son. Diggs and Casal were announced as writers, executive producers, and co-creators of the TV continuation. In addition to the familiar faces popping up on the "Blindspotting" TV show, there are also some creative continuations as well, with Ashley's internal monologue frequently taking the form of stylish spoken word solos and modern dance scenes finding their way into the action.
"Blindspotting" will be back for Season 2. Here's what we know so far. 
When will Blindspotting Season 2 be released?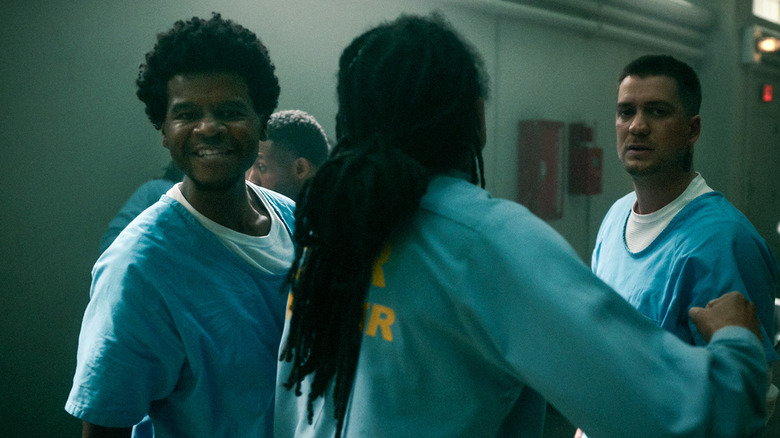 Starz
Good news, "Blindspotting" fans — Season 2 is definitely coming. The official Twitter page for the series shared the news over a year ago on their feed, but unfortunately, we still have no release date. Most of the production milestones for Season 2 have been documented on actor-director Rafael Casal's Instagram feed. On April 19, 2022, he shared a post of a clapper, suggesting filming was underway, and on April 29 announced that they had wrapped. 
On August 31, Casal was blunt in another Instagram post, writing, "Look, we still don't have a release date for @blindspottingstarz – it's not up to us. BUT I just wanted to provide some proof that we are hard at work on it." The post featured a photo of Casal, Daveed Diggs, and Andy Hay working in a studio. Finally, in February 2023, Deadline broke the news that "Blindspotting Season 2" would debut on Starz on April 14, 2023 at 9 p.m., with two back-to-back half-hour episodes.
What is the plot of Blindspotting Season 2?
Starz
According to Deadline, "Blindspotting" Season 2 will continue on from where Season 1 left off, exploring the tricky and tender relationships of characters forced together from incarceration, out of necessity, and a desire for support and normalcy. The action in the Season 2 begins nine months after the Season 1 finale, when Ashley and Miles got married in a jailhouse wedding. Despite that bit of goodness, Ashley's growing tired and frustrated with the single-parent life and living without her spouse around, and she's subsequently making life miserable for her support system. 
Miles, meanwhile, is getting used to life behind bars at San Quentin and can't wait until family visitation weekend. Rainey tries, to little success, to connect with Ashley and stay close to her incarcerated son; Trish's business is doing well, but she's jealous of best friend and business partner Jacque's new relationship; Janelle misses the life she left behind in Bali and is growing exasperated with Ashley's neediness; and the recently paroled Earl tries to carve out a new life for himself.
Who is starring in Blindspotting Season 2?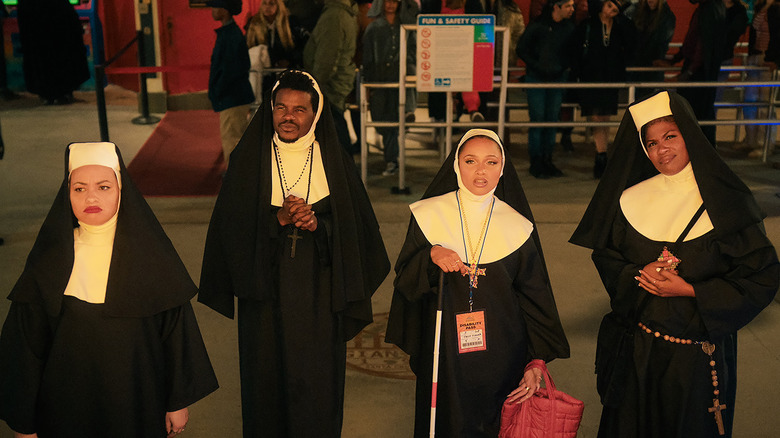 Starz
According to Deadline, the major players of "Blindspotting" Season 1 are returning for the next chapter. Jasmine Cephas Jones (Ashley), Rafael Casal (Miles), Helen Hunt (Rainey), Benjamin Turner (Earl), Atticus Woodward (Sean), Jaylen Barron (Trish), and Candace Nicholas-Lippman (Janelle), Margo Hall (Nancy), April Absynth (Jacque), Lance Holloway as (Cuddie), Andrew Chappelle (Scotty), and Utkarsh Ambudkar (Niles Turner). Hall, Absynth, Holloway, Chappelle, and Ambudkar have all been promoted to recurring stars for Season 2.
Newcomers to "Blindspotting" Season 2 include LeVar Burton, Katlynn Simone Smith, Tamera Tomakili, and Tim Chantarangsu. We don't know who they're playing just yet, but the official Twitter page for "Blindspotting" expressed excitement for having all onboard. Rappers E-40, P-Lo, and Too $hort are also set to guest star as themselves.
Is there a trailer for Blindspotting Season 2?
Just prior to the cable TV debut of "Blindspotting" Season 2, Starz released the first official trailer for the hit dramedy's new collections of episodes, on March 8, 2023. By the looks of things, "Blindspotting" Season 2 picks up both the plot and tone of the series' first season, mixing broad comedy with surrealism, earnest family drama, and character study of a young woman on the brink of everything falling apart. Ashley and Miles are both anticipating their first conjugal prison visit since their jailhouse wedding, and to a comically high level of randiness it would seem. 
Meanwhile, quick cuts deliver glimpses of Ashley's life, characterized by stressful moments of trying to be everything the people around her need her to be. She blows off steam with a night of partying and drinking, engaging in some fantastical sequences, and plans a kid's birthday party, but she's clearly cracking — to the notice and concern of friends and family. "Everything is okay!" Ashley proclaims, unconvincingly — a moment that could also serve as the thesis statement for "Blindspotting" Season 2.
Where to watch Blindspotting Season 1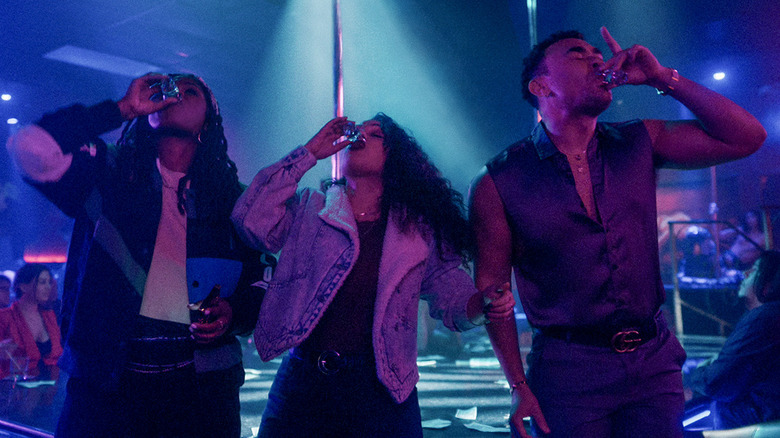 Starz
The first season of "Blindspotting" is available on the Starz app. If you have Starz as a part of your cable subscription, you'll be able to access the channel's content online, or you can just purchase a subscription to the app to catch its great original shows. You can also purchase episodes of "Blindspotting" on platforms like Amazon Prime or iTunes for $1.99 a piece. Starz often runs promotions and will offer one episode for free before asking for your money. The streamer also routinely offers deals on its monthly subscription service, currently running a promo for three months for $5.
If you're looking to catch the film that started it all, you won't have to travel far. The "Blindspotting" movie is also available on Starz and will likely stay on the platform with the series. You can also purchase the movie on all digital platforms. Amazon Prime currently offers it for $5.99, one of the cheapest options around. 
What will Blindspotting Season 2 be rated?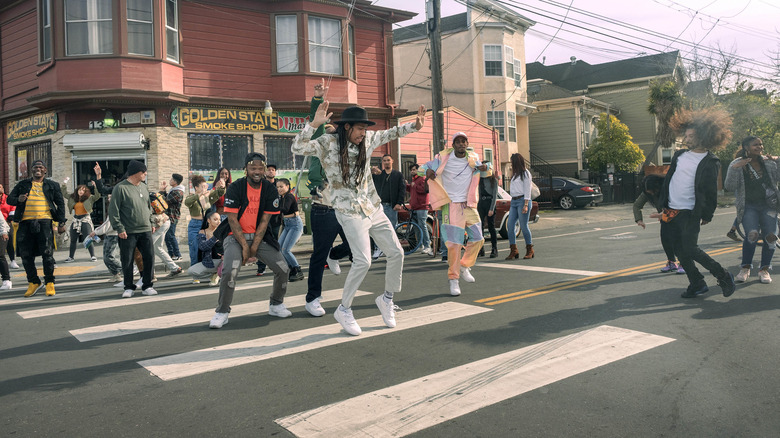 Starz
The "Blindspotting" film has an R rating, while the series was given the TV-MA treatment. This will also apply to Season 2, as series as a whole are given a rating rather than independently. TV-MA means the content is not suggested for those under the age of 17. Each episode will reveal what specific mature content is to come at the very beginning, normally in the top left corner of the screen. Former episodes of "Blindspotting" include nudity, sex, language, and mature content. Sex workers are often featured, as is a brother of sorts. 
Adult language is heavily featured in "Blindspotting" and will more than likely carry into Season 2. There are also scenes that some might find emotionally disturbing, as a young child is found in scenarios that are not appropriate. We do not recommend letting children or young teenagers watch "Blindspotting," the series or film.