The Character Everyone Forgets Milana Vayntrub Played On Key & Peele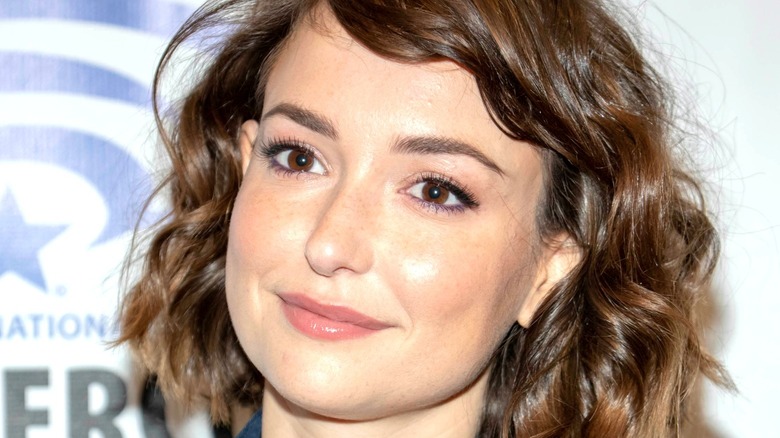 Shutterstock
Milana Vayntrub seemed to come out of nowhere when she first started shilling cell phones for AT&T on the television screens of a grateful nation. The truth, however, is that she didn't just magically appear one day. Milana Vayntrub has been with each and every one of us all along, in the smile on every child and the glistening reflection of a sunrise on a bead of morning dew.
Beyond that, she had other acting gigs, picking up her first credited work on an episode of "ER" when she was just eight years old. While stardom on a national level would have to wait until the 2010s, Vayntrub picked up enough small roles to keep her busy until the celebrity lifestyle of a telecommunications company spokesperson came knocking.
In 2013, the same year in which the performer began her run as the face of AT&T, Vayntrub appeared on "Key and Peele," the basically unbeatable sketch show that launched the careers of two of the biggest talents in show business. Maybe you've seen the sketch that she appeared in — it has more than 3 million views on YouTube as of 2021 — but the odds are slim that you recognized the professionally peppy performer under all of that vampiric high fashion.
Milana Vayntrub got weird for Key and Peele
The Season 3 sketch, titled "Sexy Vampires," opens on a prototypical modern vampire lair. There's creepy lighting and slow jam ambient techno music and, crucially, half a dozen or so hematophagic undead folks wearing clothes that look, if nothing else, complicated to run through a washing machine properly. The vampires are getting up to writhing, gothic business — and all of the weirdest stuff is very much up somebody's alley.
Enter Keegan-Michael Key's character, whose alley it is not up. A newly bevampired vampire, he puts his concerns in simple terms: Everybody is acting weird and they need to stop. The majority of the vampires agree, voicing a pretty unanimous consensus that they were all just doing this to fit in anyway. Among them is Milana Vayntrub, dressed to the creepy nines and tired of the background music — "This song has been playing for like two years and it sucks," she admits, close to tears with frustration. It's a hoot. 
Vayntrub's soar to celeb status has not been without some struggle, but she has continued to grace fans with her stage presence. Also, did you know that she's been voicing Squirrel Girl for the last three years? She was even supposed to play the character in a live action series for Freeform before it got scrapped. She's got range, that's all we're saying. If you want to revisit Vayntrub's "Key and Peele" episode, the series is available to stream on both Hulu and HBO Max now.