How Sam Raimi Changed Doctor Strange In The Multiverse Of Madness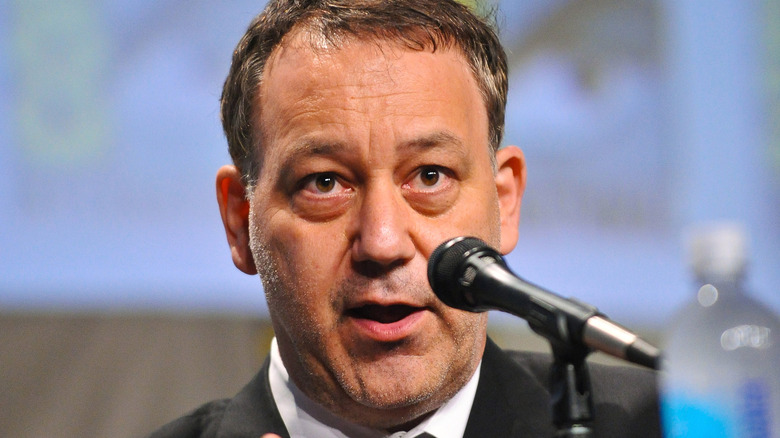 Albert L. Ortega/Getty Images
The director of "Doctor Strange in the Multiverse of Madness" took the film in a direction that may surprise some Marvel fans.
The highly-anticipated "Doctor Strange" sequel promises to be one of the more interesting, unique, and important movies that Marvel is set to release over the next few years. Coming six years after the 2016 release of "Doctor Strange," the film will reportedly tie directly into the events of "WandaVision," and will feature Wanda Maximoff (Elizabeth Olsen) in a major role. While little is known about how exactly Wanda will factor into the film's story, all signs point towards "Multiverse of Madness" further cementing her status as one of the most powerful characters that the MCU has ever seen.
The sequel film is also notable for being the first superhero movie directed by Sam Raimi since 2007's "Spider-Man 3." Comic book fans hold Raimi in high esteem his first two Tobey Maguire-led "Spider-Man" films, which are generally considered to be some of the best superhero movies ever made. As a result, Raimi's involvement in "Doctor Strange in the Multiverse of Madness" has brought an extra level of excitement to the film. It sounds like Raimi, who also directed the original "Evil Dead" films, changed the overall direction of the "Doctor Strange" sequel in one interesting way as well.
Sam Raimi made Doctor Strange 2 even scarier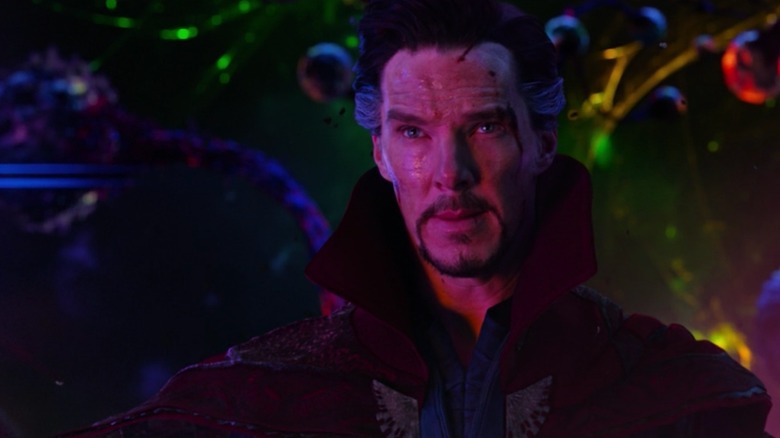 Marvel Studios/Disney
During a recent interview with Friends From Work, "Loki" head writer Michael Waldron opened up a bit about what Sam Raimi brought to "Doctor Strange in the Multiverse of Madness." In addition to his involvement in "Loki," Waldron worked on rewriting the "Doctor Strange" sequel with Raimi after the latter was brought on to replace original "Doctor Strange" director Scott Derrickson. According to Waldron, Raimi was apparently quick to bring his talents as a horror filmmaker to the sequel too.
Waldron teased that he and Raimi worked together to make "Multiverse of Madness" a particularly scary Marvel movie, saying, "COVID just gave me and Sam more time to make it our own thing. It's cool. I'm glad that there was the chance to maybe push it in a slightly scarier direction, just because Sam does that so well." The "Loki" and "Multiverse of Madness" writer went on to discuss the mark that Raimi made on the project, adding, "It's a Sam Raimi movie, and it really is. This is Sam Raimi's return to big superhero movies. I think everything you might want out of a Sam Raimi movie, you're hopefully going to get out of this one." 
Waldron's comments will no doubt come as good news to all the MCU fans out there hoping to see Raimi's singular directorial style fully present in the "Doctor Strange" sequel. 
All in all, the film is shaping up to be one of the most ambitious and idiosyncratic standalones that Marvel has ever made. In other words, it sounds like a movie worthy of being Sam Raimi's long-awaited return to the superhero genre.
"Doctor Strange in the Multiverse of Madness" is scheduled for release on March 25, 2022.