Pig - What We Know So Far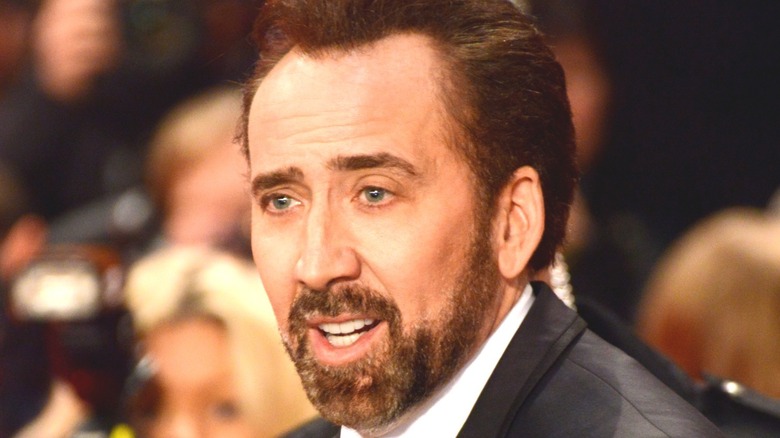 Shutterstock
Nicolas Cage is in a lot of movies. If you take a gander at his IMDb page, you'll notice that, with the exception of 2020 (for understandable, pandemic reasons), Cage is in about four or five movies a year. So, naturally it's likely that he'll start being in movies that have some common themes.
One thing you'll notice right away about Cage's current trajectory is that he's starring in quite a few horror movies — many of which have even gotten some attention. Cage and Selma Blair play two parents who go full homicidal in "Mom and Dad," while something from the great beyond warps the minds and bodies of Cage and his family in an adaptation of H.P. Lovecraft's "Color Out of Space." More recently, the actor also took on a silent role fighting off creepy animal mascots in the "Five Nights At Freddy's"-style film "Willy's Wonderland."
But the horror film Cage is arguably most known for from the last decade is "Mandy" — a story where a lumberjack's wife is kidnapped and tormented by a demented hippie cult, leaving the lumberjack (played by Cage) no choice but to take bloody vengeance. And if you replace a wife with a prized pig, you basically get the concept behind Cage's upcoming film "Pig." Here's everything you need to know about this unusual tale (or is that "tail").
When is Pig coming to theaters?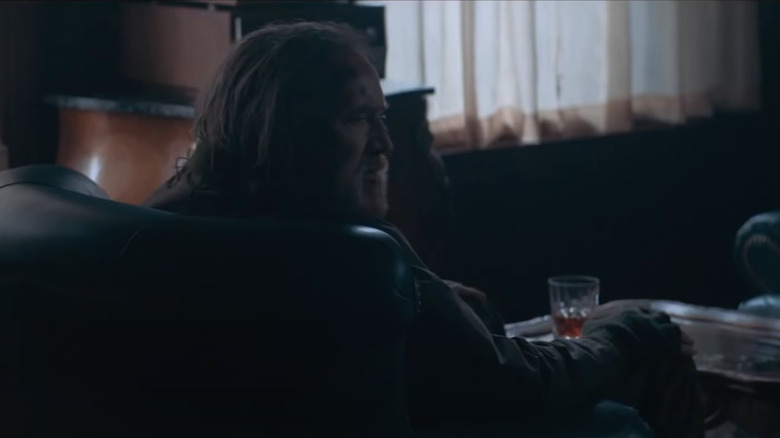 Neon
"Pig" may sound like a very weird film already, but there's at least one real-life element to its story which makes it similar to a lot of films coming out in 2021 — it was supposed to come out in 2020.
Principal photography for "Pig" began on September 23, 2019, and the film was picked up for United States distribution by Neon in May 2020. Apparently, there was a bit of a bidding war over the film even though the United States was very early on in the year-long quarantine that prevented film productions and kept theaters closed, according to Variety.
Clearly, someone felt they had something really special with "Pig" because, while many other films have either gone direct to video or attempted to open in theaters despite a diminished audience, Nicolas Cage's latest is being released in a somewhat competitive period during a time when folks are slowly risking sitting in a theater for two hours.
"Pig" is headed to theaters in the united States on July 16, 2021 — just under a month after its trailer was released.
Who stars in Pig?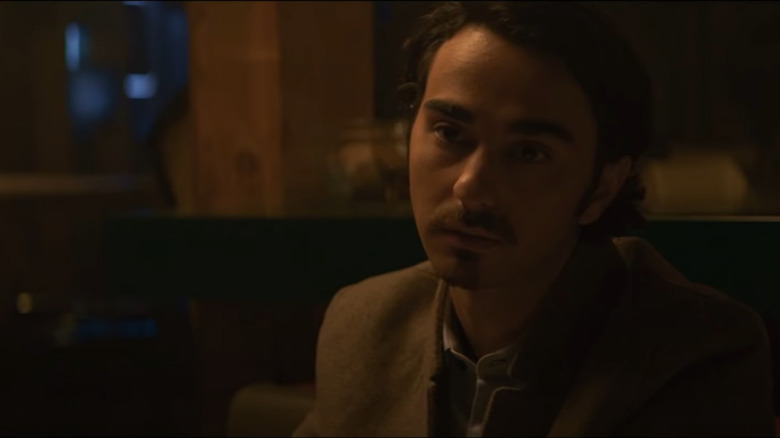 Neon
Horror movies are extremely reliant upon their casts. If you've ever seen something like "Troll 2" or "The Room" (or "Cathy's Curse," if you're a real bad horror movie buff), then you know that a funky script can be either saved or ruined further by the wrong actors. Likewise, even the greatest horror movies of all time likely wouldn't be as fondly remembered without the casts they had. What is "Rosemary's Baby" without Mia Farrow? "The Exorcist" without Linda Blair? Or "Halloween" without Jamie Lee Curtis?
We already know that Nicolas Cage is the star of "Pig" — and that's great. Cage's manic, unpredictable energy has the power to amplify whatever's in a horror script. Cage is a huge reason why that "Color Out of Space" adaptation is as creepy as it is. And, similarly, if it weren't for Nicolas Cage, people probably wouldn't be as prone to revisit the singularly bizarre remake of "The Wicker Man."
But Nicolas Cage is only one actor, and he's arguably not even the primary reason "Pig" has the buzz it does with horror fans. Appearing opposite Cage is Alex Wolff as Amir. If Wolff's name sounds familiar, it's almost certainly because in 2018, he played Peter in Ari Aster's already legendary family horror film "Hereditary." Even if you've never seen "Hereditary," you likely know that a lot of horror nerds think it's the best horror film of the last fifteen years, good enough to stand toe-to-toe with movies like "The Exorcist," "Rosemary's Baby," and the original version of "The Wicker Man."
Wolff is in two upcoming horror films: "Pig" and the next M. Night Shyamalan film "Old." Essentially, if Alex Wolff is in a horror movie, there's a solid chance it's going to be good. "Pig" hosts a number of other interesting stars, including actor and director Adam Arkin ("Get Shorty," "Sons of Anarchy"), David Knell ("Splash," "Total Recall"), and Nina Belforte, who recently completed filming an adaptation of Emily Brontë's "Wuthering Heights."
What is the plot of Pig?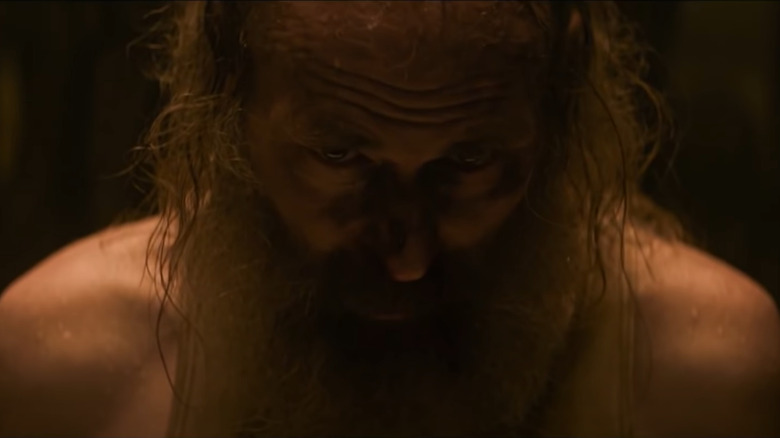 Neon
If you haven't stayed caught up on everything Nicolas Cage, the phrase "'Mandy' but it's a pig instead of a wife" might be meaningless to you. To put it in more widely culturally relevant terms, "Pig" is "John Wick," but it's a pig instead of a dog.
Now that the first (and maybe only) trailer for "Pig" is out in the world, we have a solid sense of at least the basics of what the story is about. Nicolas Cage plays a truffle hunter named Rob who lives alone in the woods in Oregon — just him and his prized truffle pig. The pair are well known, and in the trailer, we get the sense that Rob used to be a chef of some repute in Portland. We see glimpses of the life he had before he became a truffle hunter in the woods, and, yes, it seems like he has lost some family — not unlike John Wick.
Things take a turn when someone comes to Rob's cabin in the woods, attacks him, and makes off with his pig. Who stole Rob's prize pig? That's the question that drives the movie. Whether the film will feature any supernatural horror elements or if it will simply be the story of a regular Joe who will stop at nothing to get back his pig remains to be seen.
"Pig" hits theaters in the U.S. on July 16, 2021.