The New Trailer For Pig Has Nicolas Cage Fans Scratching Their Heads
Nicolas Cage has earned a reputation for himself for starring in odd, outside-of-the-box movies. From swapping faces with John Travolta in "Face/Off" to battling animatronic mascots in "Willy's Wonderland," Cage has no problem saying "Yes" to projects that allow him to show off the full range of his talents. As audiences eagerly await the release of "The Unbearable Weight of Massive Talent," where Cage will finally play himself on the big screen, there's another one of his projects you should keep an eye on. 
The trailer for "Pig" just came out, and if anyone other than Cage had the lead role, it just wouldn't feel right. The film follows Rob (Cage), a mushroom forager who lives in the middle of nowhere with his trusty pig. Together, they go around and sniff out truffles until one day, someone bursts into his home and kidnaps his pig. Judging by how bloody Cage looks in certain scenes, it would appear Rob goes full John Wick to get his pig back. 
As expected with most of Cage's projects, people have many thoughts on his upcoming film. But, above all else, it seems like audiences can't wait to see another intense Cage performance where he goes to the ends of the earth to get his swine back. 
Nic Cage hogged the trending spots on Twitter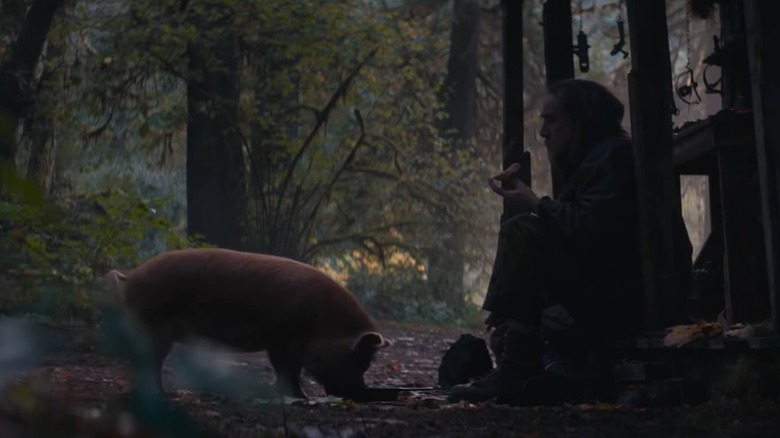 Neon
Shortly after the "Pig" trailer dropped, people took to Twitter to express their thoughts. Naturally, the overwhelming consensus is that this will be another weird Nic Cage movie, but it will absolutely be worth watching. It's what people have come to expect from his filmography. As @EchoSaefir puts best, "I think at this point we don't even recoil anymore when we see a premise for a Nicolas Cage movie. Yeah, of course he plays a truffle hunter looking for his kidnapped pig. Naturally." 
Of course, the "John Wick" comparisons weren't lost on moviegoers as several people point out the similar premise. For example, @BokuNoCholero writes, "I wonder if this is set in John Wick universe." Meanwhile, @marcel__za points out, "John Wick except it's Nicolas Cage and he's looking for his pet-pig." However, @AshDigsFilms might just have our favorite description of the movie yet: "It's Ratatouille meets Mandy and I'm all in."
Over the years, audiences have misunderstood Nic Cage as an actor, with people often labeling some of his more eccentric performances as "bad." But if you ask his fans, especially in the aftermath of the "Pig" trailer, it's clear general viewers have finally come around. As @GlouderGlens explains, "I'm beyond excited to see Nicolas Cage hunt for a truffle pig in PIG ... His performances often take lots of risks, engaging me as a viewer in a way that more 'respectable' actors never will."
Regardless of quality, "Pig" will have people talking. As of right now, @ephemeralnotion summarizes everything perfectly, "That'll do, Nicolas Cage, that'll do.