Christan Convery And Nonso Anozie Talk Gus And Jepp's Future On Sweet Tooth - Exclusive Interview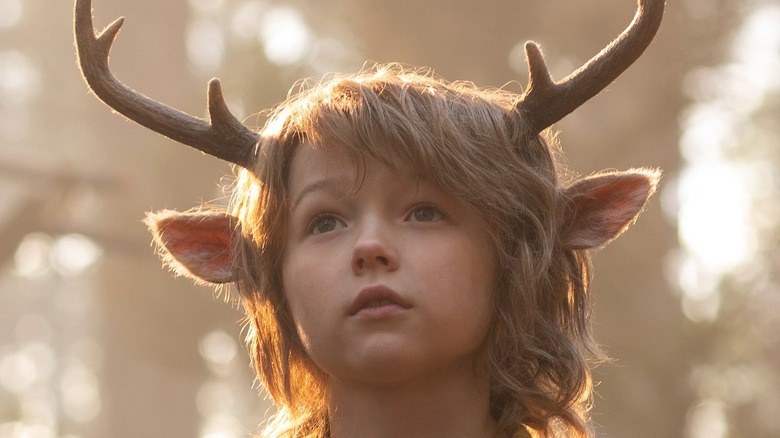 Netflix
Netflix's adaptation of the post-apocalyptic comic book "Sweet Tooth" written and drawn by Jeff Lemire came around at just the right time — almost like executive producers Robert Downey Jr. and Susan Downey know what they're doing or something. It's a story about the world after a global pandemic, and, here we are, collectively learning how to live in our real world post-global pandemic. The world of "Sweet Tooth" is very different from ours: their population is far more ravaged by the pandemic they went through. Plus, there's also the matter of all the half-human, half-animal hybrids suddenly cropping up which seem to be connected in some way with the pandemic.
There are also things that make the story of "Sweet Tooth" similar to our own, of course. Both their story and ours are peppered with people who use tragedy as a means to oppress and to torment. But also, both "Sweet Tooth" and our world are full of hope given life by those who not only endure, but who endure with love.
Much of the first season of "Sweet Tooth" is told from the point of view of young deer hybrid Gus (Christian Convery) and the man who becomes his unwitting surrogate father, Jepp (Nonso Anozie). Looper sat down with the pair to talk about their relationship so far and where it might go in future seasons.
Christian's conspiracies and the most important candy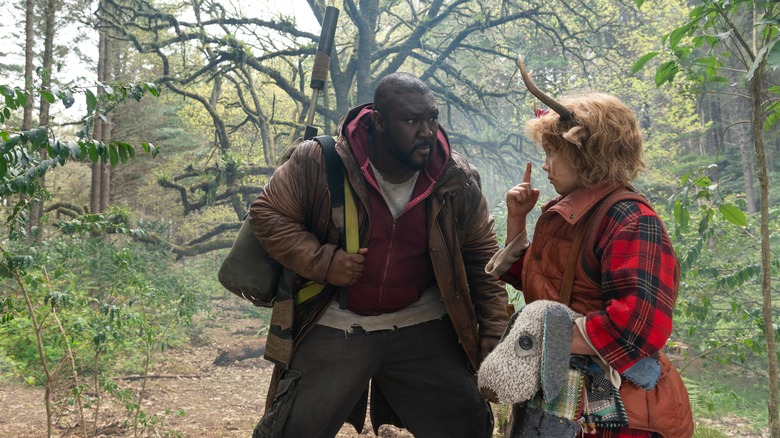 Netflix
Christian, I wanted to start with you just because there's such a huge ending moment where your character is getting hugged by all those hybrids for the first time. What did that feel like for you? What is Gus feeling in that moment?
Christian Convery: What Gus is feeling in that moment is probably a whole new family and he's feeling happy and hopeful because he's never seen any other hybrids before. So it's a first for him, and he's really happy that he's gotten to do this. So he feels like he just met his new family. That's how I think Gus felt.
What are you hoping for next season? Your characters are in disparate places, but one assumes they will find their way back to each other. What are you excited to do now that this first season is done and the show is looking forward?

Nonso Anozie: Yeah. I mean, as you've seen the way it ends, we're separated and I imagine Jepp is pissed and he wants to get Gus back and make the family. I think just at the point where they just decided, he decided to let his guard down and essentially become Sweet Tooth's adopted father is when they get ripped apart. And I think he wants nothing more than to give General Abbott a good hiding and make sure that they get Sweet Tooth back.
Christian Convery: Hopefully Season 2 happens, I have a whole plot ready. Okay, so let's start with my first day with the whole plot. So Jeppard and Amy are going to brave the preserve and free the hybrids. And then they're also going to free Dr. Singh and his wife, Ronnie. And then together, they're going to go back and find Becky the bear and then team up to find Birdie. That is my conspiracy plot for the next season. Fingers crossed.
If only one candy can survive the apocalypse, which one is it? Christian, we'll start with you. I imagine you eat a fair amount of candy if your parents let you.
Christian Convery: Sour Patches or any sour candy to ever exist, definitely.
Nonso Anozie: I would say Red Vines. Not Twizzlers, Red Vines.
"Sweet Tooth" Season 1 is streaming on Netflix now.