The Disney Princesses You Didn't Know Were Inspired By Audrey Hepburn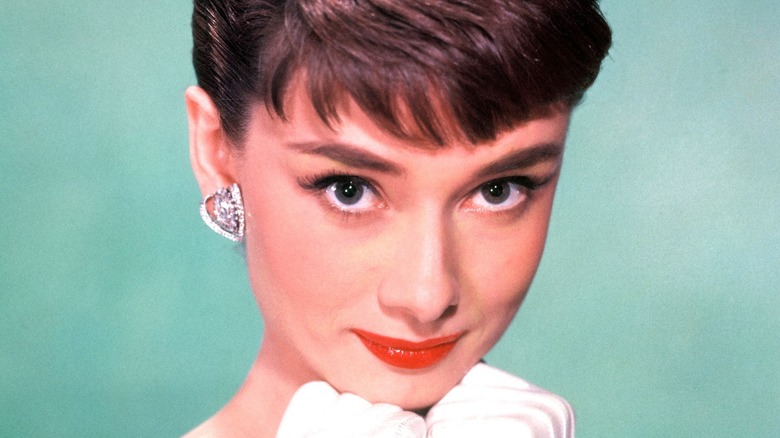 Hulton Archive/Getty Images
Audrey Hepburn was an iconic member of Hollywood royalty. Known for her classic films like "Roman Holiday," "Charade," "My Fair Lady," and of course "Breakfast at Tiffany's," Hepburn remains in the hearts of fans thanks to her kindness, grace, and talents. Not only is she remembered for her work on-screen, but she devoted much of her life to humanitarian work, primarily with the United Nations International Children's Emergency Fund (UNICEF).
Hepburn traveled to Ethiopia, Turkey, Venezuela, and several other countries during her time with the foundation (via UNICEF). When she was appointed a Goodwill Ambassador of UNICEF in 1989, she spoke of the organization fondly, saying "I can testify to what UNICEF means to children, because I was among those who received food and medical relief right after World War II. I have a long-lasting gratitude and trust for what UNICEF does."
Aside from her many contributions to the film and humanitarian worlds, Hepburn is known for her style. She popularized simple silhouettes, little black dresses, and flat shoes, and remains a style icon to this day. You may not know, however, that she also inspired the looks behind some of Disney's most popular princesses.
Audrey Hepburn was used as inspiration for Belle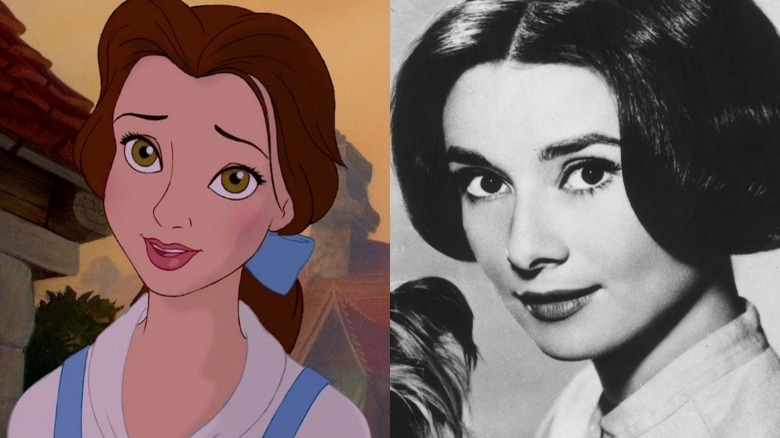 Keystone/Getty Images/Disney
Hepburn served as inspiration for Princess Belle from "Beauty and The Beast." According to Your Tango, Belle's facial features were inspired by both Hepburn and another iconic actress — Vivien Leigh. One of the film's supervising animators, James Baxter, explained how they came up with Belle's look, saying (via Digital Media FX), "Physically, we tried to make her a little bit more European looking with fuller lips, a little bit darker eyebrows and slightly smaller eyes than Ariel [from 'The Little Mermaid']." It's especially easy to see the resemblance between Belle and Hepburn since the former was also known for her dark, striking brows.
Aside from Belle's face, one of Hepburn's iconic movie outfits inspired the character's yellow ball gown. In the 1953 romantic comedy "Roman Holiday," Hepburn played Princess Ann, a young royal with a wish to explore the world around her — much like another iconic Disney princess: Jasmine from "Aladdin." Princess Ann's dress at the beginning of the movie was an off-shoulder gold number, very similar to Belle's famous gown.
She also inspired Aurora's look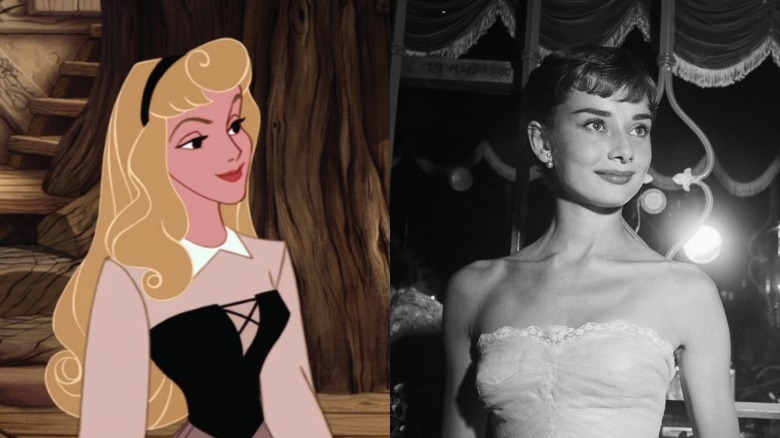 Michael Ochs Archives/Getty/Disney
While Hepburn inspired much of Belle's look and even some of the character traits for Princess Jasmine, she also inspired Aurora, the princess in "Sleeping Beauty." Hepburn was famous for her small stature (a result of her malnutrition during WWII), and Aurora's tiny waistline and graceful movements are reminiscent of Hepburn's own.
According to D23, animator Tom Oreb used the "willowy delicacy of newly minted movie star Audrey Hepburn" for Aurora's initial character designs, specifically her look growing up as Briar Rose. However, Disney animator Ron Dias explained that Aurora's look changed. "Originally, Sleeping Beauty looked a lot like Audrey Hepburn; she was softer, rounder, more like the 'designy' Disney girl. Back at the drawing board, Eyvind [Earle] redesigned her," he told Arts and Living Mag. "She became very angular, moving with more fluidity and elegance, but her design had a harder line. The edges of her dress became squarer, pointed even, and the back of her head came almost to a point rather than round and cuddly like the other Disney girls. It had to be done to complement the background."
Despite some of Aurora's design changes, Hepburn's inspiration for the character's beauty is obvious. Fans of both Disney and Hepburn can enjoy seeing her continued influence on the world.