BattleBots Season 11 - What We Know So Far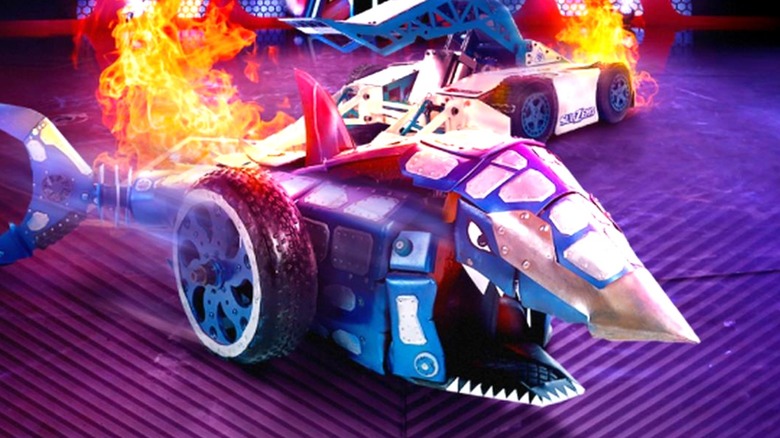 Discovery
There's something primal and satisfying about watching mechanical warriors duke it out for supremacy. That's probably a primary reason why "BattleBots" has remained a TV institution for two decades now. It's jumped around through various networks over the years before landing at its current home on Discovery, but the basic premise stays the same. Two robots enter, only one can leave. 
The show's success has even extended into the channel's new streaming app — Discovery+. "BattleBots: Bounty Hunters" raises the stakes by having eight bots fight it out to see who gets the chance to go up against an iconic mechanical warrior from a previous season. Between the spinoff and Season 10 of the reality series, it's clear the world still has "BattleBots" fever. 
Discovery has yet to renew the series for Season 11, but it seems like a safe bet at this point. If a new season comes to fruition, here's everything we'd expect. 
What's the release date for BattleBots Season 11?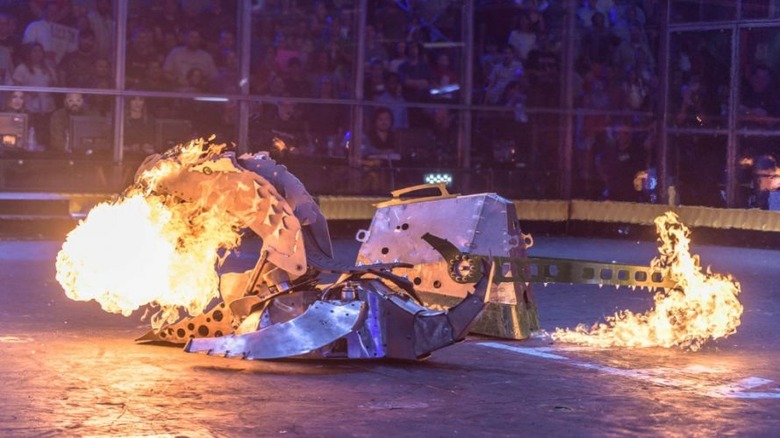 Discovery
Season 10 of "BattleBots" faced significant delays from the COVID-19 pandemic. Fortunately, the show was able to resume production, and new episodes of the mayhem-fueled series began to air on December 3, 2020 (via The Futon Critic). From the construction of the robots to the lack of a live audience, the show went to extreme measures to ensure the crew could film everything safely. As restrictions from the pandemic begin to ease, things should theoretically get back to normal for Season 11. 
Outside of the gap between Seasons 9 and 10, there tends to be one year between seasons. Seeing how Season 10 aired in December 2020, it would make the most amount of sense for Season 11 to debut in December 2021. If more delays accumulate, then it would likely air on Discovery in the first quarter of 2022. Any extra time the show has between seasons just gives potential contestants more time to work on their bots and apply to be on the show.
Who are the hosts for BattleBots Season 11?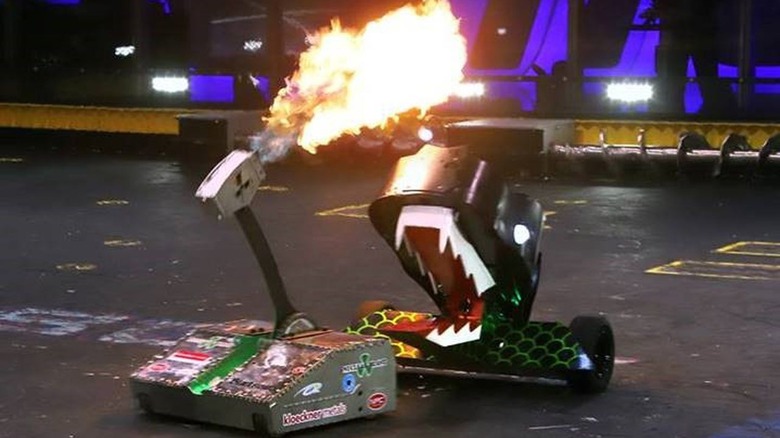 Discovery
Nothing official has come out so far regarding who would be in the main cast for "BattleBots" Season 11. However, if Discovery decides to renew, then we would anticipate the same crew from last season would be back. The cast includes hosts Kenny Florian (former UFC fighter) and Chris Rose (NFL/MLB sportscaster). Both have been with the show ever since it first came back on the air on Discovery in 2015. Unless one or both of them plan on switching gigs any time soon, they'd likely be back. 
They're not the only ones offering color commentary as the robots slash and burn each other. Pit reporter Jenny Taft gets down and dirty closer to the arena to provide a unique take. There's also arena announcer Faruq Tauheed, who ensures a good, clean fight occurs every time. One would assume the two of them would also be back if more mechanical action is on the horizon.
What competitions can we expect for BattleBots Season 11?
Discovery
Season 10 of "BattleBots" proves interest in the series was higher than ever before. According to a statement put out by Discovery, last season involved "the largest international field in its 20-year history, as over 80 robots from a dozen countries [attempted] to win the sport's most prestigious prize, The Giant Nut" (via The Hollywood Reporter).
The competition is simple: dozens of robots gather to battle one another with human pilots on the sidelines. They keep going until there are only two robots left, and whichever one emerges victorious becomes that season's champions. There are always a few wrinkles thrown in for good measure, such as the champion from last season coming back to defend its title. For Season 11, fans should expect the return of End Game, a bot that had to get past the likes of fan-favorites like Tombstone and SawBlaze.
If End Game comes back, the rest of the competitors will have their work cut out for them.