Loki Episode 2: Why The TVA Agent From The Renaissance Faire Looks So Familiar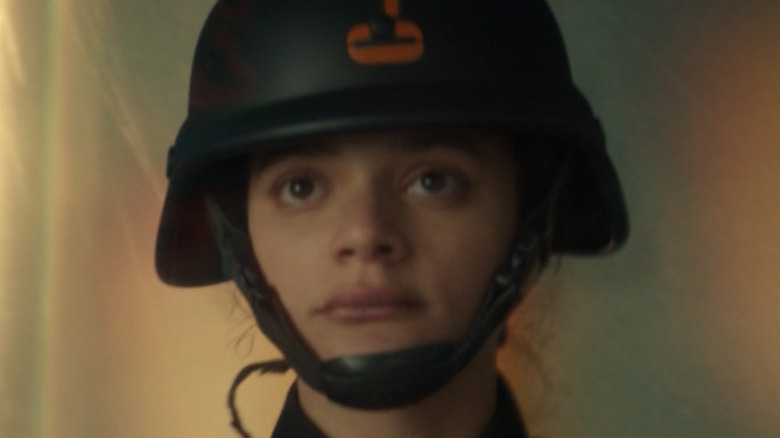 Marvel Studios/Disney+
Contains spoilers for "Loki" Episode 2
In "Loki" Episode 2, things kick off at a 1985 renaissance faire in Oshkosh, Wisconsin. At the event are dozens of fair-goers and workers, all of whom are dressed up in the appropriate attire, which is somewhat interrupted when a group of TVA Minutemen appears through a portal. The Minutemen are on a mission to find the missing Loki variant who's been causing all sorts of issues in different timelines — including kidnapping and/or killing TVA agents. 
That's exactly what happens in Episode 2. Hunter C-20 is the leader of the group, and she locates the dangerous Loki variant at the ren faire in a nearby tent. The variant then takes Hunter C-20 hostage, dragging her through a portal to Haven Hills, Alabama in 2050. Luckily, Hunter C-20 is still alive, but she appears to be in a state of shock as she continually mumbles when her colleagues discover her later on. 
This TVA agent has quite a familiar face, and you might be wondering where you've seen her before. Sasha Lane plays Hunter C-20 in "Loki," and she has quite an impressive résumé.
Sasha Lane kicked off her career in American Honey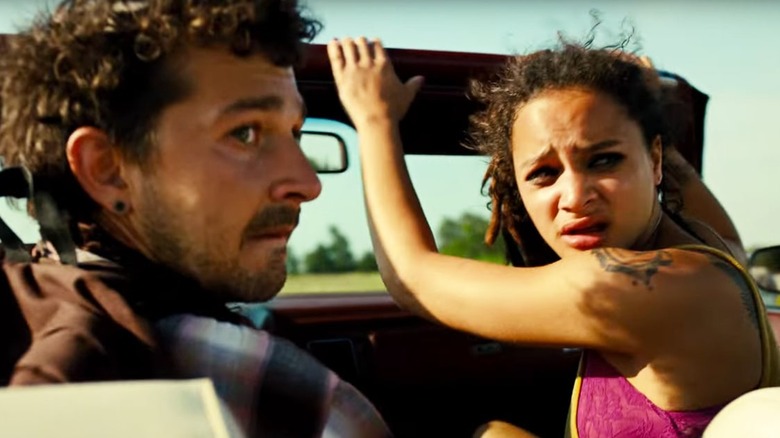 A24
Sasha Lane's first credited role came in 2016, when she landed the lead in "American Honey." Lane portrayed Star, a teenager with a not-so-great home life who gets thrown into life on the road when she joins a group of traveling salesmen. Part of her crew includes Jake (Shia LeBeouf) and Krystal (Riley Keough), who sell magazine subscriptions door-to-door. The dynamics between the group are odd and tense as Star and Jake engage in a rather tumultuous relationship. 
Star finds herself along the journey, and "American Honey" ends somewhat ambiguously, letting viewers' minds come up with their own finales. The film received high praise from critics, earning a 79% approval rating on Rotten Tomatoes. Lane's performance was one of the highlights, with Cult Print Film critic Karen Han noting, "In the center of it all is Sasha Lane as Star, just as bright (if not brighter), and impossible not to watch."
In 2018, she landed roles in The Miseducation of Cameron Post and Hearts Beat Loud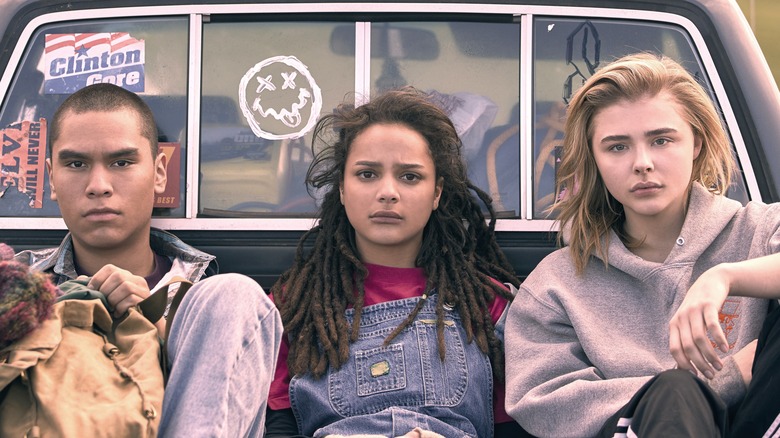 FilmRise
Sasha Lane had quite the year in 2018, starring in both "The Miseducation of Cameron Post" and "Hearts Beat Loud." In the former, Lane played Jane, a supporting character and friend of the titular Cameron Post (Chloë Grace Moretz). Jane appears later in the movie and is a member of God's Promise, a religious group focused on conversion therapy for gay youth. Jane is instrumental in helping Cameron cope with the death of her parents, and proves to be a valuable support system for her friend.
In the dramedy "Hearts Beat Loud," Lane portrayed Rose, the girlfriend of secret singer-songwriter Sam Fisher (Kiersey Clemons). Sam enjoys spending time with Rose and even writes a song about her titled "Blink (One Million Miles)," which is a success. Though Lane mostly serves as a smaller supporting character in "Hearts Beat Loud," she fills out a talented cast that also includes Nick Offerman (as Sam's father Frank) and Toni Collette (as the landlady Leslie).
Sasha Lane stole the show in the Hellboy reboot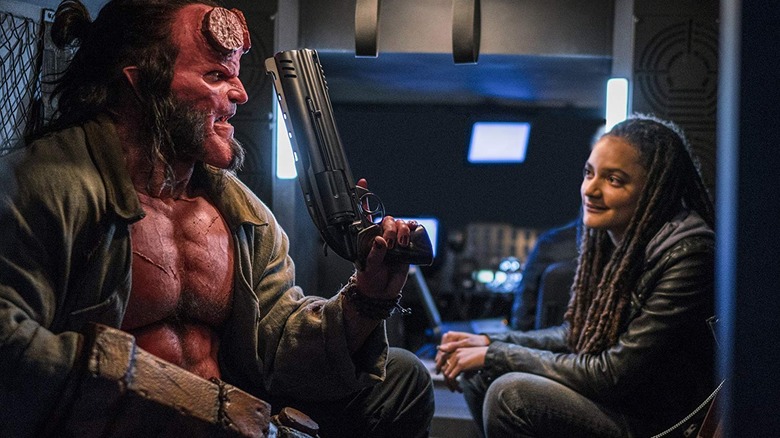 Lionsgate
Arguably Sasha Lane's most famous role to date was in the "Hellboy" reboot from 2019, which she starred in after appearing in horror movie "Daniel Isn't Real." Opposite David Harbor as Hellboy, Lane played Alice Monaghan, a medium who had once been captured by fairies but was saved by Hellboy. She ends up being the savior to her own former savior after Hellboy has a dangerous fight with giants.
Throughout the film, Alice proves crucial in the takedown of Nimue (Milla Jovovich), a sorceress who seeks to bring about the apocalypse. Alice can channel all sorts of beings along the way, giving her and Hellboy the edge in their fight — but not without speed bumps. At once, it looks like Alice will meet her end after Nimue poisons her, but famous magician Merlin (Brian Gleeson) saves her life. After the takedown of Nimue, Hellboy, Alice, and Daimio (Daniel Dae Kim) are able to locate Abe Sapien (Doug Jones), a popular character from the "Hellboy" comics, published by Dark Horse Comics. This left the door open for a sequel to the "Hellboy" reboot, but the film's negative reviews and poor box office showing might prevent that from happening.
She played Jessica in Amazon's Utopia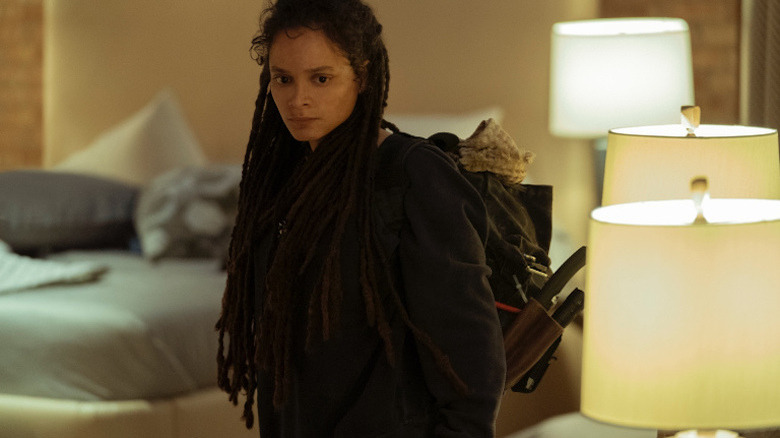 Amazon Prime Video
Just after briefly appearing in the television series "Amazing Stories," Sasha Lane nabbed a role in Amazon's "Utopia," a U.S. iteration of the British series of the same name. Unfortunately, this version of "Utopia" was canceled in November 2020, roughly two months after it aired its first and only season (via the Hollywood Reporter). Starring opposite talents like John Cusack, Rainn Wilson, and Desmin Borges, Lane shined as Jessica Hyde, a comic book fan who, alongside others, finds that a graphic novel's conspiracies are real.
The graphic novel's clairvoyant aspects predict and name future disasters of Earth — most notably, a widespread virus. The fans who found the graphic novel are tasked with saving the world as they try to outrun and survive an underground organization keen on stopping them. 
It was pretty horrible timing that the show's cancellation came in November 2020, during the real-life COVID-19 pandemic. Despite "Utopia" getting axed, though, Lane was able to nab a role in "Loki," immersing herself in the Marvel Cinematic Universe and appearing on the radar of millions of fans who might not have seen her former work otherwise.