Here's Where You Can Watch Spirit Untamed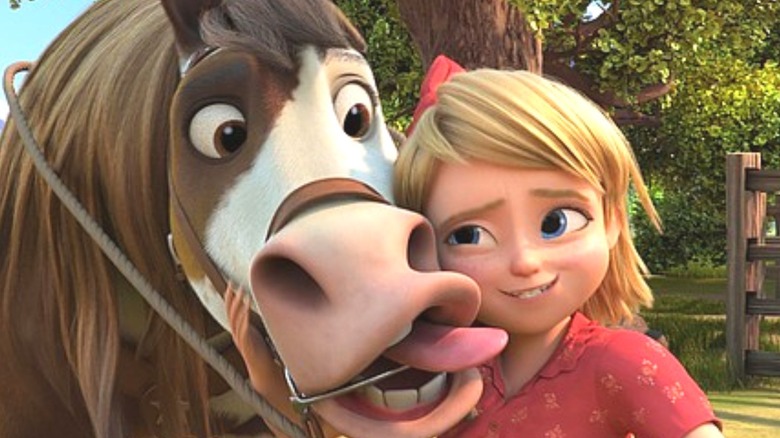 Universal Pictures
This summer, a new entry in the long-running "Spirit" franchise galloped its way into theaters: Universal Pictures' "Spirit Untamed." 
Released on June 4, "Spirit Untamed" is the second feature film released as part of the "Spirit" franchise, which begins with 2002's "Spirit: Stallion of the Cimarron." The DreamWorks movie followed a young stallion named Spirit (voiced by Matt Damon) who was captured by humans and fought his way out of captivity to return to his herd. Although "Spirit: Stallion of the Cimarron" was a minor early 2000s animated feature, both critically and commercially, the movie has gone on to spawn a veritable franchise.
In the years since "Spirit: Stallion of the Cimarron," there have been two holiday specials and three Netflix spin-off television shows: "Spirit Riding Free," which ran from 2017 to 2019; "Spirit Riding Free: Pony Tales," released in 2019; and "Spirit Riding Free: Riding Academy," which was released in 2020. These shows, which comprise the "Riding Free" series, follow a young girl named Fortuna "Lucky" Prescott, who lives in the rural town of Miradero, where she meets a wild stallion she names Spirit and gets into adventures with her two friends, Pru and Abigail. 
Directed by Elaine Bogan, "Spirit Untamed" essentially repurposes the story of "Spirit Riding Free" and expands it for the big screen. Once again, audiences are introduced to Lucky (Isabela Merced), a young girl who moves to a new town with her father (Jake Gyllenhaal) and forms a bond with a seemingly untamable horse named Spirit. The two are separated after Spirit is sold at auction, so Lucky recruits pals Pru and Abigail to save him. In addition to Merced and Gyllenhaal, "Spirit Untamed" boasts an impressive voice cast that includes Julianne Moore, Eiza Gonzalez, Walton Goggins, McKenna Grace, and Marsai Martin.
Is Spirit Untamed streaming on Netflix?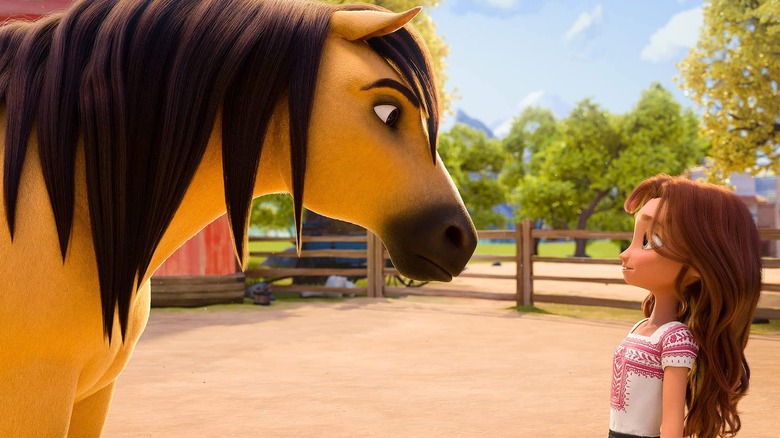 Universal Pictures
Considering "Spirit Untamed" has already gotten off to a decent start at the box office with a $6 million opening weekend and 96% Rotten Tomatoes audience score, you may be wondering when you'll be able to stream the new "Spirit" franchise entry, so you can experience the movie magic for yourself. 
Unfortunately, at this time of writing, "Spirit Untamed" is currently unavailable on Netflix, as well as other streaming services including Amazon Prime Video and Hulu. However, this makes sense, because "Spirit Untamed" was just recently released in theaters — June 4, to be exact. 
So, how long will folks keen to watch "Spirit Untamed," but unable to make it out to their local theater, have to wait to watch the newest "Spirit" movie? 
Historically, new theatrical releases enjoyed a 90-day window before leaving theaters and becoming available for rental. As time has gone on, and especially in the paradigm-shifting year that was 2020 (via Deadline), that 90-day window has eroded into a shorter window that varies from studio to studio. With this in mind, we can expect "Spirit Untamed" to be theater-only until at least August before it arrives on streaming or video on-demand. Where streaming is concerned, the odds are good that "Spirit Untamed" will head to Peacock, the streaming service from NBCUniversal. NBCUniversal is the parent company to Peacock as well as Universal Pictures, the distributor behind "Spirit Untamed," which means the release pipeline for this 2021 animated movie is already in place, barring any unusual distribution plans from the studio.