History Of Swear Words Season 2 - What We Know So Far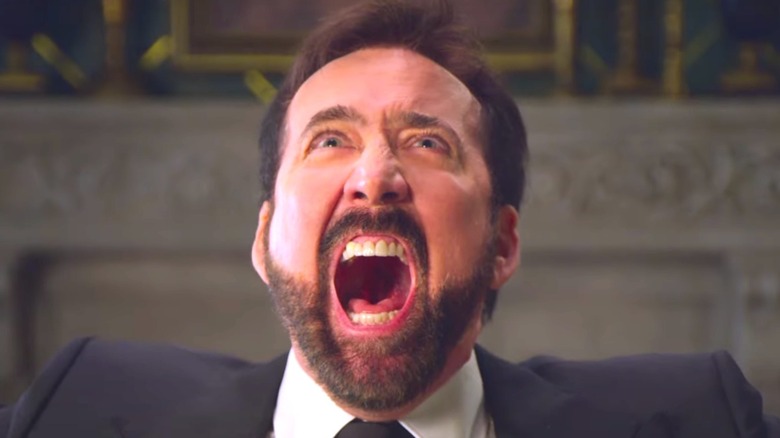 Netflix
Will there be a "History of Swear Words" Season 2? That's the biggest question around the Nicolas Cage-hosted Netflix television show following the release of its first season earlier in 2021. 
"History of Swear Words" was released as a six-episode Netflix television docuseries featuring a mix of celebrities and academics who broke down the cultural history, etymology, and everyday uses of six popular English-language swear words. Among the celebrity interviewees featured in "History of Swear Words" were Nick Offerman ("Parks & Recreation"), Sarah Silverman ("School of Rock"), Isiah Whitlock, Jr. ("The Wire"), and comedians Jim Jeffries, London Hughes, Nikki Glaser, Zainab Johnson, DeRay Davis, Joel Kim Booster, Open Mike Eagle, and Patti Harrison. And, to top it all off, there was an entertainingly hefty dose of Cage, whose manic yet weirdly charming energy made him the perfect guide through the colorful world of swearing.
What are the chances Season 2 will happen? Netflix is extremely selective about the data it releases around the success or failure of an original movie or TV show, and no such information has been shared about "History of Swear Words" Season 1. So, we look to the next best thing: A very interesting comment from executive producer Brien Meagher. Speaking to Indiewire in January, Meagher teased the potential of where the docuseries could go in Season 2 and beyond: "There's at least two more seasons of just regular swear words. There's some big ones, like the 'c-word' that we're not even touching until Season 2. And then I think there's a whole series just on UK versions of swear words, which make me laugh harder than the ones that we have here stateside." 
With this in mind, here's what we know so far about "History of Swear Words" Season 2.
What is the release date of History of Swear Words Season 2?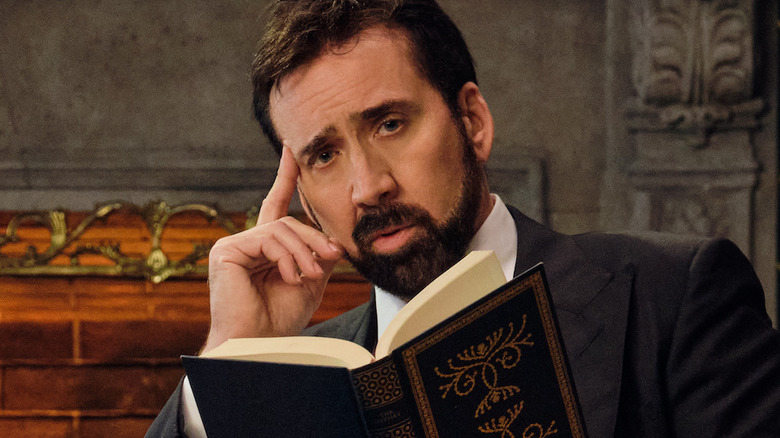 Netflix
The "History of Swear Words" Season 2's release date has not been revealed because Netflix has yet to officially confirm if Season 2 is a go. In spite of this, we do have some facts that can help to at least project when we might expect a Season 2 — if it ends up happening. Firstly, we know that all six episodes of "History of Swear Words" Season 1 were released at once on January 5, 2021. Additionally, the trailer for the docuseries was released just two weeks before the Season 1 premiere.
With these facts in mind, we can make a logical estimate of the time frame on Season 2's release. If Netflix begins production (or has begun already) on Season 2 in 2021, then it could take approximately one year to get the footage through editing and post-production so it is ready for release. This is all very general and could vary depending on a variety of factors, including the schedules of any interviewees for the new season, any COVID-19 protocols that must be observed, and Netflix's own demands for production. As such, Season 2 could drop any time in 2022, or perhaps early 2023 if there is a major delay in production. The release of a Season 2 poster or trailer is also a sure sign that the release date isn't too far away, given that this was the pattern for Season 1 and it's an established pattern for Netflix in general.
What swear words will be featured in History of Swear Words Season 2?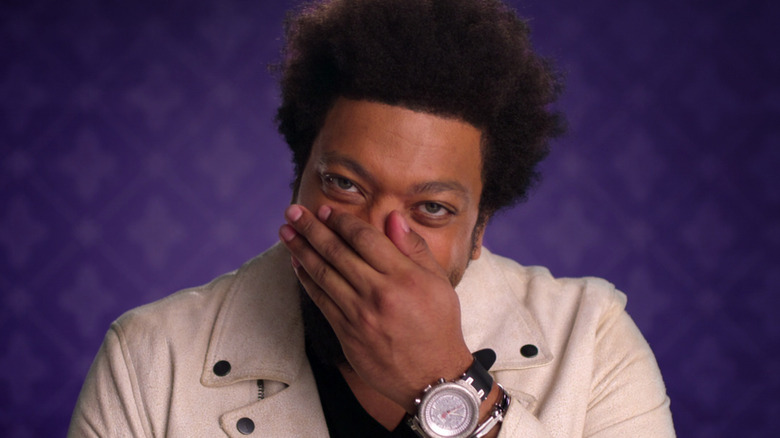 Netflix
The first season of "History of Swear Words" covered the classic and essential words that even the most basic profanity user is likely to incorporate into their daily exchanges. Over the course of six episodes, the experts, comedians, and actors interviewed for the Netflix show broke down the uses, history, and social perceptions of the following swear words: f—, s—, b—-, d—, p—y, and damn. Also included in each respective episode were discussions around more complex forms of these standard swears as well as plenty of joy-taking in simply the act of saying each swear word without the fear of being bleeped. 
But, as we know, the glossary of profanity is not limited to six words and their respective popular offshoots. If "History of Swear Words" Season 2 were a go, there would be plenty of options to choose from to create six more episodes. Heck, the "History of Swear Words" team could get really creative and include non-English swear words and non-profane profanity like — and this is just an example — "heck."
Which experts will be included in History of Swear Words Season 2?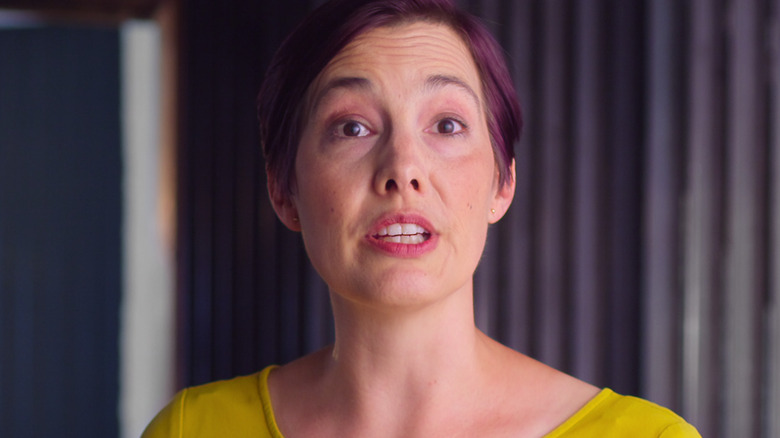 Netflix
In addition to the famous funny folks featured as interviewees, "History of Swear Words" Season 1 also featured seasoned experts who knew their sh ... erm, stuff, when it came to profanity. The Season 1 expert roster included: Benjamin K. Bergen, Professor of Cognitive Science at University of California, San Diego; Elvis Mitchell, a film critic; Melissa Mohr, author of "Holy Sh*t: A Brief History of Swearing"; Kory Stamper, a lexicographer and former editor at Merriam-Webster; Anne H. Charity-Hudley, a linguist and Professor of African-American English at the University of California, Santa Barbara; Mireille Miller-Young, Professor of Women's studies at the University of California, Santa Barbara.
If Season 2 was greenlit, it's possibly any number of the experts seen in Season 1 would return to offer their expertise on the new variety of words at the heart of the season. However, it's equally possible that Netflix could bring in some new experts to discuss the new swear words, depending on the need for additional context or specialized insight into a particular word. These experts could also come from a variety of non-performative backgrounds with roots in a variety of academic fields, just like Season 1's line-up.
Will Nicolas Cage return as the host of History of Swear Words Season 2?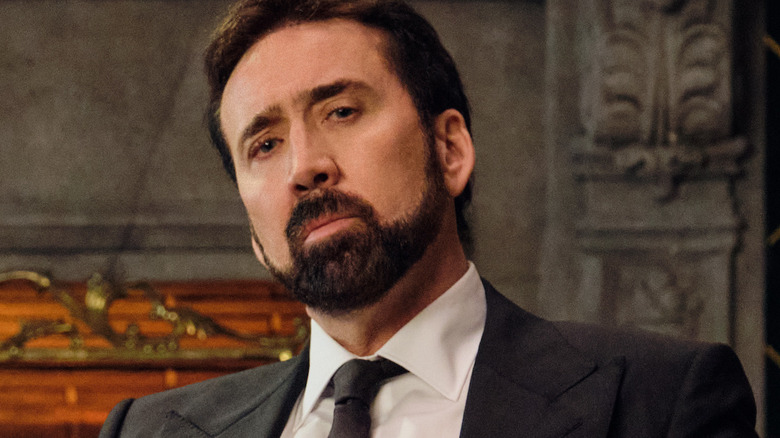 Netflix
Arguably the most pressing question related to the return of "History of Swear Words" is whether Nicolas Cage will return as host. The key thing to consider here is Cage's schedule and other project commitments. A quick glance at Cage's IMDb reveals production on upcoming features "The Unbearable Weight of Massive Talent" and "Pig" are in his rearview mirror, but he is preparing to film the Amazon limited series about infamous zoo operator Joe Exotic (via THR) and will lend his voice to the an untitled series based on the Eoin Colfer novel "Highfire", also for Amazon (via Deadline). As a bit of a workhorse, Cage is known to churn out multiple projects at once. As such, even though he's juggling a few projects during the time when Season 2 could theoretically start filming, it wouldn't necessarily mean he'd exit his hosting duties on "History of Swear Words".
If Cage were unable to host "History of Swear Words" Season 2, be it due to his schedule or some other extenuating circumstance, there are still a few notable actors with a penchant for profanity who could liven up the new season as host. Who would be a good fit, you ask? Well, how about Jonah Hill, who has earned the honor of being the most foul-mouthed actor onscreen (via USA Today)? Or maybe Samuel Jackson, who has turned dropping the f-bomb into high art?
We'll keep you updated on "History of Swear Words" Season 2 as new details emerge. In the meantime, keep those fingers crossed that Cage and co. get the Netflix green light to come back for more swear word fun.