Why Astrid From Crazy Rich Asians Looks So Familiar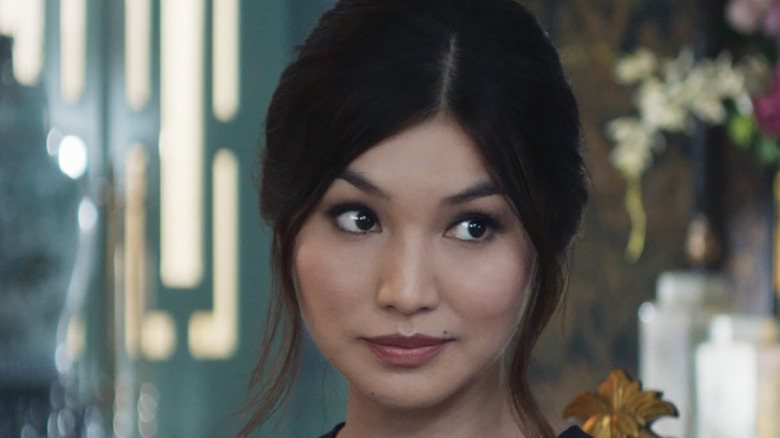 Warner Bros.
Directed by Jon M. Chu, 2018's "Crazy Rich Asians" follows Rachel Chu (Constance Wu), who, when she accompanies her boyfriend Nick Young (Henry Golding) to a wedding in Singapore, finds out that Nick and his family are, to put it mildly, incredibly wealthy. Suddenly, Rachel finds herself experiencing extreme scrutiny as the new addition to one of the country's most famous families, as well as the harsh disapproval of Nick's mother, Eleanor (Michelle Yeoh).
With the massive success of the film — it made over $238 million worldwide according to Box Office Mojo — the cast members of "Crazy Rich Asians" were, much like Rachel in the film, thrust into the spotlight. One of the movie's scene stealers is Gemma Chan, who plays Nick's cousin, Astrid. Astrid's storyline mostly revolves around her problems within her marriage to Michael (Pierre Png). Michael's family is much less wealthy than Astrid's, which ultimately makes Michael insecure about earning less than his wife. Soon, Astrid finds out that Michael is hiding a huge secret, and is forced to re-evaluate her entire marriage.
Chan is fantastic in the role of Astrid, bringing compassion and depth to the conflicted character. After Chan's turn as Astrid, viewers may then find themselves wondering what else the actress has been in. Here's a breakdown of her most notable roles, from period pieces to blockbuster Marvel movies.
Gemma Chan's early roles were on television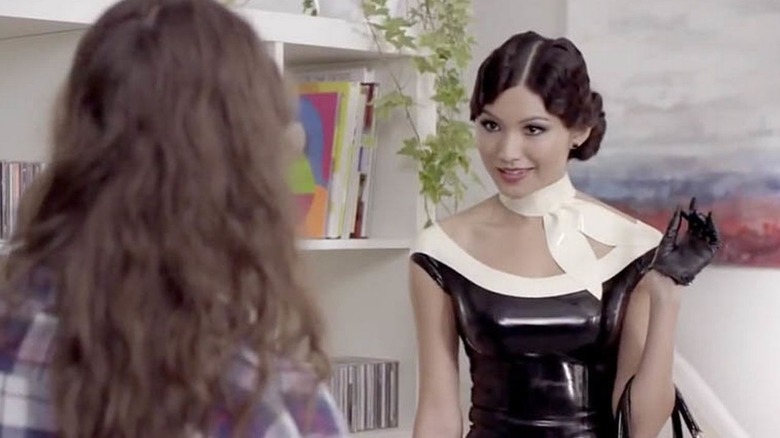 ITV2
Chan began her acting career in 2006 and landed her first significant role in 2011 with the ITV2 British drama, "Secret Diary of a Call Girl." Set in London, the series follows young woman Hannah Baxter (Billie Piper), who uses a pseudonym, Belle, for her secret job as a sex worker. Chan plays a character named Charlotte, appearing as a series regular in the fourth and final season as another call girl, who works at an agency called Discreet Elite alongside Hannah. Charlotte, who is both unfriendly and determined, is somewhat of a rival to Hannah and a major storyline of the fourth season is Hannah winning back a client from Charlotte.
In 2012, Chan landed another series regular role on the second season of "Bedlam," a British supernatural drama. The series focuses on the "Bedlam Heights," an upscale apartment complex that used to be a mental asylum; those who move in start to experience supernatural occurrences. Chan plays Kiera, who is first introduced as an old school friend of Kate (Charlotte Salt), who finds out that her father, Warren (Hugo Speer) is now dating Kiera. Keira soon gets pulled into the paranormal events of the apartment complex.
Chan took on a bigger leading role with Humans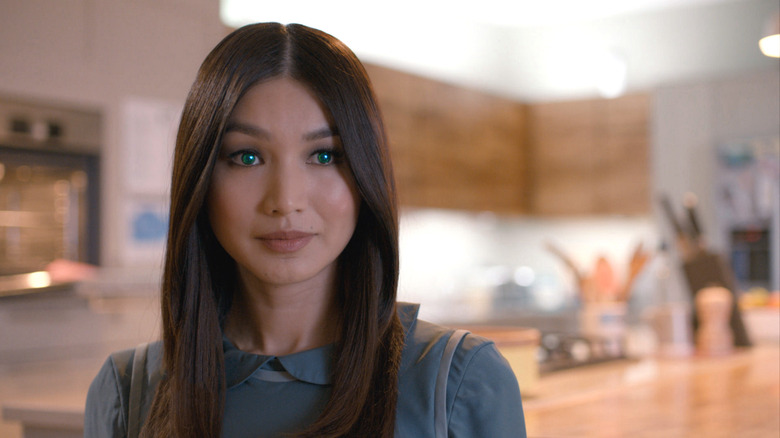 Channel 4 / AMC
For three seasons, from 2015 to 2018, Chan was a series regular on the sci-fi Channel 4 series "Humans." The show takes place in a society where the most sought after household gadget is a robotic servant called a 'Synth.' These Synths are not just any robot, though — they're physically almost identical to normal humans, and their intelligence may be higher than their inventors think.
Chan plays a Synth named Mia, who is bought by the wealthy Hawkins family at the start of the series. When the Hawkins integrate Mia into their family, she is known as Anita; it's only as the series progresses that her past is revealed to be more complex than is initially thought. From the get go, Mia is one of the Synths showing eerily human-like behavior and, as the series progresses, Mia branches out a much more human life, including getting a job outside of a household and even expressing romantic interest in others.
Gemma Chan continued her film projects with Mary Queen of Scots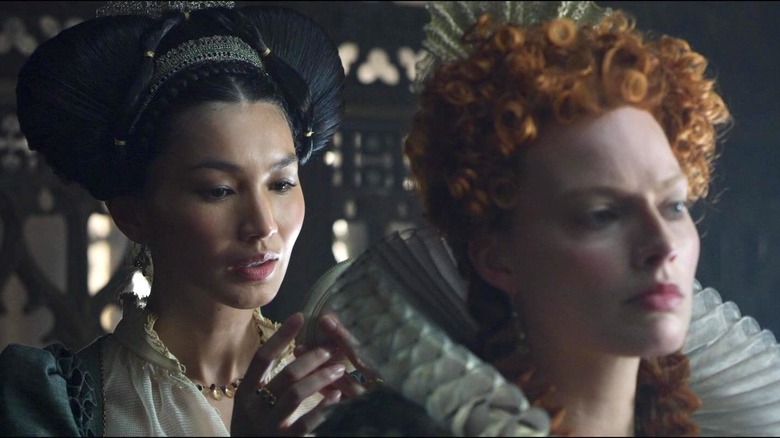 Focus Features
As "Crazy Rich Asians" helped to raise Chan's star status, she began appearing in more film roles. One of these roles was 2018's "Mary Queen of Scots," which she co-starred in alongside huge Academy Award-nominated stars Saoirse Ronan and Margot Robbie.
"Mary Queen of Scots," set in 1591, follows 19-year-old Mary Stuart (Ronan), as she attempts to overthrow 28-year-old Queen Elizabeth I of England (Robbie) to reclaim reign over her home country of Scotland, following the death of her husband. Chan plays Bess of Hardwick, who plays an integral role in both reigning ladies' lives; she is a trusted confidante to Elizabeth, while also acting as Mary's keeper — and is based on the real historical figure of the same name.
Chan's role in "Mary Queen of Scots" proved a notable moment of progress in terms of diversity in the film industry, as Bess of Hardwick was a white woman. During her press tour for the film, Chan spoke to Allure about the "color blind casting." She said, "I think our art should reflect life now ... If John Wayne can play Genghis Khan, I can play Bess of Hardwick."
Gemma Chan moved into Marvel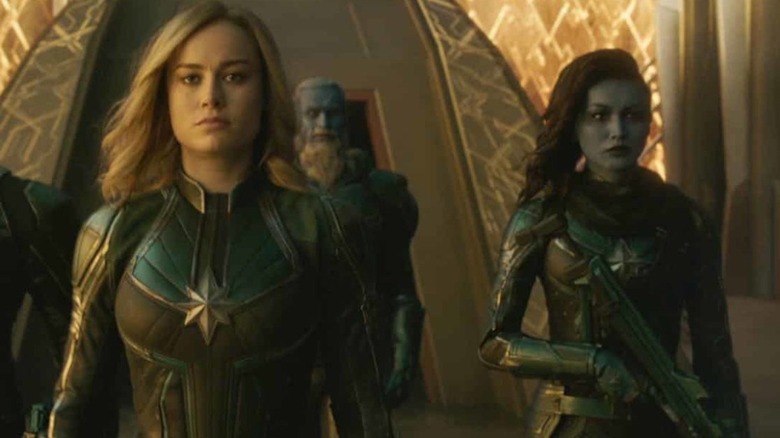 Marvel Studios
In 2019, Chan entered the Marvel Cinematic Universe with her role in "Captain Marvel" alongside Brie Larson, who plays the titular character. The film follows the rise of Carol Danvers into the powerful superhero Captain Marvel as a war between two alien races heats up, putting Earth into the middle of the action. Chan takes on the role of Minn-Erva, a member of the Starforce, the elite Kree military unit, who works as a sniper. Chan described her character to Slashfilm as "talented" and "dedicated to her team."
Earning its place in history as the first Marvel film to focus on a female lead, "Captain Marvel" also marks an important milestone in Hollywood's ongoing increase in diversity, much like her role in "Mary Queen of Scots." As Chan later told Harper's Bazaar, "This one in particular is really important for little girls and young women to watch and to feel empowered and to feel that anything is possible for them—that they can dream big."
Gemma Chan has a full slate of upcoming films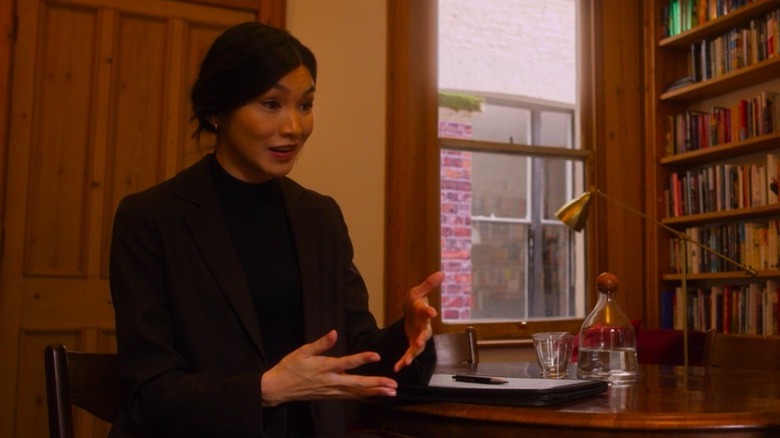 HBO Max
Chan doesn't seem to be slowing down as far as her film career is concerned, with a handful of exciting projects on the way. But her most recent film release was 2020's "Let Them All Talk" — a film for which the dialogue was almost entirely improvised (according to The Hollywood Reporter).
The HBO Max comedy drama follows successful author Alice Hughes (Meryl Streep), as she boards a ship to travel to the UK to receive a literary award, as she is unable to fly due to health issues. She brings along a couple old friends, as well as her nephew. Unbeknownst to Alice, her agent Karen, played by Chan, boards the ship as well in order to learn details about Alice's elusive next project, hoping for a sequel to her most popular work. Intent on finding out all she can about Alice's work, Karen takes all measures needed, including befriending Alice's nephew, Tyler (Lucas Hedges).
Chan will next be starring in another Marvel film, Academy Award winner Chloé Zhao's "The Eternals," as well as Olivia Wilde's next directorial project, "Don't Worry Darling." Rest assured — if you're a fan of Chan, you'll have plenty of chances to see her in huge films going forward.