The National Lampoon's Vacation Reference You Missed In Rick And Morty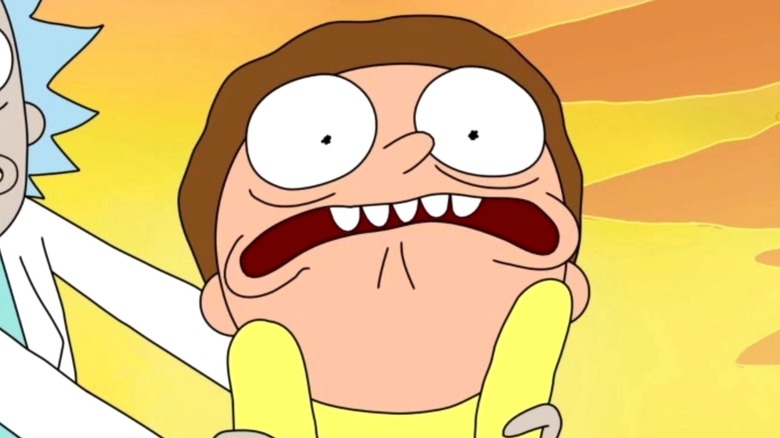 Cartoon Network
Fans of the out-of-this-world animated comedy series "Rick and Morty" — which is definitely not for children — have a lot to love about the warped, sometimes cynical, but always hilarious sci-fi series. The show, which premiered in 2013 and has aired for four seasons on Cartoon Network's late-night Adult Swim segment (via IMDb), follows the interdimensional adventures of jaded scientist Rick Sanchez and his high-strung teenage grandson Morty Smith, both of whom are voiced by Justin Roiland.
Part of the show's appeal is its penchant for making all sorts of pop culture references, though even the most avid fans won't catch them all. In fact, we wouldn't be surprised if you missed the "National Lampoon's Vacation" reference that's on full display in "Rick and Morty," but don't worry — we've got all the details to help fill you in on how the show's creators, Justin Roiland and Dan Harmon, paid homage to the classic comedy from 1983.
Rick and Morty fans typically overlook the Vacation reference that's in plain sight
As The Fact Site notes, the vehicle Morty's father (the bumbling Jerry Smith, voiced by Chris Parnell, per Fandom) drives in the cartoon was inspired by the one driven by another family man of comedy, Clark Griswold (Chevy Chase) in "National Lampoon's Vacation." In the film, the station wagon that Griswold takes his wife and kids on a hilarious cross-country road trip became something of a star character itself, so it's not that surprising that it has made its way into the hit show.
The "Wagon Queen Family Truckster" — of which five were made to account for all the bad luck the vehicle would experience in the movie – was a 1979 Ford LTD Country Squire wagon customized by George Barris of Kustom Kar King. The modifier added lots of fake wood paneling, doubled the headlights, and chose a Metallic Pea paint job to finish the look for the ultimate "dad car" for the ill-fated vacation.
It's hard to miss the Vacation reference in Rick and Morty once you know what to look for
In "National Lampoon's Vacation," Clark Griswold orders an Antarctic Blue Super Sports Wagon with CB and optional Rally Fun Pack to take his family to Walley World, but he ends up settling for what would become the victim of vandalism and incredibly rough driving across the country. Hagerty described the vehicle as a "monster of a station wagon that required a strong constitution to look at and a tremendous amount of courage (or total lack of ego) to drive."
With it being so recognizable, it's no wonder the iconic station wagon from "National Lampoon's Vacation" made its way onto "Rick and Morty." On a second look, Jerry's wagon does look so much like the vehicle it was based on. We'll be sure to keep an eye out for it during our next re-watch and in future seasons.