Rick And Morty Producer Gets Real About The Possibility Of A Movie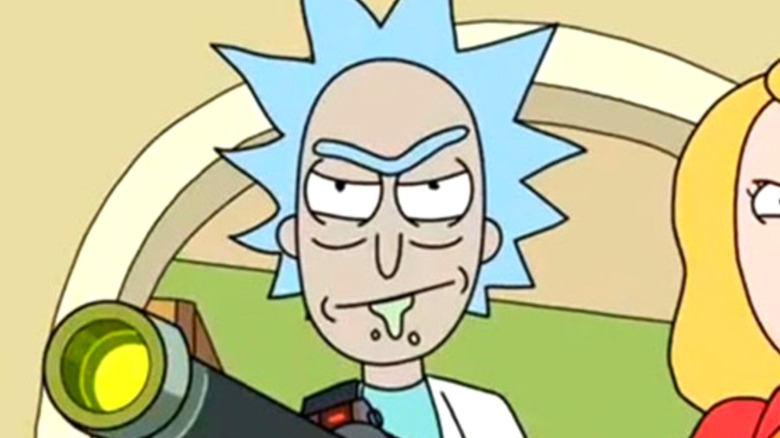 Adult Swim
Before Dan Harmon co-created "Rick and Morty" with Justin Roiland, he worked on the comedy series "Community," which ultimately ran for six seasons before it was canceled for good. In one episode, the pop culture-obsessed Abed (Danny Pudi), in a meta joke typical of the series, became invested in the revival of a superhero show, proclaiming that it should last for "six seasons and a movie." The "Community" fandom adopted that line as something of a mission statement, wishing for the very same for the show in which the line originated. It did, of course, end up lasting for six seasons, and a movie remains a possibility.
"Six seasons and a movie" doesn't quite hold the same relevance to "Rick and Morty," given that network Adult Swim renewed the series for more 70 episodes back in 2018, bringing the show's guaranteed total to 100 (plus more in the future, if Adult Swim picks it up again). Since then, not even half of that episode order has been fulfilled, so the fate of "Rick and Morty" appears to be safe for the foreseeable future.
Nevertheless, given the Harmon connection between "Community" and "Rick and Morty," both fans (via Reddit) and, depending on the reader's interpretation of an Instagram post, Dan Harmon himself have wished for "Rick and Morty" to reach the very milestone of which "Community" is one film short. "Rick and Morty" Season 5 is now imminent, and its 2018 episode order includes more episodes yet, so a Season 6 is highly likely. As for a movie, series producer Scott Marder recently spoke about the possibility of one in a "Rick and Morty" panel discussion attended and reported on by GamesRadar+.
A Rick and Morty movie is possible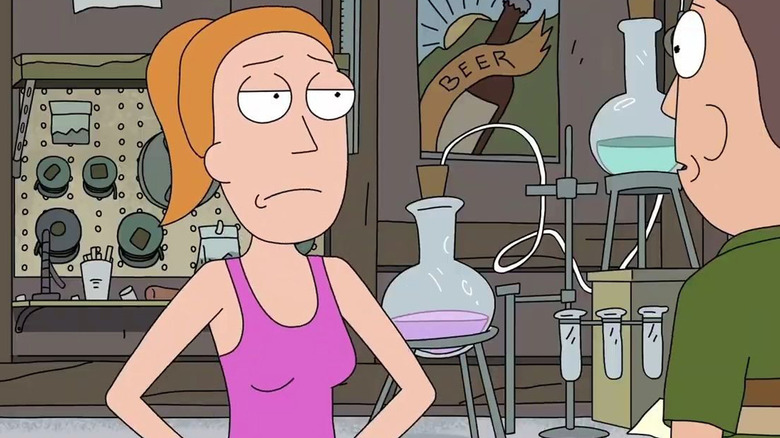 Adult Swim
When asked about the possibility of a "Rick and Morty" movie, producer Scott Marder responded, "I do think it'll happen, I do. It'd be daunting. I wouldn't be shocked if there's one that comes down the pipe someday."
Given that Marder spoke of a "Rick and Morty" movie as something he "wouldn't be shocked" to see in production, it appears that a "Rick and Morty" movie isn't yet a sure thing. It's possible, then, that an unexpected decline in viewership upon the series' return, for example, could affect the likelihood of a movie down the line. Still, it seems to be something on the minds of the creatives behind "Rick and Morty," at the very least, or perhaps even something planned for an unspecified time in the future.
In the same panel discussion, Summer Smith voice actor Spencer Grammer also commented on the complications involved in the prospect of a "Rick and Morty" film. "It's gonna be like a 3D interactive movie that also has like a theme park. ... I don't know if you can just do a straight movie. It wouldn't be good enough," Grammer said. "There's just so much in each episode that's canonical as well and continues to build on itself over these many seasons."
While parts of her comment may have been in jest, Grammer speaks to the ambition required for a proper "Rick and Morty" movie. Animation is a laborious medium. Matched with the dense writing of "Rick and Morty," a movie will most likely be a significant undertaking. Based on Marder and Grammer's comments, however, a "Rick and Morty" movie seems to remain a real possibility — whether the result ends up being a traditional film, or does indeed include a theme park somehow.