Who Is The Villain In Netflix's Cowboy Bebop?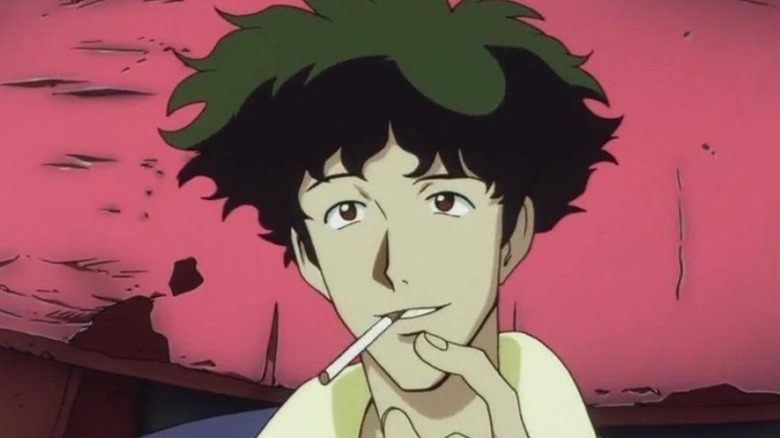 Sunrise
A recent tweet from Netflix's Geeked Week gave "Cowboy Bebop" fans some great news, when it was not only announced that Yoko Kano was returning as a composer, but also showed the stars of the upcoming live-action adaptation as they are expected to appear in the series. Notably, this tweet was the first chance viewers had to see John Cho with his hair done up in Spike Spiegel's iconic messy mop.
In addition, though, fans were also given a chance to see Daniella Pineda in costume as Faye Valentine with her hair cropped close, and Mustafa Shakir as the bald Jet Black. So now that people know what to expect from the film's heroes, excluding Radical Edward and Ein, there is only one question left — who is going to be the villain in Netflix's "Cowboy Bebop," exactly?
After all, the Bebop crew faced off against plenty of enemies while chasing down their bounty heads, and considering that the Netflix series is said to have 10 episodes lined up, fans will presumably have a chance to see a few of their favorite bad guys on the screen. 
However, even though we don't yet know precisely which stories the show will explore, the producers have already confirmed who the ultimate villain will be — and it's Spike's ruthless former comrade, Vicious.
Spike's past won't let him escape a confrontation with Vicious
Fans can anticipate that the anime series' most crucial villain, Vicious, will be returning to hunt down Spike and endanger the other crew members on the Bebop, thanks to the news that Alex Hassel was cast in the part, per Deadline.
In the original 26 episode anime version of "Cowboy Bebop," Vicious was a representation of the dark specter of Spike's troubled past. While the two only clashed periodically in the show, those confrontations led to some of the show's most memorable moments, such as the cathedral shootout in Episode 5, "Ballad of Fallen Angels." According to the show's backstory, Vicious was formerly Spike's partner when the bounty hunter worked for the Red Dragon crime syndicate, until the two fell into conflict over Julia, who set to be played by Elena Satine.
"Cowboy Bebop" fans should be glad to hear that this crucial character is being featured prominently in the new Netflix adaptation of the series, as it bodes well for the adaptation's faithfulness to the source material. In many ways, Spike and Vicious are inverted reflections of one another, and their history is a critical element that drives one of the most important narratives throughout the story.