Girls5eva Season 2 - What We Know So Far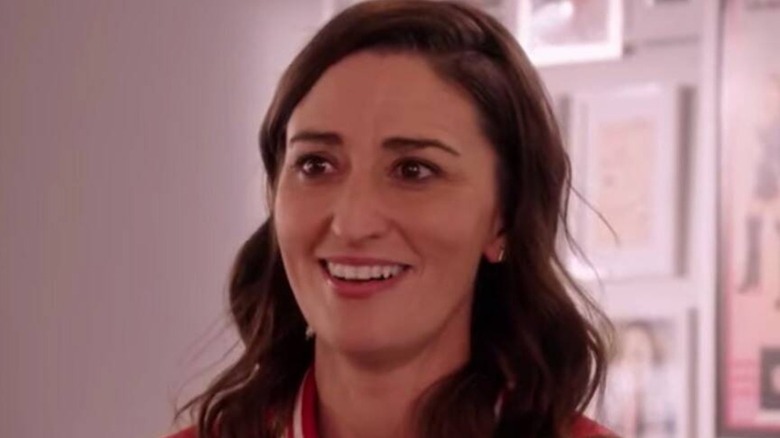 Peacock
The Tina Fey-co-produced Peacock original series "Girls5eva" made a splash when the streaming net released it for viewing in May, winning critical acclaim (via Rotten Tomatoes) and high viewership numbers.
A sitcom which features a one-hit-wonder girl band from the '90s that reunite 20 years after they hit the pop charts after their sole hit is sampled by rapper Lil Stinker (Jeremiah Craft). Dawn (Sara Bareilles) is married, has a child, and works a thankless job at her brother's restaurant. Summer (Busy Philipps) is also a mother, as well as a pampered but ignored housewife in a long-distance marriage with boy band alum Kevin (Andrew Rannells). Gloria (Paula Pell) became a dentist so devoted to the profession her wife has divorced her. Meanwhile, seemingly glamorous Wickie (Renée Elise Goldsberry) whose luxury-branded Instagram success obscures the fact that she's working a terrible job at an airport (shooting geese on the tarmac, specifically). Tragically, the band's missing a member — Ashley (Ashley Parks) — thanks to an unfortunate infinity pool accident. Ashley was the glue who held them all together, but when they're called together to back up Lil Stinker on a Tonight Show with Jimmy Fallon appearance, can these now-grown women get it together and create a long-term reunion that gets them back to the top of the charts?
Fans of the show will be excited to learn that "Girls5eva" has been renewed for a second season, which was announced on June 14, 2021 in outlets like Entertainment Weekly. What will it be about, who will star in it, and when can you expect to see it? Here's everything we know so far about Season 2 of "Girls5eva."
When will the second season of Girls5eva be released?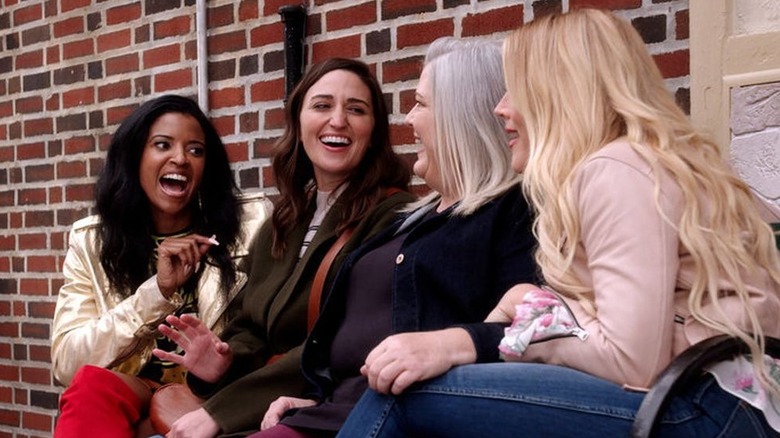 Peacock
With the second season of "Girls5eva" announced so recently, it's unlikely that the show will begin production for a second season until at least the early fall. When you alsp consider factors like production time, post-production, and the considerable time it takes to produce and write fresh songs and scripts for the show and it's quite likely that you won't see a fresh season of the show until the first few months of 2022, likely around May. However, it's possible that they might try to premiere Season 2 a bit earlier, perhaps in the first quarter of 2022, within the winter months.
The show debuted on May 6, 2021 on Peacock, and it's possible that the streaming service might want to bring forth a fresh second season on an annual basis. To put some perspective on how long it takes to produce a season of the show, it was greenlit in January 2020 (via Variety) and began to go into production in the fall of 2020 (via Deadline). Some of those delays may have been Covid pandemic related, but in any case, there's no doubt that the cast and crew of "Girls5eva" will produce a stunning second season after such a great debut.
Who will star in the second season of Girls5eva?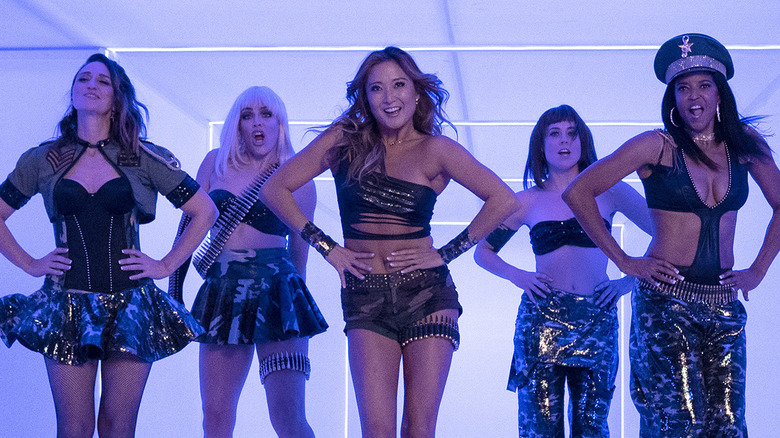 Peacock
Since there's no show without the four members of Girls5eva and the actors who play them — Bareilles, Goldsberry, Pell, and Philipps — they will all likely all be back on board for the second season. Ashley Park will probably pop up as Ashley Gold again when flashbacks warrant, as will Erika Henningsen, who plays a younger version of Gloria in flashbacks and the band's older music videos and live appearances. (Fittingly, both Park and Henningsen have worked with producer Tina Fey before in the musical adaptation of her hit film "Mean Girls.")
It's likely that Jonathan Hadary will appear again as the girls' ne're do well former manager, Larry Plumb (of Plumb Management and Junk Removal), and Broadway star Daniel Breaker will likely return as Dawn's husband, Scott. We'll likely see Rannells return as Kevin, Summer's long-distance husband, as well. Julius Conceicao will also probably be back as Scott and Dawn's son, Max. As for guest stars, fans can only imagine what's in store after huge stars like Stephen Colbert, Bowen Yang, Vanessa Williams, and Fey herself popped up in Season 1.
What will the second season of Girls5eva be about?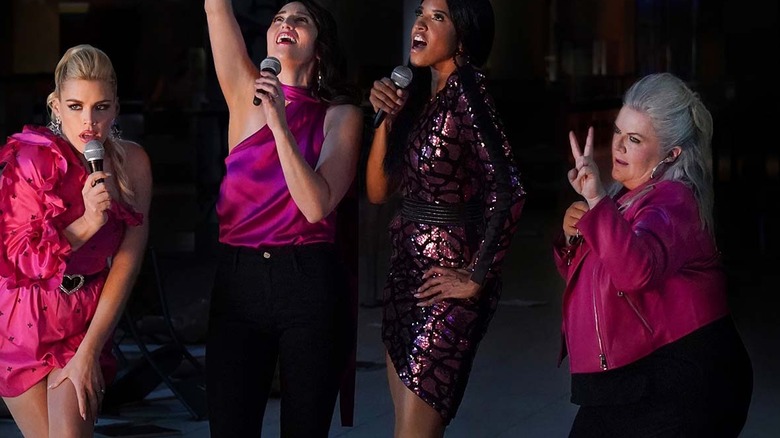 Peacock
You can predict one thing about the next season of "Girls5eva" — there will obviously be a lot of musical numbers for fans to enjoy, between flashbacks to the girls' successful teen music career. and their modern-day songwriting foibles. A major subplot in season one featured Dawn's struggle to reembrace her creative side and start songwriting again, so we'll likely see more of that in the next season — her rich internal life, as well as her marriage and struggles with motherhood will also likely be a subplot. Wickie's struggle to be seen as a star outside of the band will also likely be a part of the show, as well as Summer's ongoing problems with Kevin and Gloria's life as a single, professional woman.
However, the main feature of "Girls5eva" is the band's attempt at becoming relevant once again within the confines of pop music success. The show's already skewered everything from radio conferences to obsessed fans and the perils of live performance, so it will be interesting to see where the next season takes its four leads.
Until the second season of "Girls5eva" finally arrives, the first season is available to stream exclusively on Peacock.