Why The Spanish Logo Reveal For Spider-Man: No Way Home Has Fans Losing It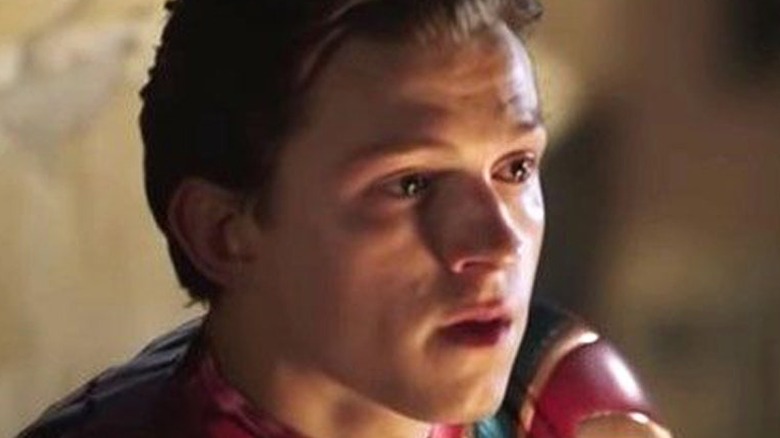 Sony Pictures/Marvel Studios
Hold on to your hats, web-crawlers! With every passing day, we're getting closer to the "Spider-Man: No Way Home" December 17 release date, which means more promotional images are being posted. The Tom Holland series of Spider-Man movies have quite a following, with fans eager to find out if Peter Parker and Michelle Jones (Zendaya) will stay together, and what further adventures your neighborhood friendly Spider-Man will get up to. With Alfred Molina's Doctor Otto Octavius confirmed to appear in the film, alongside Jamie Foxx's Electro — which would bridge the narrative space between the Andrew Garfield two-film "The Amazing Spider-Man" universe, Sam Raimi's three-film "Spider-Man" trilogy, and the MCU — fans have been whispering excitedly about the possibility of all of the previous Spider-Man universes colliding in a single movie.
Sony Films Argentina briefly posted a teaser trailer for the film's release which immediately caused a stir among MCU fans for just this reason. 
The Spider-Man: No Way Home teaser features some familiar elements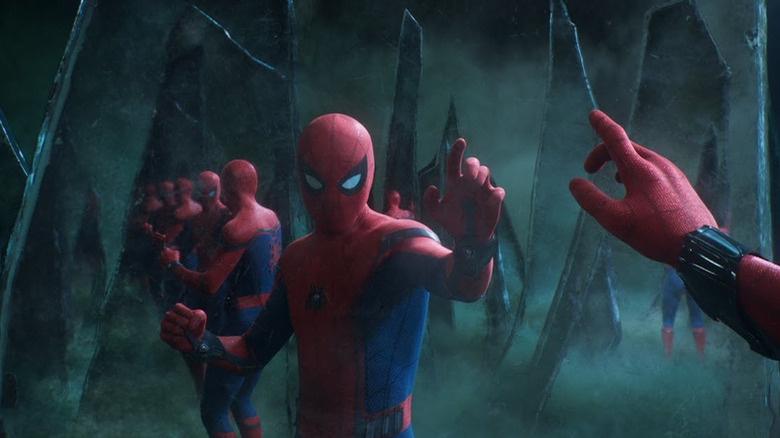 Sony Pictures/Marvel Studios
The official Sony Pictures Argentina Twitter account posted a teaser — which has since been deleted, though reactions are archived on ComicBook.com and fan accounts such as Cosmic Marvel have scraped the video so it's still viewable — of a new logo for the film. The teaser features an orchestral version of the theme song from the 1967 Spider-Man cartoon show, and the Spanish-language version of the "No Way Home" logo. The logo glitches briefly, with red and blue feedback effects, perhaps suggesting a deeper connection to other MCU properties, specifically "Spider-Man: Into the Spider-Verse," the Oscar-winning animated film which won the hearts of both animation and Marvel fans upon its 2018 release and featured similar glitching in its promotional branding. 
Could this visual hint mean we're headed for a live-action version of a Spider-Man multiverse? Some fans are trying to connect the branding to other MCU properties. "Listen, if they bring Miles from Into the Spider-Verse into the real world with Tom Holland through Spider-Man No Way Home I WILL scream in the theaters," said Twitter user @_Adonis_15.  Twitter fan @itsjustanotherx points out the connection between this glitch and "WandaVision," which featured Wanda Maximoff's (Elizabeth Olsen) ascension to the mantle of Scarlet Witch. "Know who else is red?" asked Twitter user @_HMochii, posting a gif of Charlie Cox as Matt Murdock-Daredevil from the Netflix series. Other fans pointed out a reality-warping connection through Benedict Cumberbatch's Doctor Stephen Strange, who has already been confirmed to appear in the film.
Whatever the glitch means, fans will be flocking to theaters in droves this December when "Spider-Man: No Way Home" is released.