What Is The Song In The Starbucks Strawberry Funnel Cake Commercial?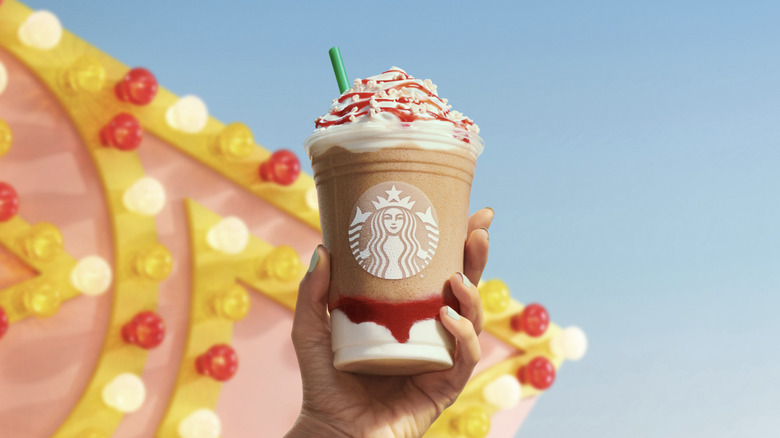 Starbucks
Starbucks is an integral part of many coffee aficionados' daily routines, and for many, the switch from a hot drink order to an iced drink order is a sure sign that summer is around the corner. Who doesn't want a yummy iced beverage as the weather starts to heat up?
Starbucks knows just how obsessed so many of us are with their delicious drinks. For a brand with such massive success and name recognition, it's hard to imagine they'd need to advertise much at all. However, the coffee giant's latest TV spot is kicking our cravings into high gear. Starbucks' new Strawberry Funnel Cake Frappuccino ad has us dreaming of carnivals, cozy summer nights, boardwalks, and beach sunsets. The song featured in the ad sets the scene for summer fun, too, and has us fully convinced that we have to try this latest sweet beverage. But what is the happy, upbeat song featured in the 15-second commercial?
Beach Break by Julietta foretells the summer's arrival
The song featured in the ad is "Beach Break" by Julietta, from "Smooth Sailing," the pop singer's 2018 debut EP. "Beach Break" is also featured in other advertisements from Starbucks' "Happy Place" campaign, including one set in the city promoting the brand's energizing and refreshing cold brew. 
Julietta is a New York-based indie artist who has carved out her place in the industry with her sunny, electronic pop songs that definitely make us crave some summertime beverages. In an interview with Girl Gang Music, Julietta shared her inspiration for the upbeat album, saying, "No matter what all the hardships and struggles may be now or have been then, there is always going to be light at the end of the tunnel. Everything will be okay." It's easier to feel optimistic when the sun is shining, and Julietta's album encapsulates that sense of joy. 
There are few things we love more than enjoying a delicious cold drinks on a hot summer day, surrounded by good friends.  Thanks to this new ad, next time we get that craving, we might just be heading to Starbucks to get a Strawberry Funnel Cake Frappuccino.