How The Tomorrow War Works In A Theme From It's A Wonderful Life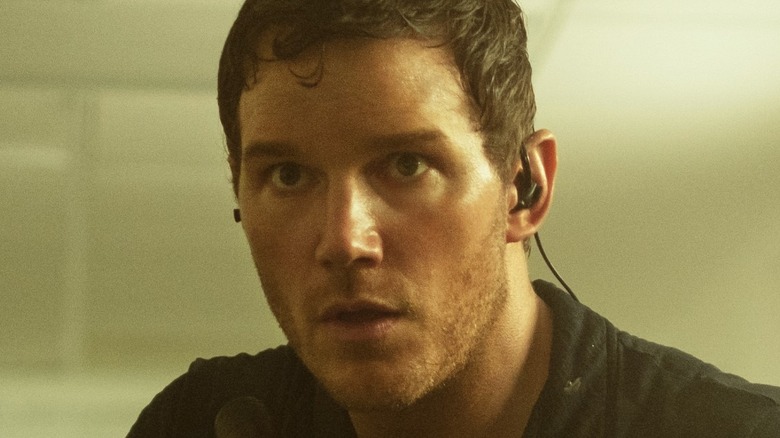 Amazon Studios
While it's not completely unusual to see homages to classic cinema in modern movies, sometimes it is surprising in what genre those honorable gestures up in. As such, fans of director Frank Capra's Christmas classic "It's a Wonderful Life" will be pleasantly surprised that a theme from the iconic Jimmy Stewart and Donna Reed fantasy drama has found its way into director Chris McKay's futuristic alien invasion thriller "The Tomorrow War," debuting on Amazon Prime July 2. Set around Christmas in modern day, "The Tomorrow War" is actually in reference to a battle in 2051 where all of humanity is being decimated by deadly aliens. Thankfully, soldiers can travel back to present day from 30 years into the future to warn earth of its impending doom. However, a warning isn't enough. The world needs to draft all soldiers and adult citizens to travel forward in time to continue the battle, and hopefully find a way to neutralize their extraterrestrial enemies before the planet is wiped out.
Among the citizens drafted into action is Dan Forester (Chris Pratt), a teacher and family man who is stuck in limbo with his own personal and professional troubles, including an ongoing feud with his estranged father (J.K. Simmons). That feud and seemingly impossibly reconciliation, Pratt said in a press conference attended by Looper, provided McKay and screenwriter Zach Dean an opportunity to bring some human substance into their sci-fi actioner through a subplot that partially resembled "It's a Wonderful Life."
'Wonderful' references to a classic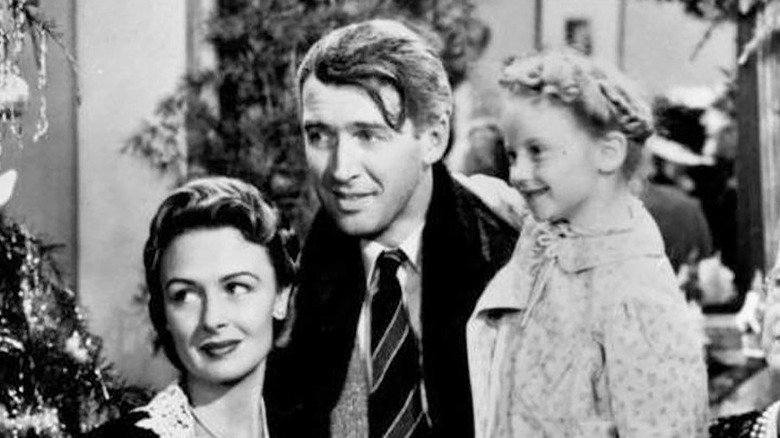 Paramount Home Entertainment
Part of the conflict between Dan and his father in "The Tomorrow War" stems from the former never being able to live up to the expectations of his larger-than-life patriarch. In a unique way, that estranged relationship is among the more carefully layered similarities to "It's a Wonderful Life." Other nods to the film, Pratt noted, are more visible. "There is a nod to 'It's a Wonderful Life' at the beginning of this film, even with him doing this 'Hee-haw' [gesture]. That moment was lifted from 'It's a Wonderful Life,'" Pratt revealed. "Thematically, we have some similarities there. [Dan] is a guy — granted he's not standing on a bridge about to kill himself — but he's not happy with his station in life through the course of the events in his life. And he's got, of course, this relationship with his dad that he's estranged from and he's blaming his father for all of his issues, and his dad wasn't around, etc."
Complicating matters is that Dan and his wife, Emmy (Betty Gilpin) are the parents of a young daughter, and Dan fears that his good relationship with the child will devolve into the same situation that forced a wedge into his shattered relationship with his dad.
Hope is not lost in The Tomorrow War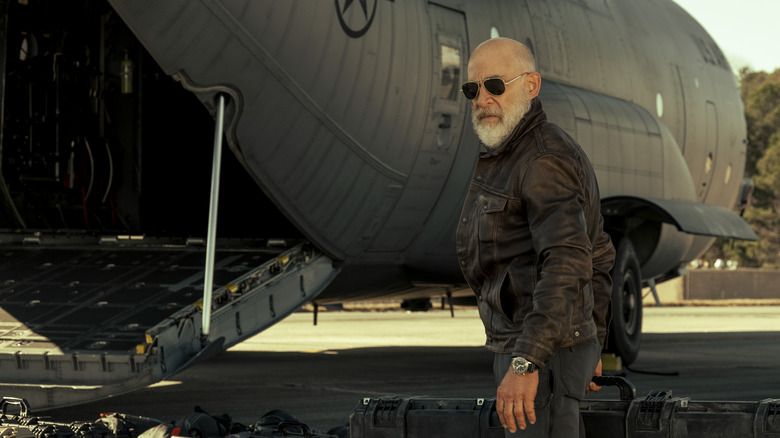 Amazon Studios
"He realizes through the course of this story that, in fact, he has more similarities with his father than he even realized. And, in coming to grips with that, gets to a place of grace and of acceptance and forgiveness for his father because he sees that it wasn't easy for his father, either" Chris Pratt said of his "Tomorrow War" character, Dan. "I think that's a real pivotal moment that comes in adulthood — when we look at our parents as these deities in our life, we come to a moment in our life when we realize, 'Oh wow, that was just a kid who had a kid,' and when you realize that you can forgive them for any shortcomings they had because they didn't live up to the god-like status you'd given them when you were young."
As a result, Dan finds himself in a place he never thought he would be: his father's shoes. "You realize, 'Okay, now I'm in the same dilemma. My kids are going to look at me like I'm some sort of infallible person and of course I'm not,' and so, I think that's a big part of this," Pratt explained. "So yes, in the beginning it seems like we're two different people, but in fact I think we have a lot more in common than Dan would like to admit."
"The Tomorrow War" debuts on Amazon Prime Video on July 2.