Nathalie Emmanuel Dishes On What Vin Diesel's Really Like When Making Fast Movies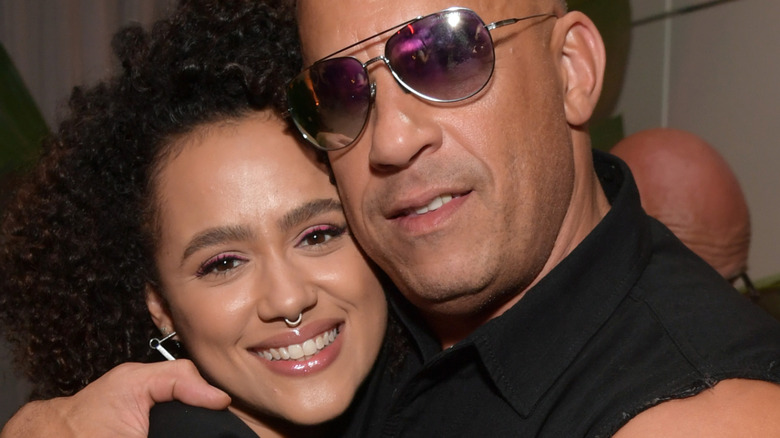 Jason Kempin/Getty Images (for Universal Pictures)
"Fast and Furious 9," officially titled "F9," is set to become one of the franchise's biggest movies ever. Many longtime "Fast" stars are returning for the ninth installment, including patriarch Vin Diesel, Michelle Rodriguez, Jordana Brewster, Tyrese Gibson, and Chris "Ludacris" Bridges, to name just a few. Additionally, the movie will see the return of newer members of the "Fast" family, including Charlize Theron and Helen Miren, and Sung Kang, whose character Han was presumed dead at the end of 2006's "Tokyo Drift." Nathalie Emmanuel is also returning for her third "Fast" film as Ramsey, the tech guru whom Roman (Gibson) and Tej (Ludacris) constantly fawn over.
2015's "Furious 7" was Emmanuel's first "Fast" project, which she followed up in 2017 with "The Fate of the Furious." The "Game of Thrones" alum has enjoyed her time acting in the high-octane flicks, primarily due to how great her co-stars are. Looper recently attended a digital press conference for "F9," where Emmanuel dished about what it's really like to work with Diesel in the "Fast" franchise.
Vin Diesel is incredibly supportive and kind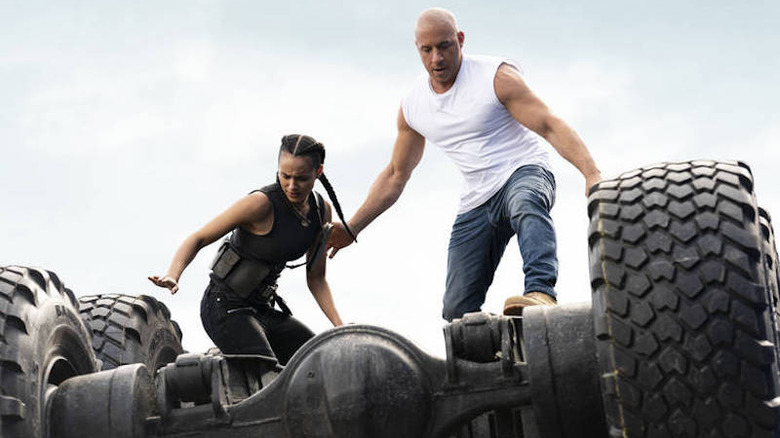 Universal Pictures
Vin Diesel has nothing but love for his longtime "Fast and Furious" co-stars, and according to Nathalie Emmanuel, he's very respectful of his colleagues and extremely committed to and passionate about the "Fast" films. She also said that Diesel does everything in his power to assure the cast and crew make the best movies possible, and that all cast members have their chance to shine in each film. Overall, Emmanuel made it clear that Diesel fosters a positive working environment, wants actors on set to be the absolute best they can be, and is supportive of them in whatever way he can be. 
The actress' recent comments about Diesel are reminiscent of ones she previously shared back in 2017. Speaking with the Sun at the time, Emmanuel commented that Diesel championed for her to be a part of "Furious 7" when it initially looked like it wouldn't work out due to her filming "Game of Thrones" at the same time. (She played Missandei, former-slave-turned-counselor who works closely with Emilia Clarke's Daenerys Targaryen, in the HBO series.)
"I did the screen test [for 'Furious 7'], and we had such crazy, fun chemistry — but the dates for 'Furious' and 'Thrones' clashed. Because I was already on 'Thrones,' they had priority, so I had to walk away," Emmanuel remembered. "But Vin fought for me, and [the producers] managed to make it work. I'll be forever grateful."
Catch Emmanuel, Diesel, and all the other "Fast" family members when "F9" lands in theaters on June 25.