Guillermo Actor Harvey Guillen Teases What To Expect In What We Do In The Shadows Season 3 - Exclusive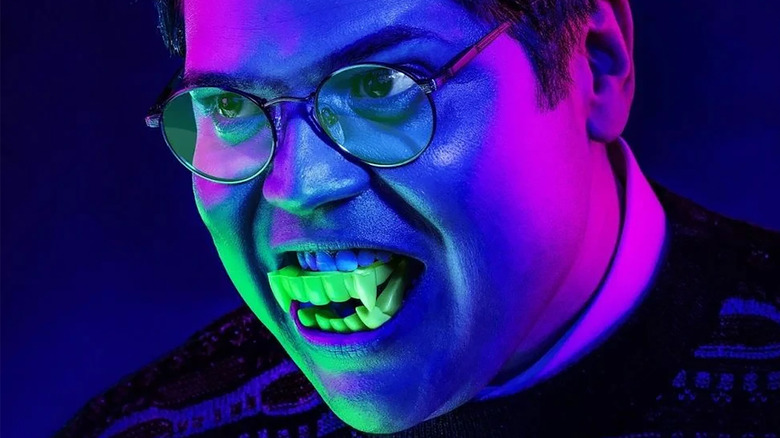 FX
When we last saw Harvey Guillén's Guillermo, arguably the breakout star of FX's hit vampire comedy "What We Do in the Shadows," he was caught in a tricky situation. On one hand, he'd just reunited with his master, the long-undead Nandor (Kayvan Novak), whom Guillermo hopes will one day transform the put-upon familiar into a fully-fledged vamp. On the other, in order to do so, Guillermo had to kill an auditorium full of blood-suckers, revealing that he's the descendent of Abraham Van Helsing and a capable vampire slayer in his own right.
It was the culmination of a big, physical season for Guillén, who ended up doing lots of training and performing a majority of his own stunts to bring Guillermo's big action scene to life (as Guillén told Looper, his dance background came in very, very handy). It also went a long way toward cementing Guillén's status as a fan favorite, something that's likely to continue once viewers catch his performance in his new theatrical horror-comedy, "Werewolves Within."
While speaking with Looper about "Werewolves Within," Guillén briefly touched on what we can expect from the highly-anticipated third season of "What We Do in the Shadows," revealing that precautions related to filming during the COVID-19 pandemic directly affected Guillermo's storylines.
Don't expect as many epic action scenes in What We Do in the Shadows Season 3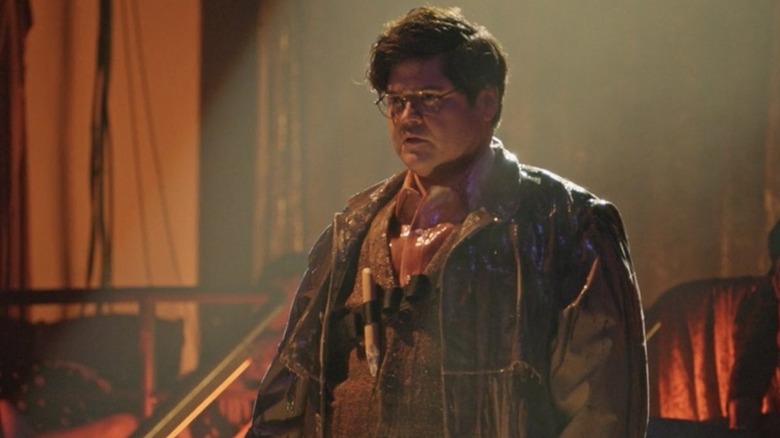 FX
Season 2 put a big focus on Guillermo's vampire-hunting abilities, but Guillén says there won't be quite as much physicality in the upcoming episodes. "There is physicality in the next season, but last season was jam-packed. From Episode 1 to the finale, Guillermo was killing tons and tons," Guillén says. "This [season], we have that as well, but we don't have it as heavy because of COVID. This year was a safer version of that."
It wasn't just the on-set activity that changed because of the pandemic, either. Guillén had to cut back on his personal training, too. "Because of the time that we're living in, it was very limited. I couldn't necessarily go and meet with a trainer. I just did it on my own," Guillén says.
Still, "What We Do in the Shadows" has always been about laughs more than action, and you can expect just as many of those when the show returns in early September. In the meantime, you can catch Guillén in "Werewolves Within," in which he plays a member of a group of small-town residents who turn on each other when a werewolf attacks. "Werewolves Within" is very funny, but Guillén thinks the movie, like the video game it's based on, also has a lot to say about our society as a whole.
"When given authority and power, people make decisions based on their needs and wants, or their personal vendettas or whatnot against certain people. There's no justice. It's all injustice because it's all driven by personal gain," Guillén says. "That's human nature and it's kind of terrifying. I guess at the end of the day, the real question is, 'Who are the real monsters?'"
Watch "What We Do in the Shadows" and "Werewolves Within" to find out.
"Werewolves Within" is out in theaters now, and hits video-on-demand services on July 2, 2021. "What We Do in the Shadows" returns for its third season on FX on September 2, 2021.