Every Amazing Race Season Ranked Worst To Best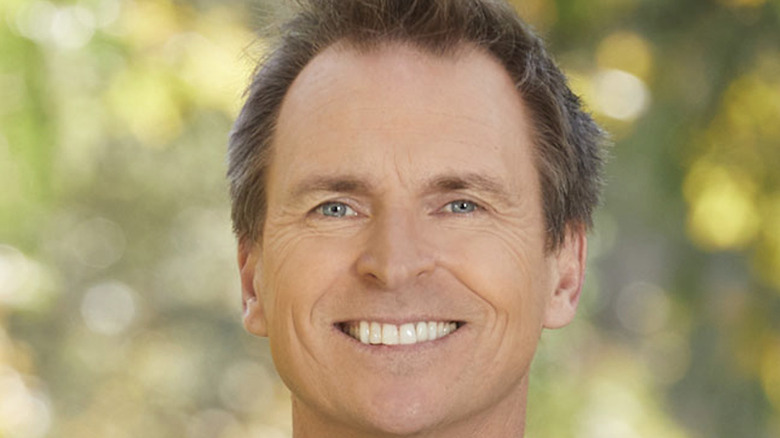 CBS
When "The Amazing Race" debuted on September 5, 2001, the ratings were modest and the show spent a few seasons "on the bubble" before it began dominating the Reality Competition awards at the Emmys — it amassed 13 by 2014, among other awards. Created by Bertram van Munster and Elise Dognaieri and hosted by Phil Keoghan, the show has now run for 32 seasons, and has spawned several other editions, including in Canada, Australia, Asia, and the Philippines.
"The Amazing Race" also has a loyal fanbase called "TARflies." Beginning with a community that sprung from the forums at the now-defunct Television WIthout Pity website, TARflies created TARCon, an in-person fan event that was held in New York City to watch the finale and which was often attended by both present and past Racers. There was also a TARflies Times website that is now defunct. Fans continue to congregate on sites such as Reddit and Facebook, though TARCon appears to have ended.
The show has spawned its own lingo as well, including "killer fatigue" to describe tired Racers, "Philimination" to describe being eliminated from the Race by host Keoghan, and "airport drama" for, well, drama occurring at airports as teams jockey to get the best flights. Contestants are referred to as "Racers" and many have team nicknames that were either fan- or self-given. Having covered over a million miles and 89 countries visited by dozens of teams competing for one million dollars, here are the 32 seasons of "The Amazing Race," ranked from worst to best by their IMDb ratings.
32. Season 32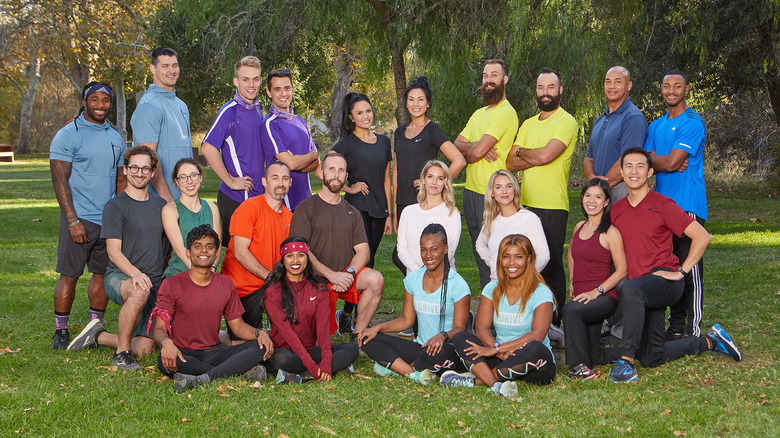 CBS
Maybe it's a case of reality fatigue or recency bias, but Season 32 of "The Amazing Race," which premiered on November 14, 2020, ranks at the bottom of all the seasons. 
While it had several "firsts" for the show, including the first marriage proposal between a gay couple (winners Will Jardell and James Wallington), the season failed to gain good footing with fans. Many were unhappy with the early "Mine Five" alliance between five teams, made worse when a sub-alliance of what would become the top three teams helped each other so egregiously they were able to basically eliminate the fourth team left.
31. Season 28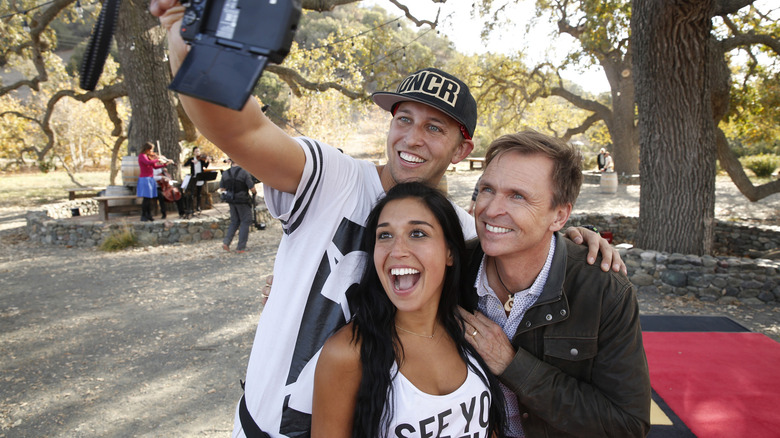 CBS
Season 28, which premiered on February 12, 2016, could be subtitled "The One Where Everyone's a Social Media Star," as that was the hook for casting. 
An obvious bid to tap into the younger demographic who may be unfamiliar with the previous 27 seasons of the show, a cast made up of YouTubers and Instagrammers didn't seem to impress long-time fans. Engaged choreographers and YouTubers Dana Borriello and Matt Steaffanina bickered their way to the million dollar prize, but that didn't make for pleasant or memorable watching. Host Phil Keoghan got in on the social media aspect, too, livestreaming the show on Twitter — which only annoyed West Coast fans wanting to avoid spoilers for the episodes.
30. Season 10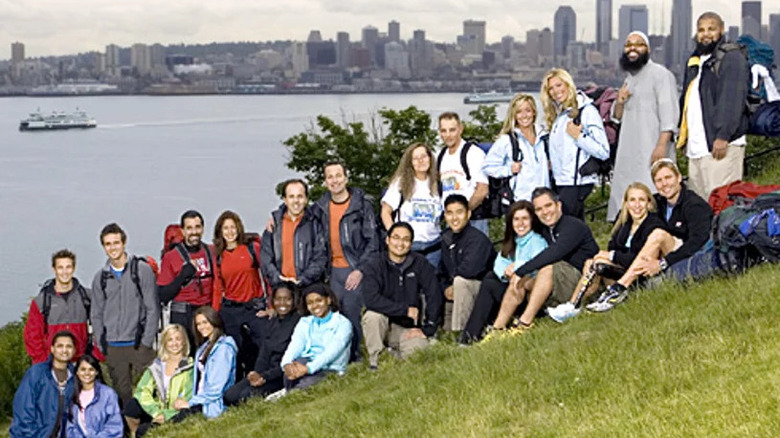 CBS
Season 10, which premiered on September 17, 2006, was the first time "The Amazing Race" had a Muslim American team, as well as two Asian American teams. 
The race itself also went west first instead of east, as was the previous custom. Other innovations included a surprise elimination — two teams instead of one were cut during the first leg — and the Intersection, which compelled two teams to work together until told otherwise. As with any long-running show, the producers were looking to mix things up so the Racers wouldn't know what to expect. Needless to say, teams weren't the only ones caught off guard, as fans complained about the changes.
29. Season 8 — The Family Edition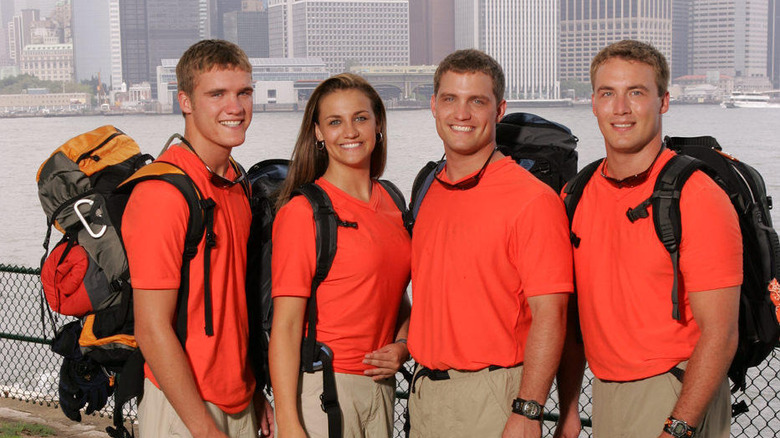 CBS
The first and only "The Amazing Race: Family Edition" occurred during Season 8, which premiered September 27, 2005. 
The Linz family — siblings Nick, Alex, Megan, and Tommy — powered through what many fans considered easier tasks than a "normal" Race, even leading EW's recapper, Josh Wolk, to deem the season "uninspiring." The route stayed on one continent, though the families visited four countries: the U.S., Canada, Panama, and Costa Rica. There were also 40 people racing in 10 teams of four family members each, with the youngest Racer being Austin Black, who was only 8 at the time his family competed.
28. Season 13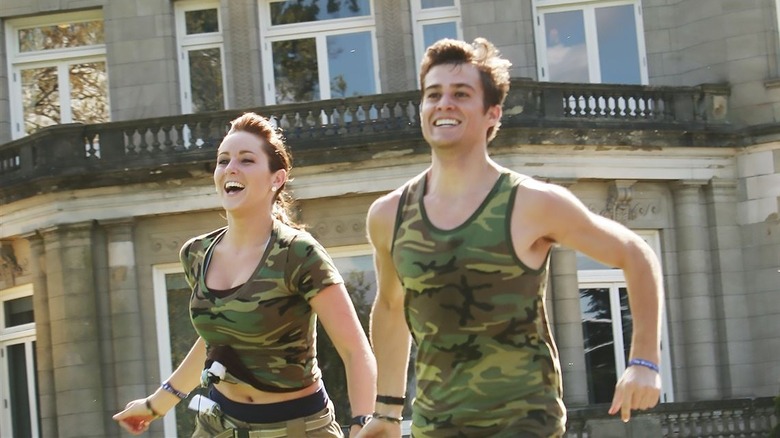 CBS
Season 13 premiered September 28, 2008 and featured siblings Nick and Starr Spangler, the first team to place first in seven of that season's 11 legs and one of the youngest teams to ever win. 
The season was the first in which a U-Turn was available but was never used. While the U-Turn can be used by one team to hinder another's progress in the game, there are many fans who don't care for it, preferring to exhort the teams to just focus on their own Race. The teams in Season 13 chose to do just that, which reduced the drama and is a reason the season is ranked so low.
27. Season 26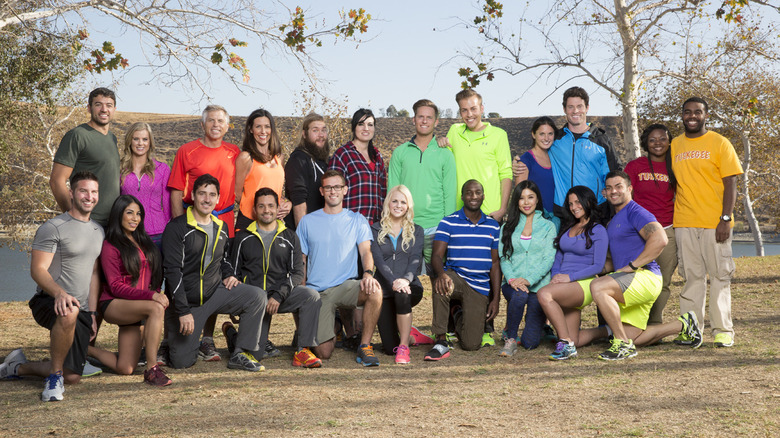 CBS
Season 26, which premiered February 25, 2015, was the "dating season" that featured one twist: five of the dating teams were actually blind dates who met for the first time on the Race. 
That one of the "blind date" couples, Laura Pierson and Tyler Adams, wound up winning was a bit of a kick for the longer-term dating couples, though it may be that not having any "issues" to work on allowed Laura and Tyler to avoid the relationship bickering that sometimes drags teams down. It was also the first season with no all-female team.
26. Season 11 — The First All-Stars Season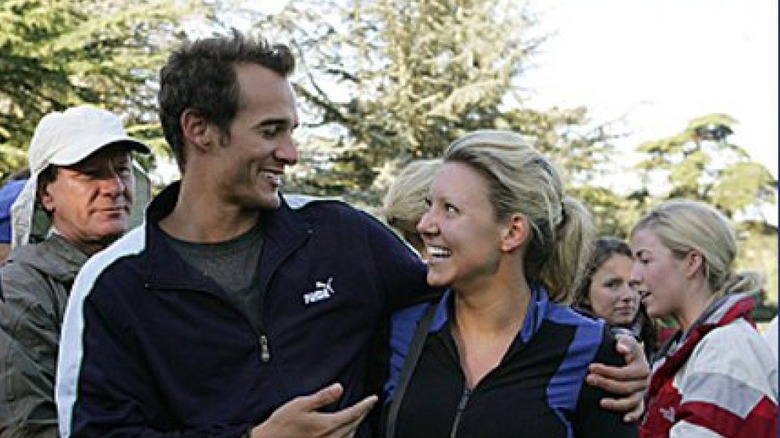 CBS
Premiering January 18, 2007, Season 11 was the first All-Stars and featured returning teams including Boston Rob and Amber, who had married by then. 
By contrast, dating couple John Vito Pietanza and Jill Aquilina appeared on "All-Stars" as a formerly dating couple. Season 1 "villains" Joe Baldassare and Bill Bartek, a.k.a. Team Guido, returned but went out in 6th place despite being up to their old tricks — or maybe because of that. Uchenna and Joyce Agu were the only returning winners. Eric Sanchez and Danielle Turner from Season 9, who actually competed on opposing teams then, arrived at the final mat to win the first All-Stars, which was also the last season to have 13 legs. 
25. Season 27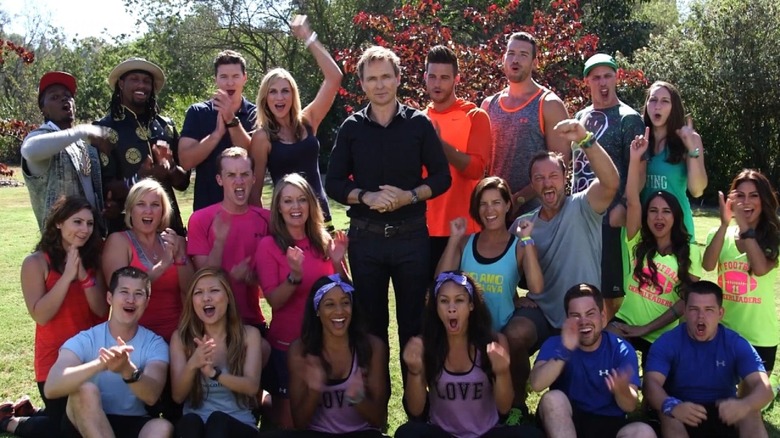 CBS
September 25, 2015 saw the premiere of Season 27, which introduced into the Race mechanics an "Express Pass" that had to not only be given to another team after the team which found it used it, but the recipients were then forced to use it in the next leg or they would lose the advantage.
An Express Pass allows the team holding it to skip the task at hand and move on to the next part of the leg, and was first used in Season 4. Production switched things up by including two Roadblocks and a Detour in one leg — normal legs have one of each type of task. Kelsey Gerckens and Joey Buttitta, a pair of dating news anchors, won the season.
24. Season 22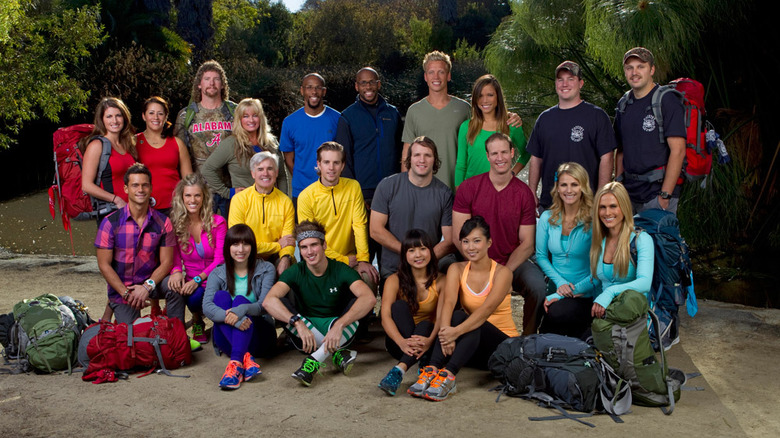 CBS
The Express Pass also figured into Season 22, which premiered February 17, 2013. 
In addition to a regular Express Pass, there was a second Express Pass that had to be given away to another team to use. This season was also notable for a team that had to pull out of the Race due to one member being injured. Father and son team Dave and Connor O'Leary were unable to complete the race because Dave tore his Achilles tendon and eventually was advised by the show's medical staff to get surgery, leading to their "self-elimination." 
Professional hockey players Jonathan "Bates" and Anthony Battaglia, who were targeted early on by other teams afraid their athleticism would power them to the end, managed to overcome both that and their own missteps to cross the final mat in first place.
23. Season 12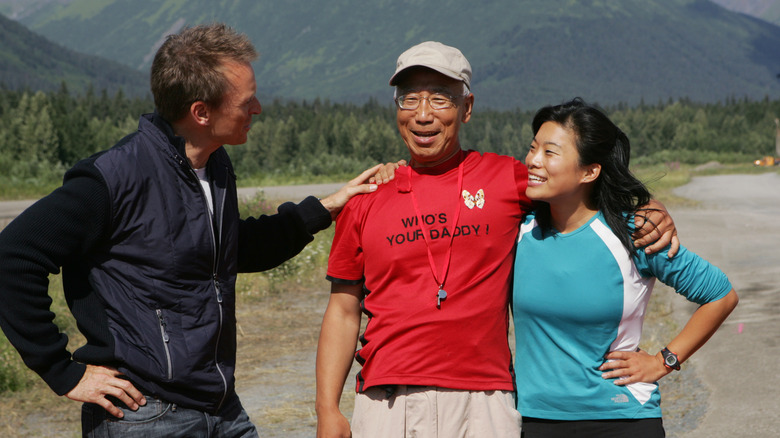 CBS
Season 12 premiered November 4, 2007 and was the first season to have the controversial U-Turn, as well as the more widely-accepted Speed Bump. 
The U-Turn allows a team to force a team behind them to complete both tasks in a Detour, which is a choice between two different tasks. It is a way to slow down the competition and hopefully knock them out of the Race. The Speed Bump was an innovation connected to a Non-Elimination Leg, or "NEL." 
Previously, if a team came in last place on a leg that turned out to be non-elimination, there was no consequence other than being the last team to start the next leg. This time, the "NEL" team had to complete an extra task called a "Speed Bump" in order to continue the Race. Newly dating couple TK Erwin and Rachel Rosales won.
22. Season 15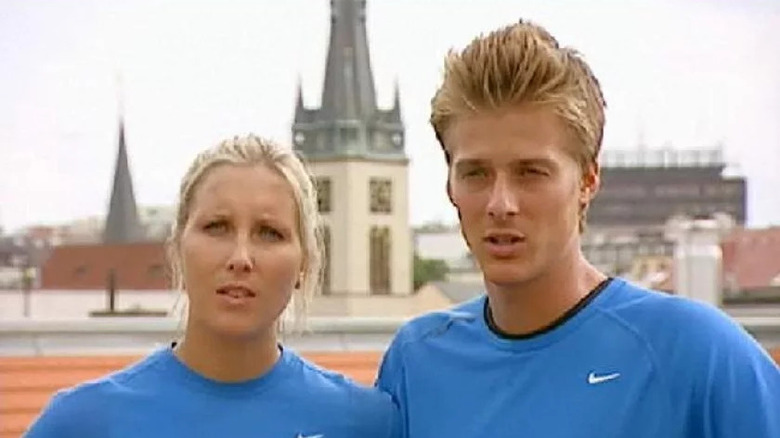 CBS
Season 15 introduced the "Starting Line Task" and "Starting Line Elimination," the latter of which was not very popular because a team was Philimated before they had a chance to race. 
Premiering September 27, 2009, Season 15 also introduced the "Switchback," which was a reprise of a difficult task from a previous season. Though the season included a team of professional athletes, Nate "Big Easy" Lofton and Herbert "Flight Time" Lang from the Harlem Globetrotters, it was ultimately dating couple Meghan Rickey and Cheyne Whitney who triumphed in the end, in no small part because they were a dominant force to be reckoned with.
21. Season 21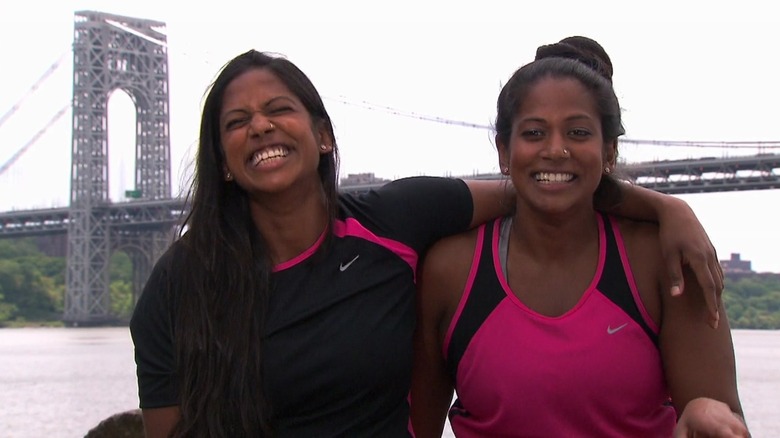 CBS
Season 21 is notable for including contestants from CBS sister show "Survivor," as "Twinnies" Natalie and Nadiya Anderson competed against teams such as Chippendales dancers Jaymes Vaugh and James Davis. 
The season premiered September 30, 2012 and included a "Double Your Money" prize — final winnings would be doubled if the team who won the first leg also won the final leg — and a "blind" Double U-Turn, which meant the teams who were U-turned didn't even know who made them complete both tasks of a Detour. Rock Star/Lawyer duo James LoMenzo and Mark "Abba" Abbattitsta provided a lot of drama, as the two frequently left important items (such as money and Abba's passport) behind. The lost passport led to their elimination in Russia. 
Goat farmers Josh Kilmer-Purcell and Brent Ridge, who placed 7th in the first leg, were the ultimate winners.
20. Season 7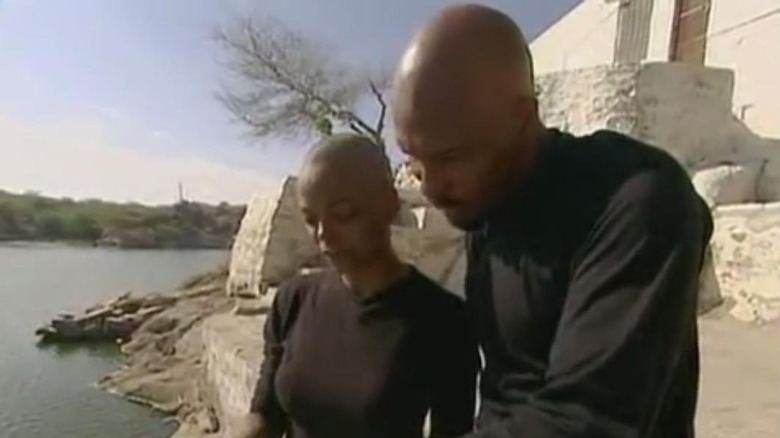 CBS
Season 7 premiered March 1, 2015 and was the first time former "Survivor" castaways appeared, as "Boston" Rob Mariano and Amber Brkich, married now but engaged at the time, brought their "Survivor" tactics to the Race architecture. For example, the now-infamous "Meatblock" — a Roadblock, which is a task only one member of a team must complete, that consisted of eating four pounds of meat. 
Boston Rob not only opted to take the four-hour penalty for not completing the task, but also convinced two other teams after him to do the same, thus giving his team a cushion against coming in last. And don't get us started on the plane gate incident. 
Although married couple Uchenna and Joyce Agu won the season, many Race fans thought there was too much emphasis on "Romber" because of Boston Rob's antics.
19. Season 16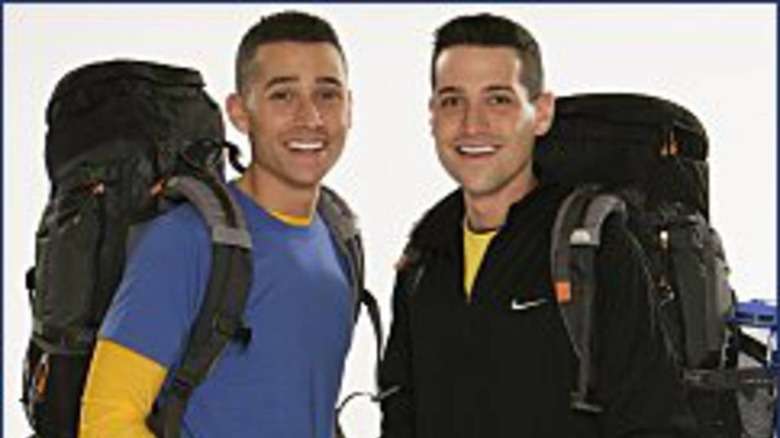 CBS
On February 14, 2010, "The Amazing Race" began its 16th season, which included former contestants from CBS's "Big Brother" in another bit of stunt-casting. 
The season was notable for using the Intersection again, as well as having Racers climbing the outside of San Francisco's famous Coit Tower during the final Roadblock. Although brothers Jet and Cord McCoy, a.k.a The Cowboys, were one of the season's most popular teams and made two more appearances in later seasons, the winners were actually brothers Dan and Jordan Pious.
18. Season 29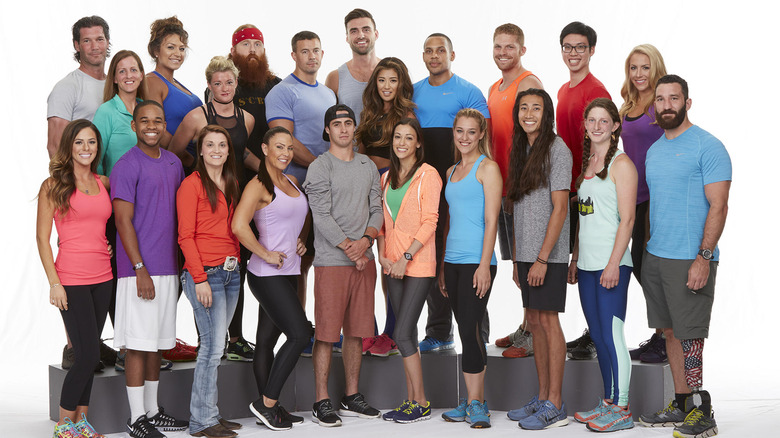 CBS
Season 29 is notable for having its teammates not meet each other until they were at the starting line. 
Premiering April 30, 2017, this "Amazing Race" season introduced the show's newest gimmick: The contestants didn't know each other ahead of time and had to complete a task that decided who would pick a partner first. Consequently, team dynamics developed in "real time" over the course of the season. 
Some teams, such as Becca Droz and Floyd Pierce, a.k.a. Team Fun, had a good time together, whereas Brooke Camhi and Scott Flanary, a.k.a. Team Brooke and Scott, had more of a push/pull relationship. The fraught dynamic and rather boring nickname didn't stop Brooke and Scott winning the $1 million prize, and fans seemed to enjoy the different teams learning their partner's strengths and weaknesses as they competed.
17. Season 4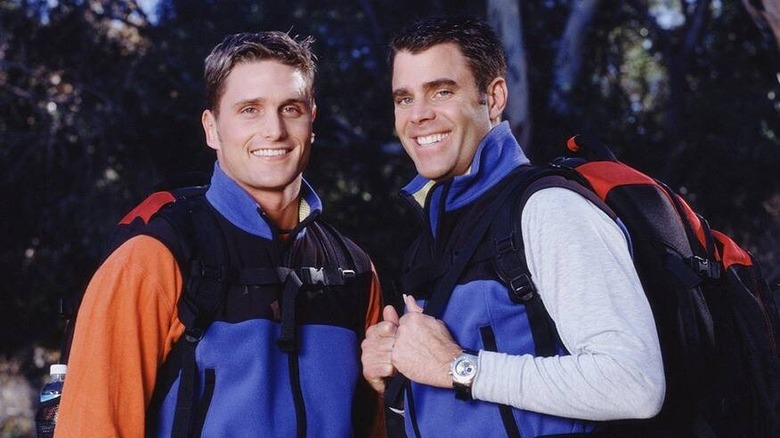 CBS
Season 4 premiered on May 29, 2003, and featured several LGBTQ+ firsts for "The Amazing Race": the first married gay couple (Reichen Lehmkuhl and Chip Arndt) who were also the first LGBTQ+ contestants, and who were also the first romantic couple to win the Race. 
Ironically, the two split up after the Race ended, which was not too much of a surprise given how often they fought. No doubt the stress and fatigue of racing around the globe contributed to that, and despite the arguments, the two were competent in challenges and able to overcome their mistakes. 
In contrast, the season also featured Millie Smith and Chuck Shankles, two self-described virgins who had been dating 12 years, fought with each other constantly and questioned their relationship. While entertaining on a dramatic level, some of the behavior made for an uncomfortable watch.
16. Season 9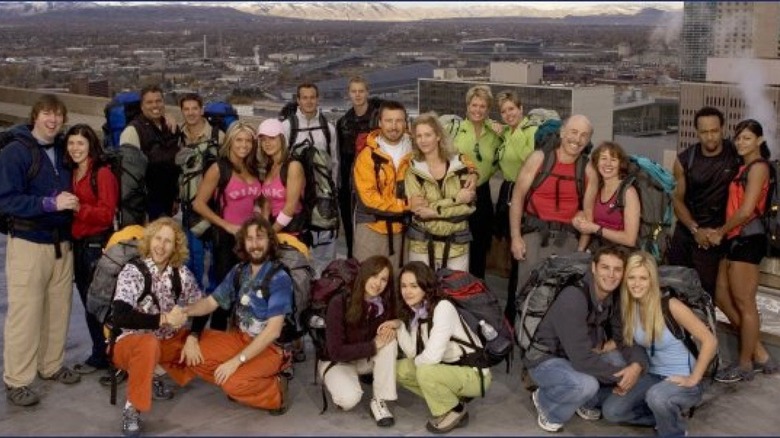 CBS
After the disaster that was "Family Edition," "The Amazing Race" went back to its roots and circumnavigated the globe with groups of two. 
The season premiered on February 28, 2006 with its usual mix of best friends, couples, and family members — just two at a time, of course. Season 9 marked the first time the Race went to Japan, as well as reaching the milestone of 100 teams participated in the show up to that point. 
Winners B. J. Averell and Tyler MacNiven were a popular best friends duo whose goofy antics endeared them to fans, though maybe not so much to fellow racers Joseph Meadows and Monica Cayce. B. J. and Tyler went from competent Racers to making mistakes that resulted in them coming in last twice, but lucked out that those were Non-Elimination Legs.
15. Season 14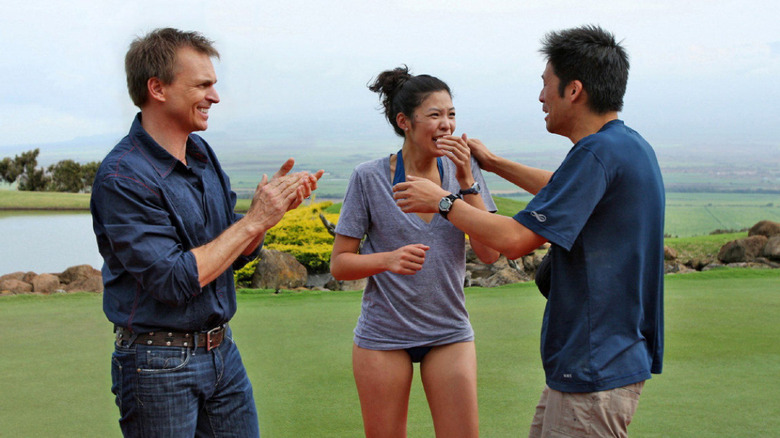 CBS
One of the most notable aspects of Season 14, which premiered on February 15, 2009, was the team of writer/actor Mike White and his father, Mel. 
White ("School of Rock," "Nacho Libre") is a huge fan of the Race and showed that joy in almost every moment. The season also had its first Deaf contestant, Luke Adams, who raced with his mother, Margie. It's strange to see this one rank so highly, though, as many fans complained about the winners (siblings Tammy and Victor Jih) having an "unfair" advantage because the Race spent several tasks towards the end in China, and Tammy and Victor speak Chinese.
However, that's just Race luck, the same with getting a good versus bad cab driver or picking a Roadblock that plays to a teammate's strengths versus a teammate afraid of heights being forced to skydive, for instance. Also, Luke came received a lot of criticism for being so whiny.
14. Season 25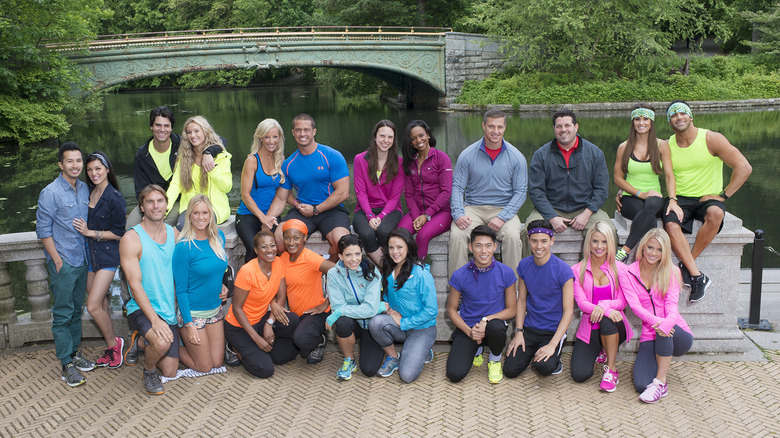 CBS
September 26, 2014 saw the premiere of Season 25, wherein the Express Pass was replaced with a "Save" pass that a team could use to prevent their own elimination at the Pit Stop. This was also the first time the starting point was public knowledge, meaning the team composition was announced before the Race was completed. 
Chipper "Food Scientists" Amy DeJong and Maya Warren beat out surfers Adam Dirks and Bethany Hamilton-Dirks and dentists Misti and Jim Raman at the finish line. Amy and Maya were constantly underestimated because they were not the most athletic pair, making their win a true underdog moment. Bethany's inspirational story, which was the basis of the 2011 film, "Soul Surfer," was a big draw for fans as well; sadly, Jim passed away in 2019 at age 42.
13. Season 30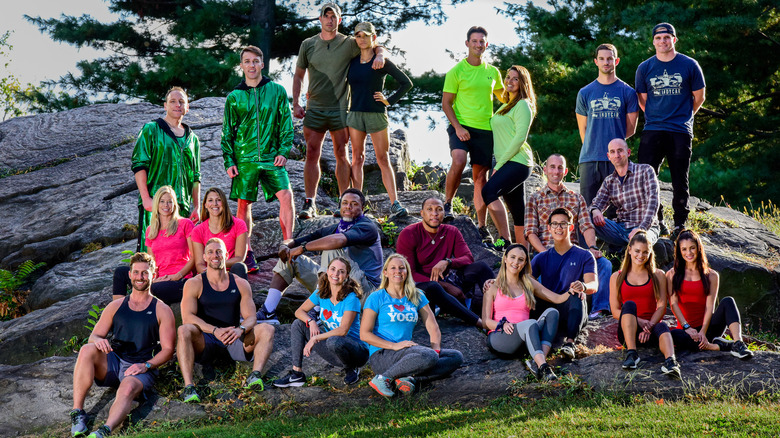 CBS
Season 30 premiered January 3, 2018, introducing two new elements, the "Head-to-Head" competition and the "Partner Swap." 
The Partner Swap is simple: Teams change partners for one leg until they reach the Pit Stop and get back with their original teammate. The "Head-to-Head" challenge involved a task where teams would compete against each other until only one team was left; that team would receive a 15 minute penalty before moving on. 
Because the Head-to-Head occurred before the Pit Stop, however, the final team wound up eliminated. "Big Brother" contestants Cody Nickson and Jessica Graft won in the end. To date, they are the only team who had appeared on another CBS competition to win "The Amazing Race."
12. Season 5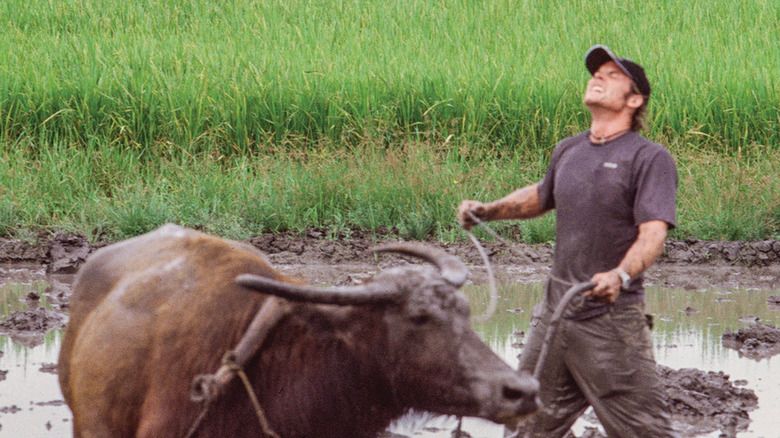 CBS
Frankly, if it was up to some of us, Season 5, which premiered July 6, 2004, would be in the top ten. Apart from being a generally enjoyable watch with a fantastic finish, the season gifted the world with Colin Guinn's epic meltdown at the "Plow" detour, which involved having an ox plow a muddy field to dredge up a clue. 
Guinn's ox would not cooperate, causing him to yell in anguish, "My ox is broken!" He and his then-girlfriend and now-wife, Christie Woods, also set a record for most legs won in a season (though that record was eventually broken). They were also the first to be both U-turned and yielded — the "Yield" being a new addition to the Race — by other teams. Married couple Chip and Kim McAllister beat Colin and Christie to the final mat.
11. Season 23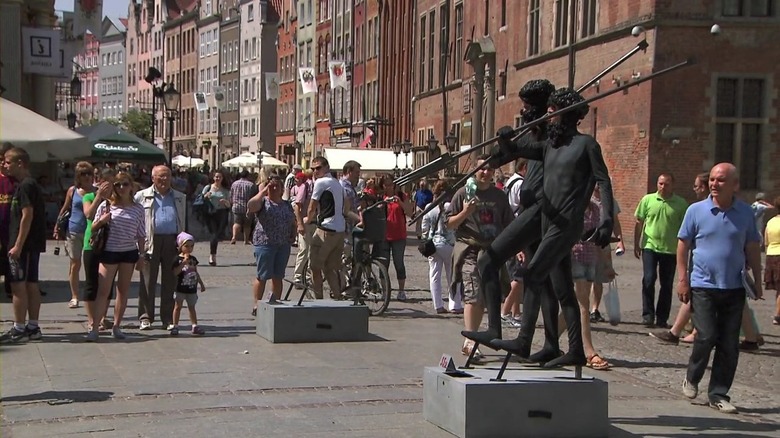 CBS
Season 23 premiered September 29, 2013 and marked the first time two teams used an Express Pass to skip a difficult task. 
Cousins Leo Temary and Jamal Zadran were the breakout personalities, returning twice more in the second All-Stars season and in Season 31. Because other teams found them rather annoying, they wound up being U-turned twice, but managed to overcome both setbacks. However, their luck eventually ran out and they placed 4th. 
Dating couple Jason Case and Amy Diaz, who allied very early in the Race with married ER doctors Nicole and Travis Jasper, topped the pack.
10. Season 2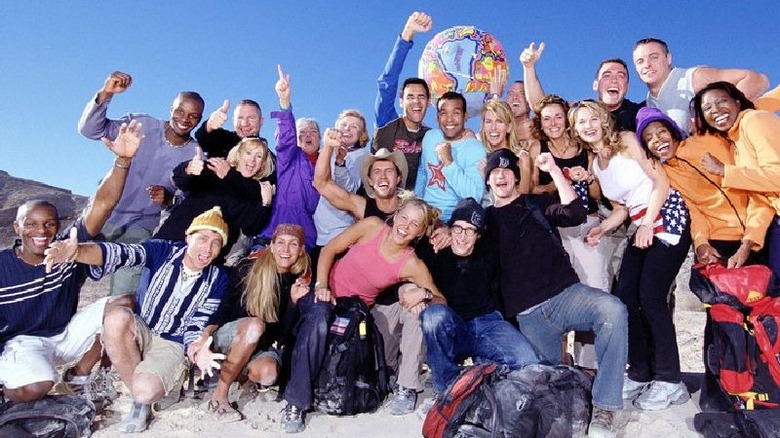 CBS
The second season of "The Amazing Race" (which premiered March 11, 2002) brought in elements that became Race staples, including changing the route markers to the familiar yellow and red, and having host Phil Keoghan greet everyone at the mat versus only appearing for the last team. 
It also had the closest finish in Race history, with winners Chris Luca and Alex Boylan literally running past the OG fighting couple Tara Lynch and Wil Steger to the final mat. Well, they just passed Tara, as both partners need to be on the mat in order to check in and she was behind Wil. 
Ironically, part of Tara and Wil's fighting was due to Tara helping Chris and Alex to her own team's detriment. It also didn't help that she and Alex flirted.
9. Season 17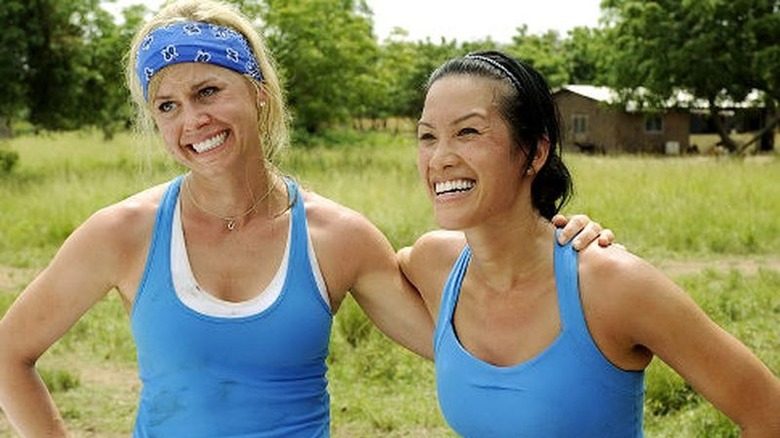 CBS
It took 17 seasons, but Doctors Nat Strand and Kat Chang became the first all-female team to win "The Amazing Race." 
Their competency and cool demeanors, coupled with the support they offered each other, endeared them to fans. Season 17 premiered September 26, 2010, introducing the Express Pass and the Double U-Turn to the game dynamics. 
It also introduced a very GIF-able moment when Claire Champlin took a watermelon to the face in the first leg. Claire's teammate (and fellow Home Shopping host) Brooke Roberts could only watch from the sidelines since the task was a Roadblock. Fortunately, Claire was cleared to continue, and the pair wound up in second place in the final leg.
8. Season 6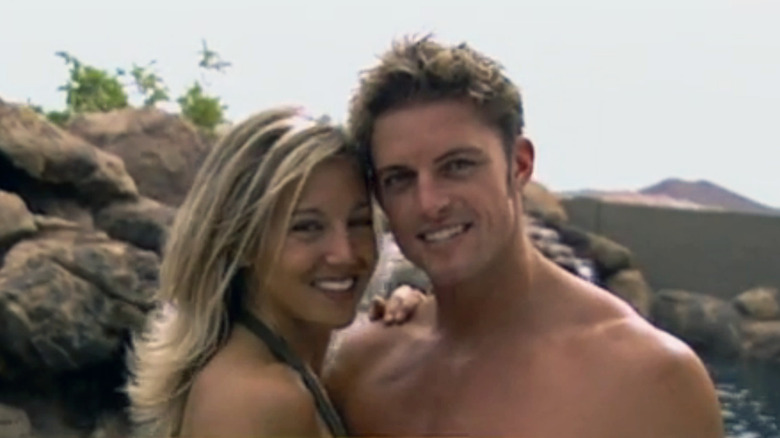 CBS
Season 6, which premiered November 16, 2002, changed the rules of the Roadblock, limiting how many each member could perform, and introduced the first double leg. The season also had a group of strong Racers, though some had unpleasant personalities. 
The top four teams all had dating relationships, but it was unpopular models Freddy Holliday and Kendra Bentley who won. Kendra made some dire comments in Africa that she tried to blame on the editing, and fans turned against her. Ditto for obnoxious married couple Jonathan Baker and Victoria Fuller, who were the center of an abuse controversy. 
So, why does Season 6 rank so highly on IMDb? Probably because of long-distance dating couple Kris Perkins and Jon Buehler — the two wound up marrying — as well as the growth in the father-daughter relationship of Gus and Hera McLeod, and the heartbreak of close sisters Lena and Kristy Jensen going out on a grueling hay bale challenge. That's the kind of drama that fans have always seemed to prefer.
7. Season 18 - Unfinished Business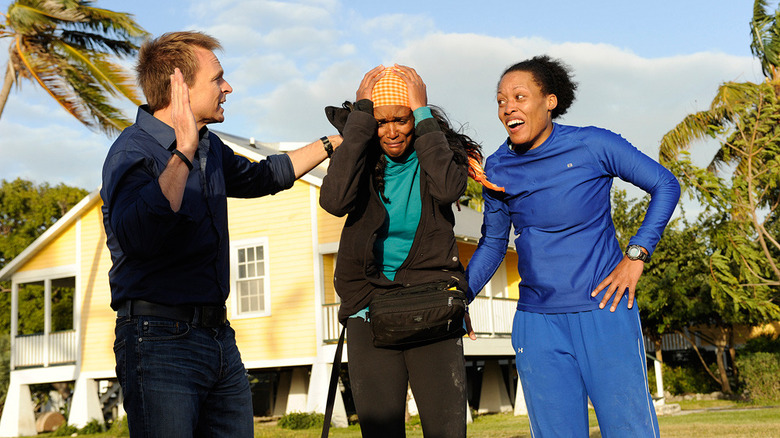 CBS
Known as "The Amazing Race: Unfinished Business," Season 18 debuted on February 20, 2011, and featured returnees who had previously lost and wanted a second chance. 
Fan favorite returnees included father/son Mel and Mike White, Harlem Globetrotters Flight Time and Big Easy, Cowboys Jet and Cord, and sisters Kisha and Jen Hoffman, who went on to win. 
In Kisha and Jen's first appearance in Season 14, they had trouble communicating, causing numerous issues for them, but by Season 18, they had become much better at listening to each other. Allying themselves with Flight Time and Big Easy also gave Kisha and Jen a push in the right direction. While some teams (such as Margie and Luke) wound up repeating past mistakes, Kisha and Jen showed growth and were rewarded with $1 million.
6. Season 20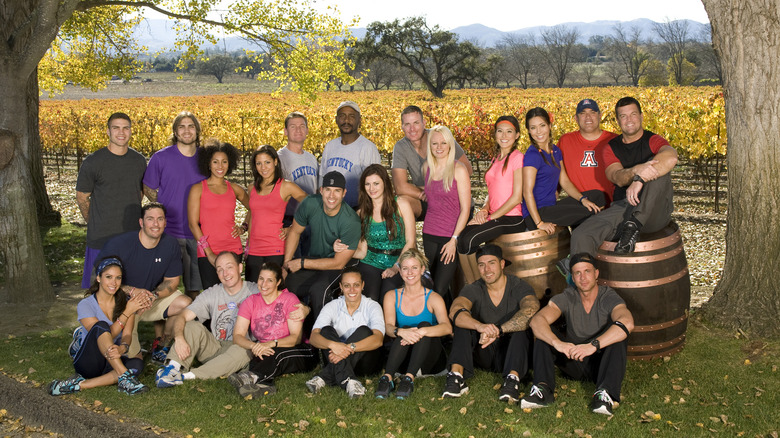 CBS
Even after 20 seasons, "The Amazing Race" still managed to rack up several firsts for the show, such as the first time two teams fell victim to the Double U-Turn in one leg, yet still managed not to be eliminated — and the first time both a Speed Bump and Fast Forward (which allows a team to skip all tasks and go straight to the Pit Stop) appeared in one leg. 
Rachel and Dave Brown Jr., a married couple, overcame several obstacles on the way to winning, not the least of which was missing the final Roadblock and being turned away from the Finish Line in order to go back and complete it. We cannot imagine what it would be like to think you've won, only to be told you missed a major task. The season debuted on February 19, 2012.
5. Season 19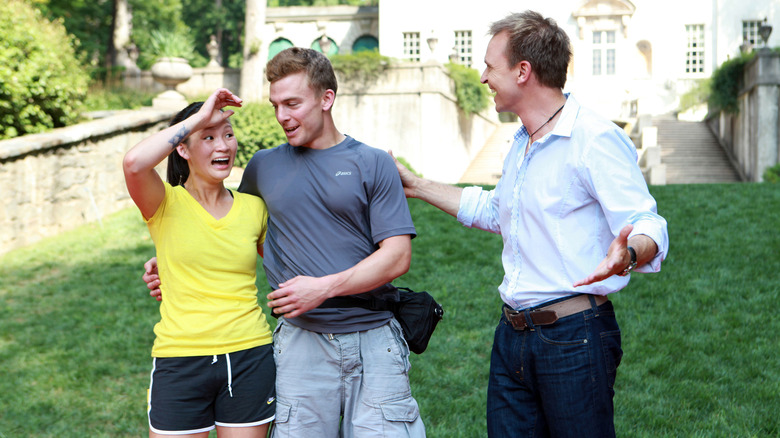 CBS
Season 19 featured then-dating couple Ethan Zohn and Jenna Morasca, both of whom had already won "Survivor," leading to the other teams targeting them for elimination. It was their own failure to see a clue, however, that led to their Philimination in the second leg. 
Engaged couple Ernie Halvoresn and Cindy Chian, on the other hand, raced carefully and efficiently on their way to securing the $1 million prize. Season 19 (which premiered September 25, 2011) introduced the Double Elimination Leg — wherein two teams were eliminated in the second leg. It was also the first to use the Hazard, a penalty similar to a Speed Bump given to the team who finished last on the Starting Line task. Needless to say, that was not a popular innovation and hasn't appeared since.
4. Season 24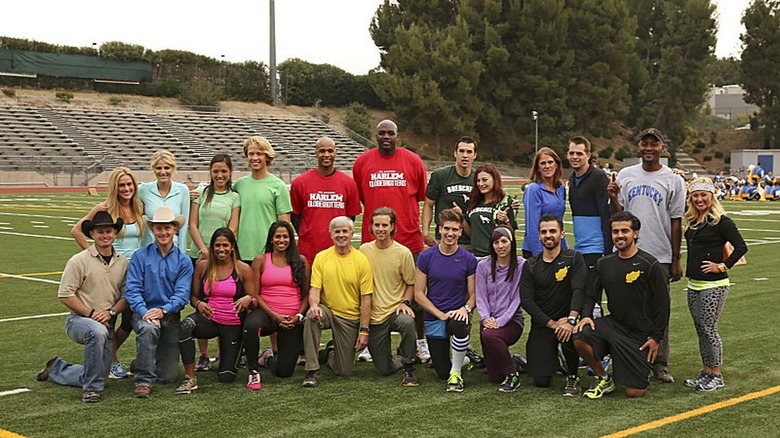 CBS
Season 24 (the second All-Stars season) premiered February 23, 2014 and had one crucial difference from the original All-Stars: One team was a "composite team" made up of members from two previous teams. 
Season 20's Mark Jackson and Bopper Minton were scheduled to return; however, Bopper became ill prior to the beginning and the medical team wouldn't allow him to continue. Mark was paired with Mallory Ervin, who previously raced with her father, Gary, on seasons 17 and 18. The two didn't make it past the second leg. 
In an inspiring finish, however, Dave and Connor O'Leary, both cancer survivors, became the first parent/child team to win "The Amazing Race."
3. Season 31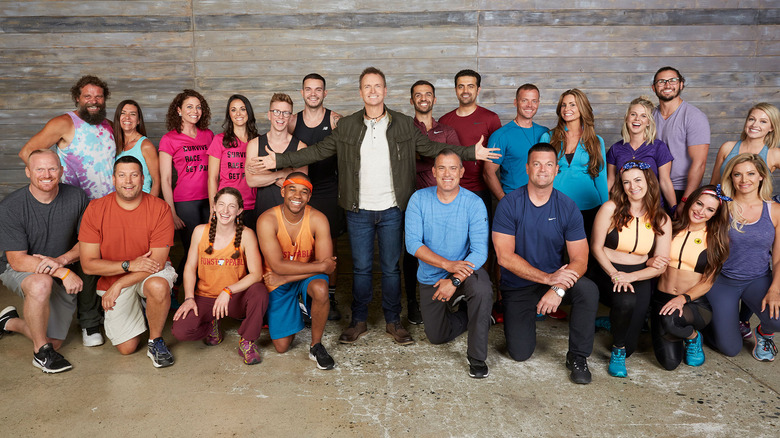 CBS
Season 31 was hyped as a "reality showdown," as the teams all came from CBS's three reality competition shows: "The Amazing Race," "Survivor," and "Big Brother." 
Debuting April 17, 2019 and suffused with CBS synergy, the season brough back such returning Racers as Art and JJ from Season 20 and Leo and Jamal from Seasons 23, 25, and 31, alongside newbies Rupert and Laura Boneham from "Survivor" and Nicole Franzel and Victor Arroyo III from "Big Brother." 
But it was the return of now-married Racers Colin Guinn and Christie Woods that had fans excited, with many hoping his tendency to melt down would return. Unfortunately for them, Colin and Christie returned with a Zen attitude that, coupled with their racing skills, created a redemption arc that ended with them winning. In terms of the "showdown," the final three teams were all returning Racers. Take that, synergy!.
2. Season 3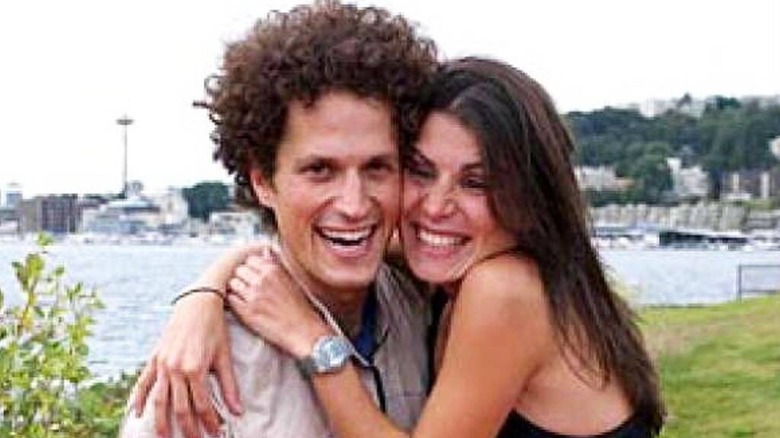 CBS
While Season 3 featured the first female winner on "The Amazing Race," that winner was Flo Pesenti — known for whining, not doing Roadblocks, and literally being carried by her teammate and friend, Zach Behr. 
Premiering October 2, 2002, Season 3 was the last season to have 12 teams racing, and the first to send the teams to all-new locations because none of the countries had been visited in the first two seasons. Apart from being the first co-ed team to win the race, Flo and Zach were also the first to switch Detours twice in one leg. Despite fan antipathy toward Flo, though, many rooted for Zach to win just for putting up with her.
1. Season 1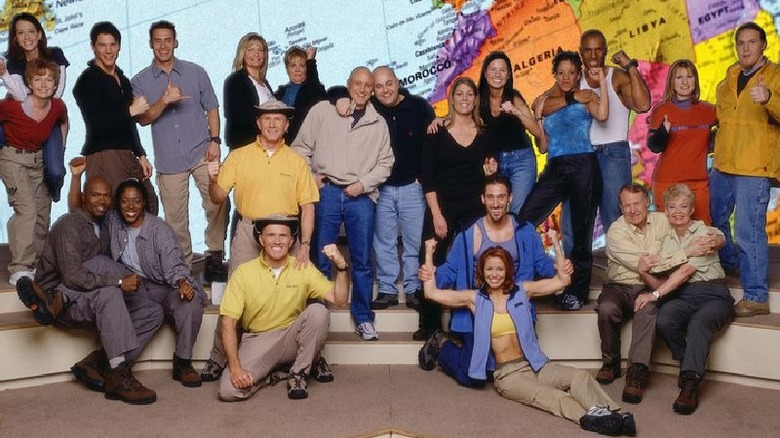 CBS
Sometimes, you just can't top the original.
Topping the list as the best season of "The Amazing Race" is Season 1, which premiered September 5, 2001 and had memorable teams who, much like the castaways on the first season of "Survivor," created a blueprint for how teams should compete on the Race. 
That blueprint included appreciating where you were, being kind to the locals, and ripping through tasks as best you could in order to get to the next leg. It also had Team Guido being delightfully villainous, and getting their (extremely satisfying) comeuppance in the final leg. 
Teams were made up of friends, romantic partners, families, and roomies. The first three teams to finish leg one raced to the end in the final leg, with best friends Rob Frisbee and Brennan Swain becoming the first winners, and the Guidos being the first team to not complete the final leg because they were so far behind the production told them the other Racers had already crossed the finish line.