Ted Prequel Series - What We Know So Far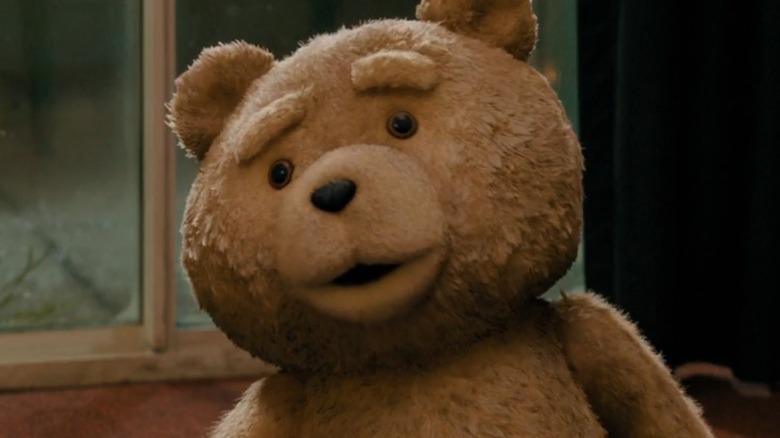 Universal Pictures
NBC streaming service Peacock has already proven to be a hotbed for shows that harken back to the glory days of yesteryear thanks to revivals like "Saved by the Bell" and "Punky Brewster." Now, they are expanding their portfolio with a newly announced series inspired by the smash-hit comedy "Ted."
When "Ted" first premiered in 2012 it was a massive box office success, raking in nearly $550 million worldwide. The film told the story of John Bennett (Mark Wahlberg), a 30-something slacker whose best friend is Ted (Seth MacFarlane), a teddy bear who inexplicably came to life after a young John made a wish on a star. Mixing outrageous R-rated humor with an unexpectedly tender story of friendship, "Ted" proved to be a slam-dunk for Seth MacFarlane, who wrote, directed, and co-starred in the film, which he expected to be a huge flop. While the 2015 sequel wasn't quite as big of a success, its $215 million box office haul proved that the franchise has legs.
Clearly, Peacock thinks so, as, according to The Hollywood Reporter, they greenlit the "Ted" project with a direct-to-series 10 episode order. The show is reportedly going to be a prequel and MacFarlane is confirmed to be writing and executive producing the series. But what else has been revealed about the show?
Here's everything we know so far about the "Ted" prequel series.
A release date for the Ted prequel hasn't been confirmed yet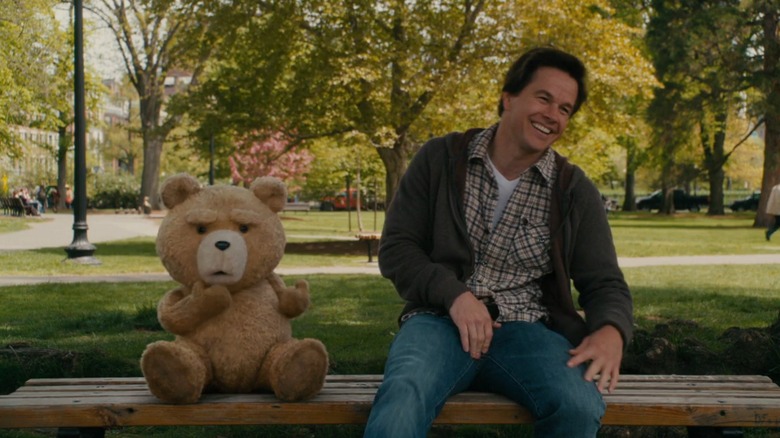 Universal Pictures
Here's the thing about the "Ted" prequel series: based on the details released so far, it's still in the very earliest stages of development. That means no release date has been teased yet by Peacock. However, we can make an educated guess as to when we might expect to see the show.
To give us an idea of how long it might take for the "Ted" prequel to make it from announcement to release date, let's look at another 10 episode Peacock revival: "Saved By the Bell." That series was announced as being in the works in September 2019 (via USA Today) with filming starting January 2020 (via Deadline). After being delayed by the COVID-19 pandemic, the show dropped on Peacock on November 25, 2020, a little over a year after it was first teased.
Now, there's no way to know if the "Ted" prequel will follow a similar schedule, but if it does, we could get the series as soon as summer 2022. However, to be safe, we'd guess the series is most likely to arrive either in late 2022 or early 2023.
Will anyone from the original cast return for the Ted prequel series?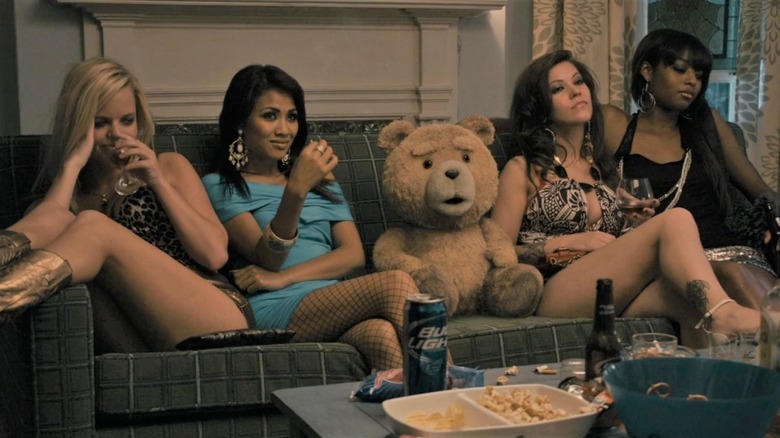 Universal Pictures
One of the biggest questions hanging over the prospect of a "Ted" prequel series is who from the original cast might be making a return. While franchise star Wahlberg hasn't confirmed or denied involvement at the time of writing, The Hollywood Reporter noted that MacFarlane is in talks to return to provide the voice of Ted. That hasn't been made official just yet, though.
Considering the project will presumably take place before the events of the first movie, it seems like a reasonable bet to say that it may not feature many of the stars from the film series. An exception to that could be frequent MacFarlane collaborators Alex Borstein and Ralph Garman, who played John's parents in flashback scenes to his childhood. However, without knowing exactly when the series will take place (we'll touch on that in a moment), it's hard to say for sure.
One thing to look out for are actors who have worked with MacFarlane before, as he's known for repeat collaborations. Could we see the likes of Rachael MacFarlane, Patrick Warburton, Giovanni Ribisi, or even Charlize Theron appear in the "Ted" prequel? Only time will tell.
What we know so far about the plot of Peacock's Ted prequel series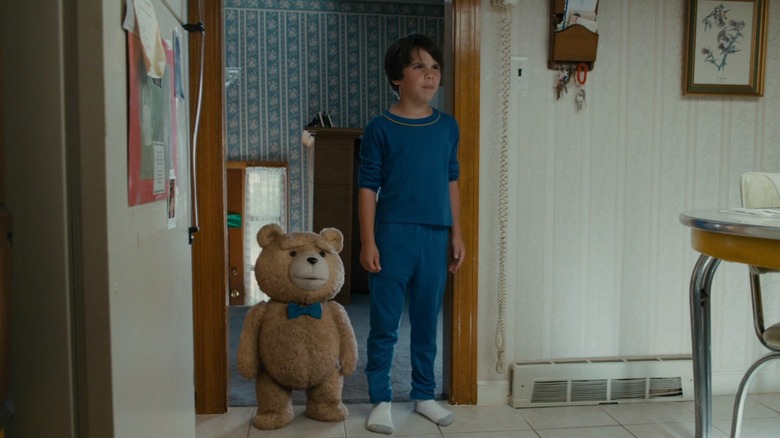 Universal Pictures
Beyond the fact that it is a prequel, nothing specific about the plot for Peacock's "Ted" series has been announced. One other tidbit of information The Hollywood Reporter had was a rumor that the series was pitched as a multicamera comedy. That particular direction hasn't been confirmed, though.
For a comedy franchise, "Ted" does have a fairly rich backstory to draw inspiration from for a prequel. The first film introduces the lore of Ted the living teddy bear. Not only do we see him brought to life by John's wish, but the film also demonstrates how he became an overnight media sensation who appeared on the late-night talk show circuit before fading into relative obscurity. Ted's days of superstardom could make for a particularly rich source to mine from should the series choose to go in that direction. If it does go in the direction of a multi-cam sitcom, there's always the possibility that it will focus on the day-to-day life of Ted and the Bennett family ala a show like "Family Ties."
At this point, though, that is all pure speculation. The "Ted" prequel series is still in the early days of development and we won't know anything for certain until Peacock releases more details. However, the little we do know so far should be enough to excite fans of the franchise.