Ted Prequel Series Release Date, Plot, Cast, Trailer And More Details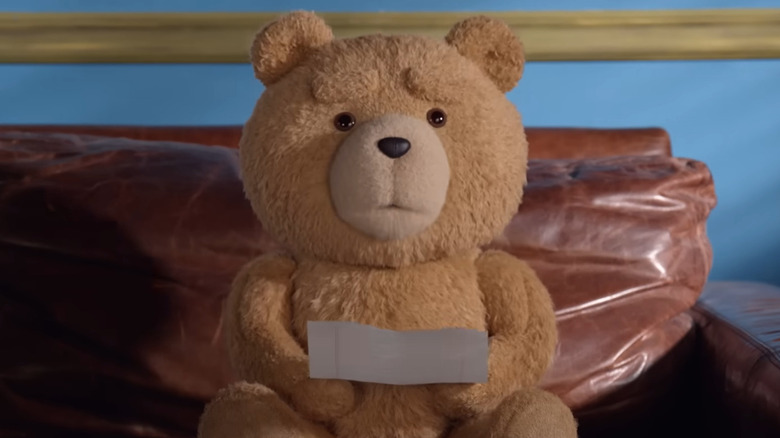 Peacock
We may receive a commission on purchases made from links.
NBC streaming service Peacock has already proven to be a hotbed for shows that harken back to the glory days of yesteryear thanks to revivals like "Saved by the Bell" and "Punky Brewster." Now, they're expanding their portfolio with a series inspired by the smash-hit comedy "Ted."
When "Ted" first premiered in 2012 it was a massive box office success, raking in nearly $550 million worldwide. The film told the story of John Bennett (Mark Wahlberg), a 30-something slacker whose best friend is Ted (Seth MacFarlane), a teddy bear who inexplicably came to life after a young John made a wish on a star. Mixing outrageous R-rated humor with an unexpectedly tender story of friendship, "Ted" proved to be a slam dunk for Seth MacFarlane, who wrote, directed, and co-starred in the film. While the 2015 sequel wasn't quite as big of a success, its $215 million box office haul proved that the franchise has legs.
Clearly, Peacock thinks so, as it greenlit the "Ted" project with a direct-to-series order. The show is going to be a prequel, and MacFarlane will manage this extension of the franchise he created. Here's everything else we know about the "Ted" series so far.
When will the Ted prequel series be released?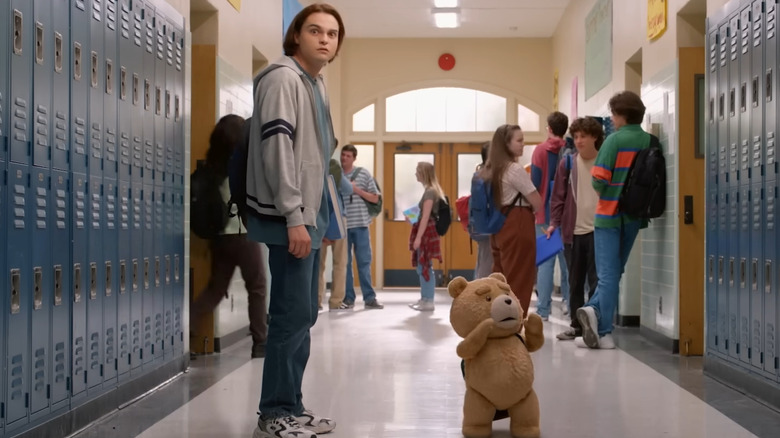 Peacock
It's taken a lot of time for the "Ted" series to earn a premiere date. NBCUniversal announced that it had ordered the "Ted" series for its then-new Peacock streaming service back in June 2021. That order came six years after the theatrical release of "Ted 2," and we didn't get any significant updates on the project until November 2023.  
Many factors could've been at play in keeping the "Ted" show off of screens for so long. Creator, writer, director, and star Seth MacFarlane has a lot of projects in the works, including ongoing series like "The Orville," "Family Guy," and "American Dad!" Plus, months-long strikes in 2023 shut down production on most all television series for most of the year, leading to delays across the board. Fortunately, everybody's favorite stuffed bear is almost back.
While NBCUniversal initially envisioned "Ted" as a 10-episode series, producers will ultimately turn out a total of seven episodes. Most of those installments will have a running time of around 30 minutes, following an extra-long series premiere. Billed as an event series — implying it's a limited, one-time only offering — "Ted" the show is scheduled to hit Peacock on January 11, 2024.
What is the plot of the Ted prequel series?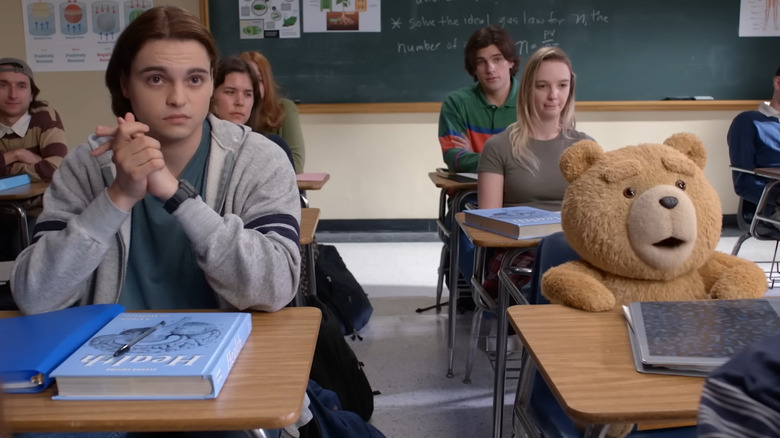 Peacock
Both of the existing "Ted" properties — the 2012 movie "Ted" and the 2015 "Ted 2" — explore the relationship and adventures of immature adult John Bennett and his best friend, a living, breathing, talking, hard-partying teddy bear named Ted. The movies take place decades after what should've been a reality-altering discovery of a talking teddy bear and his rise to celebrity. As the world got used to him, Ted's fame diminished, and he settled into a life as a washed-up former star. 
However, the upcoming Peacock series "Ted" is a prequel, and it sends the action back to about 20 years before the events of the first film. The show is set in 1993, and while that's very long ago, it's still a time where Ted the bear is past his prime and has worn out his novelty with the world at-large. In the nostalgic period piece of a limited series, Ted lives in Framingham, Massachusetts, with his lifelong best friend, John, John's parents Matty and Susan, and John's cousin Blaire. This "Ted" will revolve around Ted and John getting themselves and each other into trouble while also valuing their unique and special friendship above all else. Or as creator Seth MacFarlane explained in an official statement, "It takes place in the '90s but is based on the timeless truth that being 16 sucks. The only thing that makes it tolerable is going through it with a friend, even if that friend is a has-been magical teddy bear with a foul mouth and a proclivity for drug use."
Who is starring in the Ted prequel series?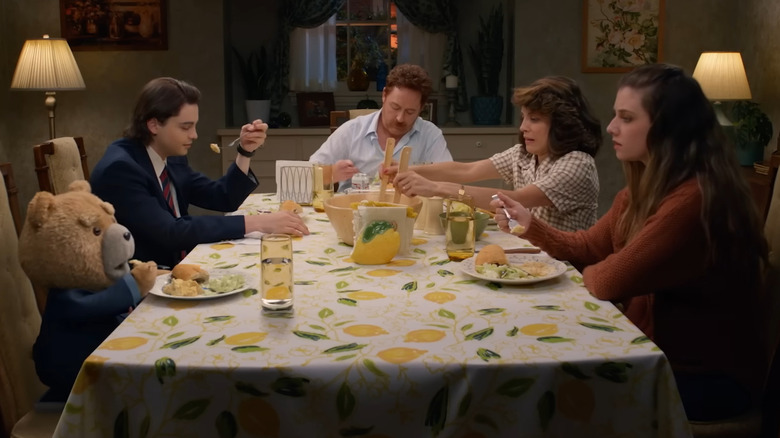 Peacock
As "Ted" is a prequel series taking place decades before the setting of the 2010s "Ted" movies, familiar characters from the films have largely been recast. For example, in the movies, Seth MacFarlane collaborators Alex Borstein and Ralph Garman played John Bennett's parents in flashback scenes to his childhood. In their place, we'll see Scott Grimes (MacFarlane's co-star on "American Dad!" and "The Orville") portray father Matty Bennett, and Alanna Ubach, recently seen in "Euphoria" and "The Flight Attendant," will join the cast as mother Susan Bennett. 
Max Burkholder, best known for his role on NBC's film-to-series adaptation of "Parenthood," will play the younger version of John, the character portrayed in the movies by Mark Wahlberg. John's cousin Blaire, a new character who lives with the Bennetts in the "Ted" series, will be played by "The Punisher" and "Sierra Burgess Is a Loser" cast member Giorgia Whigham. And never fear — Seth MacFarlane will once again provide the voice of living plush bear Ted.
Who is writing, directing, and showrunning the Ted prequel series?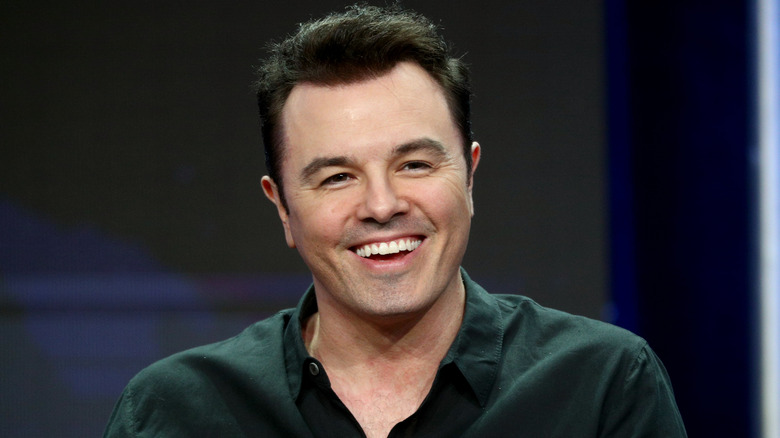 Frederick M. Brown/Getty Images
With production underway on the limited series adaptation of "Ted," Seth MacFarlane is one of the busiest people in television. He's a producer and a much utilized voice actor on the animated series that he helped create, "American Dad!" and "Family Guy," and he writes, directs, and stars in the live-action Hulu sci-fi series "The Orville." 
Of course, he also co-wrote and directed both "Ted" and "Ted 2," and he'll similarly lead the creative team of the spinoff prequel series. MacFarlane holds a "created by" credit on the "Ted" show, in addition to directing and writing, He was joined in the writers room by Paul Corrigan ("King of the Hill"), Brad Walsh ("Modern Family"), Dana Gould ("The Simpsons"), Jon Pollack ("Community"), and Julius Sharpe ("Family Guy").
MacFarlane will serve as one of three showrunners, alongside fellow series writers and executive producers Paul Corrigan and Brad Walsh.
Is there a trailer for the Ted prequel series?
On November 16, 2023, Peacock released a 30-second teaser trailer for its upcoming "Ted" prequel show. The short clip consists entirely of an eager and excited young Ted from 1993 (when the series is set) writing a letter to his future self in 2023, with the older Ted offering sarcastic commentary to his optimistic counterpart who once had "so much hope" for what the world would be like in 30 years.
Two weeks later, Peacock released a full, official trailer for "Ted," introduced by creator and voice star Seth MacFarlane, who characterizes the series as a chronicle of "Ted and John's early days." It would seem that the Bennett family is at an impasse with Ted, who hangs around the house all day, claiming to keep it safe but actually causing extreme property damage and inviting in strangers. It's decided that he'll attend school with John, who tries to prepare the bear by telling him it's going to be a comically violent and overwhelmingly bad place. Indeed it is, but that's just from Ted embarrassing John in sex-ed class and in front of girls in the hallways. And so, they set out to improve their stations by acquiring experiences, namely purchasing and smoking marijuana and trying to get females interested in John.
What will the Ted prequel series be rated?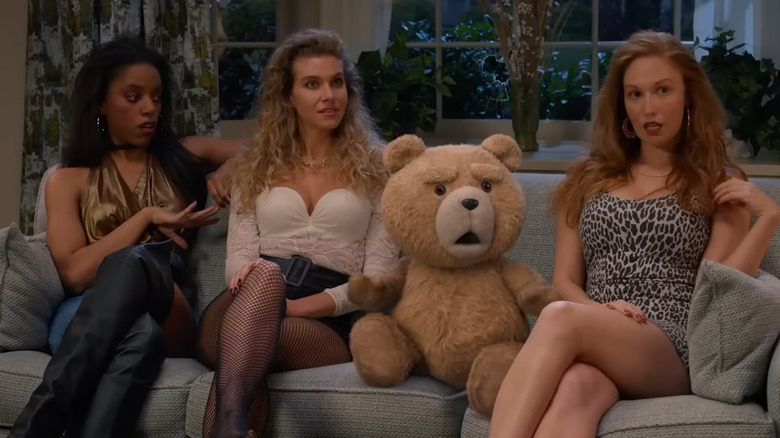 Peacock
While "Ted" and "Ted 2" both concerned the adventures of an adorable, talking children's plaything, this teddy bear franchise falls squarely into the not-necessarily-appropriate-for-children category. In 2012, the Motion Picture Association of America gave "Ted" an R rating for "crude and sexual content, pervasive language, and some drug use." Three years later, the MPAA gave "Ted 2" another R rating for the exact same reasons and mature material. 
The upcoming prequel event series will continue in the same foul-mouthed and profane lane as its predecessors. Even though this new "Ted" takes on a family format and is centered on the much younger, teenage version of human main character John Bennett, that doesn't mean the show will be exactly family-friendly. About two months before "Ted" the series' scheduled debut, Peacock announced that the show had already received its content rating. "Ted" will carry a "TV-MA" designation, short for "Mature Audiences."
Where to watch Ted and Ted 2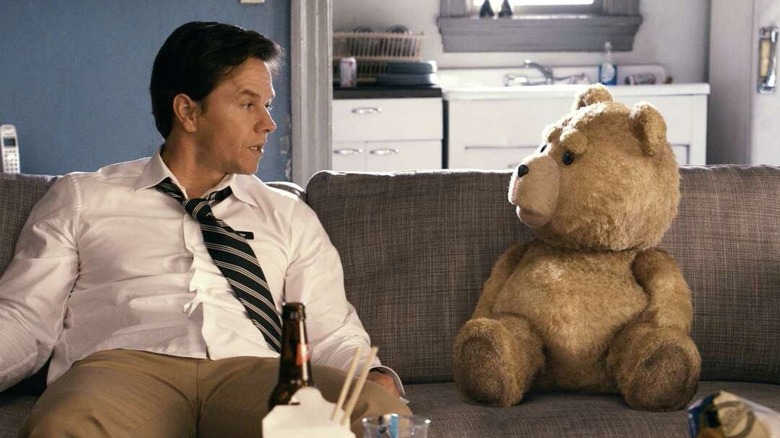 Universal Pictures
Both cinematic installments in the "Ted" franchise hit movie theaters about a decade ago, so fans anticipating the 2024 Peacock miniseries may want to revisit and reacquaint themselves with the now bygone source material before diving in. 
While the original "Ted" from 2012 is often broadcast on cable television (albeit heavily edited, to account for the frequent use of profane language and some adult content), it's available to stream on DirecTV's on-demand portal, and you can also watch it with a subscription to the "Premium" tier of NBCUniversal's streaming service, Peacock. Plus, you can rent it on sites such as Amazon Video, Apple TV, Google Play, YouTube, and Vudu.
As for "Ted 2," that film is currently streaming on Netflix. You can also rent it on sites such as Amazon Video, Apple TV, Google Play, YouTube, and Vudu.