Liam Neeson Has Disappointing News For Star Wars Fans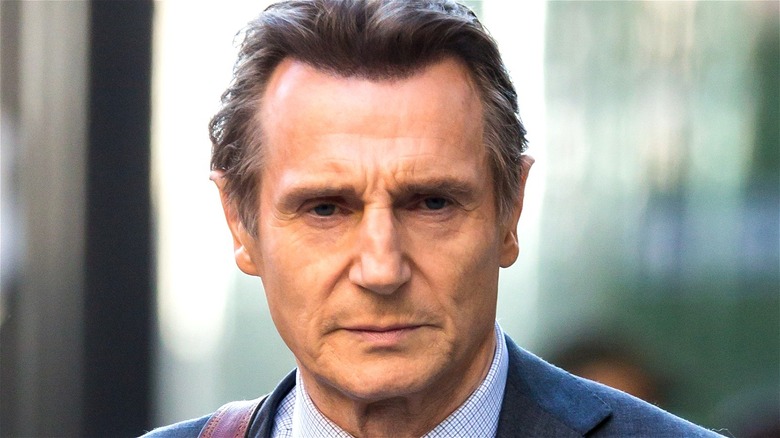 Shutterstock
The "Star Wars" galaxy is about to get a whole lot bigger. In December 2020, Disney released some bombshell announcements concerning the franchise's future, and it involves no less than 10 series making their way to Disney+. A lot of them, like "The Acolyte," are still in the early stages, but there's plenty for fans to look forward to soon. Season 3 of "The Mandalorian" is on the horizon in addition to a new series centered on fan-favorite bounty hunter Boba Fett. The only thing potentially even more exciting about those projects is "Obi-Wan Kenobi," which will see Ewan McGregor reprise the character he played in the prequel trilogy. 
McGregor's presence indicates other prequel actors could make similar returns, and no doubt fans would be ecstatic to see Liam Neeson reprise Obi-Wan's master, Qui-Gon Jinn, once again. He may have met his demise in "Star Wars: Episode I — The Phantom Menace," but death isn't always the end in the "Star Wars" universe. It's always possible he could return as a Force Ghost in a future story. Not too long ago, Neeson seemed game for the idea of a Qui-Gon revival, and when Collider asked about the prospect of a return to the "Star Wars" universe, Neeson responded, "Sure, I'd be up for that, yeah."
Neeson's previous comments may have given fans a new hope, but when the actor recently sat down for an interview with Jimmy Kimmel, he walked back those statements. Currently, "Star Wars" enthusiasts probably shouldn't anticipate Neeson having a cameo in the "Obi-Wan Kenobi" Disney+ series. 
Liam Neeson says he doesn't think he'll be in the Obi-Wan Kenobi TV show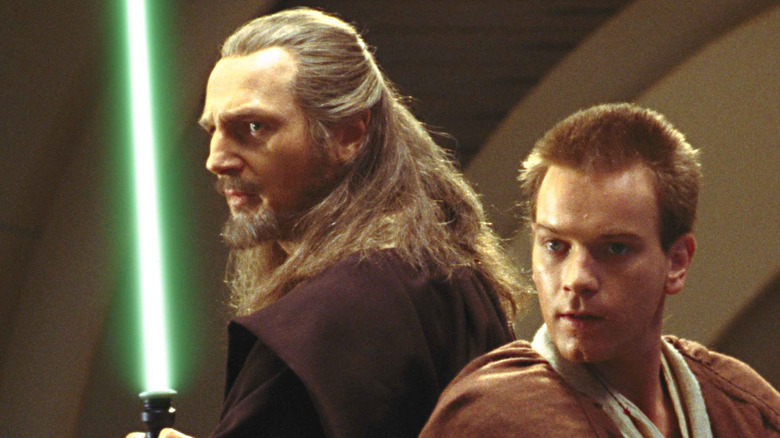 20th Century/Lucasfilm
There are many ways Qui-Gon Jinn could return to the "Star Wars" mythos. A flashback wouldn't be out of the question, but there's an interesting line from "Star Wars: Episode III – Revenge of the Sith" that suggests another path Qui-Gon could take. As Yoda and Obi-Wan prepare to go into their respective exiles, Yoda mentions how Qui-Gon has returned from the netherworld of the Force, and during Obi-Wan's time on Tatooine, he needs to learn how to communicate with Qui-Gon. The line certainly suggests a plotline that could play a significant role in the Disney+ series, but according to Neeson, he doesn't have any involvement with the show. 
As Neeson speaks with Jimmy Kimmel, the host naturally brings up the "Obi-Wan Kenobi" series and whether Neeson will play a part in it. The actor bluntly responds, "No, I don't think so, no. I haven't been approached." Kimmel then mentions that Neeson could lie to him and the audience, and it appears as though Neeson doesn't know how to reply to that. 
Kimmel has a point. When it comes to massive franchises like "Star Wars" and "Marvel," actors often have to play coy about their involvement in the future of the series. When rumors began circulating that Chris Evans could return as Captain America, the actor quickly shot them down. Such casting notices could serve as massive spoilers, so even if Neeson had a part in the new series, it's not like he would tell anyone. 
"Star Wars" Disney+ shows have proven themselves adept at keeping secrets, like when Luke Skywalker had a surprise appearance in the Season 2 finale of "The Mandalorian." Neeson's comments may disappoint fans, but don't lose faith yet. Disney likes to keep a few surprises handy.