Who Is Sabrina In The State Farm Commercial?
In recent years, State Farm Insurance commercials have been both some of the more ubiquitous and entertaining ad spots gracing screens in the U.S. The ads are so prevalent that one could argue that "Jake from State Farm" is a household name on par with that of Hollywood A-listers and superstar athletes.
Of course, Jake is far from the only person to feature prominently in the commercials. Celebrities like Oscar Nuñez of "The Office" have also become glorified insurance salespersons by appearing in State Farm ads.
Meanwhile, NBA All-Star Chris Paul – one of the greatest point guards ever to play professional basketball — has reached a point as one of the company's pitch men that a segment of the populace likely knows him just as well for his shilling of State Farm as they do for his hardwood exploits. 
As it happens, CP3 and "Jake" were back in action for the company's latest campaign, but they weren't the only ones making appearances. Instead, the former was shown shooting hoops in the driveway with another person — a woman named Sabrina. While Sabrina may not look familiar to Joe Average, hardcore basketball fans — particularly those in New York City — likely recognized her as soon as they saw her face.
Meet Sabrina Ionescu, player of the year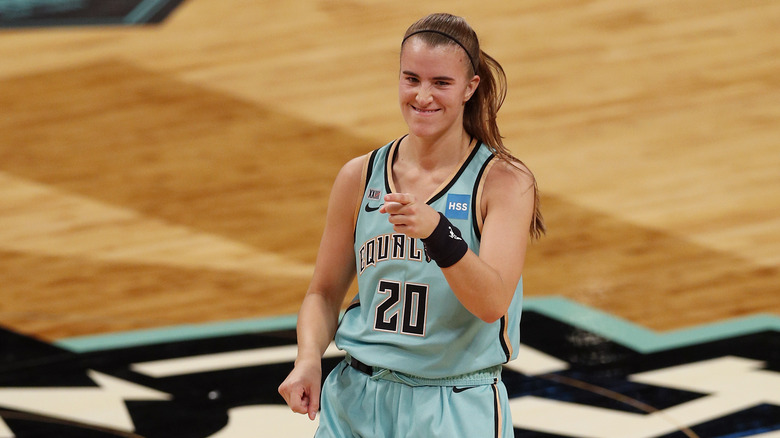 Jim Mcisaac/Getty Images
The Sabrina who is showing off her jump shot to CP3 before the two ballers get transformed into cardboard cutouts of themselves in the quirky 30-second spot is none other than Sabrina Ionescu, an all-around talent who is one of the WNBA's up-and-coming stars. Ionescu, 23, is a Walnut Creek, California native who played college ball at the University of Oregon. Over four years with the Ducks, she averaged 18 points, eight rebounds, and seven assists per contest, per GoDucks.com. She also led the school to a Final Four appearance, as well as a Pac-12 championship.
In 2020, she was named the Naismith and AP Player of the Year. She also concluded her collegiate career as the NCAA's all-time leader in career triple-doubles. For her efforts, she was selected by the New York Liberty with the No. 1 overall pick in the 2020 WNBA Draft.
Unfortunately, the COVID-19 pandemic and an ankle injury conspired to end her rookie campaign after she had played just three games. However, she is already making up for the lost time in 2020-21. During a May 2021 game against the Minnesota Lynx, she recorded the first triple-double in team history, logging 26 points, 12 assists, and 10 rebounds. As noted by Sports Illustrated, the performance also made her the youngest player in WNBA history to record a triple-double. If State Farm wanted a legitimate basketball prodigy to bring legitimacy to a commercial, Sabrina Ionescu was a perfect choice.