The Internet Is Freaking Out About Bill Skarsgard Joining John Wick 4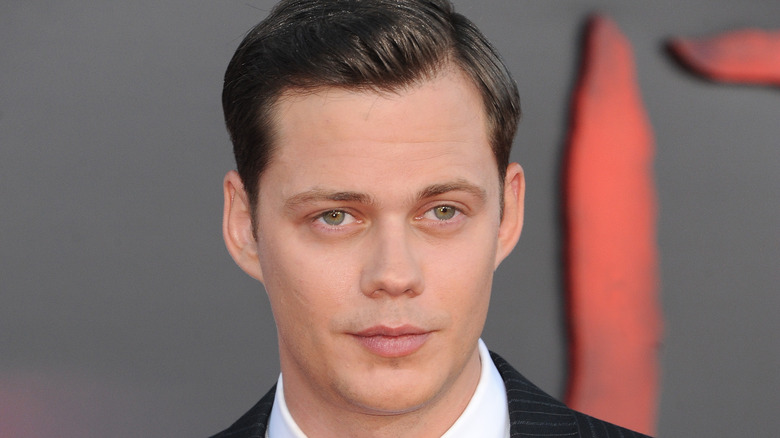 Shutterstock
The upcoming "John Wick 4" added another high-profile star, Bill Skarsgård, to its ensemble cast, and the internet couldn't be more excited to potentially see Pennywise face off against the legendary assassin.
The news that Skarsgård would appear in the film was first reported by Collider, who noted that Lionsgate, the production company behind "John Wick 4," declined to comment on the role the actor might play. However, with the recent news that Donnie Yen will play one of John Wick's old allies in the upcoming film and Skarsgård's history playing troubled and villainous figures in films such as "The Devil All the Time" and, of course, "It," the possibility of him playing one of Wick's antagonists seems likely.
While the film was once scheduled for a 2021 release date, the production was significantly delayed, and "John Wick 4" is now set to begin filming this summer. Fans haven't let those delays impact their excitement, and it seems like Skarsgård's addition has only thrown more fuel onto the fire. Here is what the internet had to say about Bill Skarsgård joining "John Wick 4."
Fans are hyped about Bill Skarsgård squaring off against John Wick
Fans of both the "John Wick" series and Skarsgård himself wasted no time in letting the world know how excited they were to see the actor join the franchise. Twitter lit up with viewers like @beltranlryan, who commented on the possible fight between the Pennywise actor and John Wick, while others, like @SpawnOfVenom pushed an all-new fan theory, stating simply, "Pennywise killed John Wick's dog."
However, while Skarsgård's appearance as Pennywise in "It" has become iconic, he has plenty of fans from his other work and is well known as a part of the famous Skarsgård family of actors, including his father Stellan and brother Alexander. Screen Rant editor Alisha Grauso tweeted "Bill Skarsgård has quietly been an actor quickly rising on my "Will Watch In Anything" list. I love the whole family, but Bill is the best of them."
Other fans commented that pitting Skarsgård against John Wick could create a defining moment for the series, such as @SweatingSchizo, who said, "He's gonna be Joker to John's Batman." Of course, not everyone was quite so enthusiastic, such as @dwhUTD, who said "If he isn't playing a clown then it's a no from me."
Either way, with this much fan interest it will be exciting to see how "John Wick 4" utilizes the popular and talented Skarsgård when the film arrives in 2022.