First Look At The Forever Purge Promises A Terrifying Final Chapter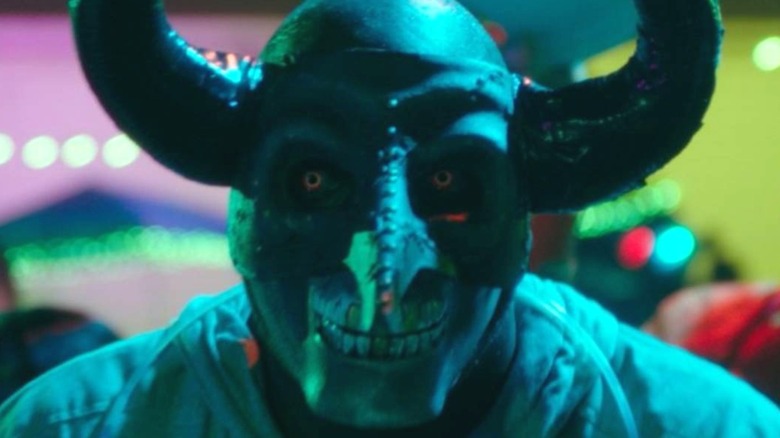 Universal Pictures
Any time you hear the word "Final" in a movie title, you should take it with a grain of salt, especially if it's for a long-running horror franchise. The seventh movie in the "Saw" franchise promised it was the final chapter, but we're about to get another installment into Jigsaw's legacy with "Spiral." The "Friday the 13th" series has even had two movies bill themselves as being the final time we'd see Jason Voorhees, yet he's continued to pop up to decapitate teenagers from time to time. 
With that being said, there are still plenty of reasons to be excited for "The Forever Purge," which is being marketed as the final installment of the "Purge" franchise. It's set to be released on July 2, 2021, and takes place in the aftermath of "The Purge: Election Year," which ended with the infamous celebration officially becoming abolished. By the looks of it, it appears as though some people just can't seem to let it go, as the "final" movie promises all of the carnage and sociopolitical commentary we've seen in previous installments. Now, that synopsis is accompanied by an image that's bound to inspire plenty of Halloween costumes going into October 2021.
The cowboy-inspired look of The Forever Purge's antagonists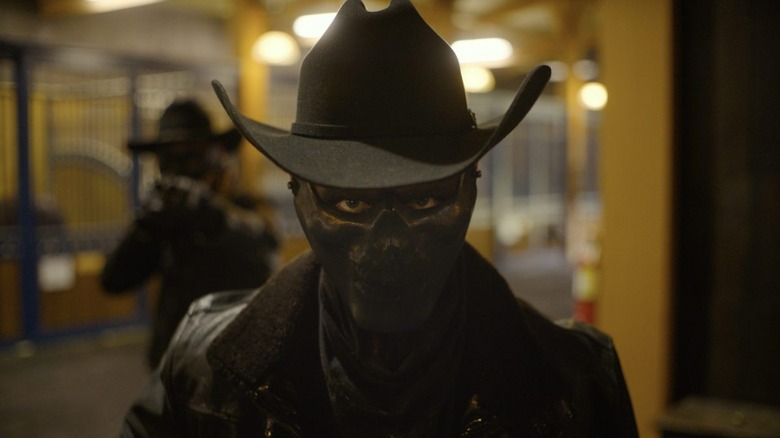 Universal Pictures
USA Today provides a look at the terrifying outfit the killers of "The Forever Purge" will be sporting. The masks are of particular interest in that they don't look like the kind of thing you would find at a Halloween store. They're thicker, and they almost look as though they're made of metal, which is likely going to make it a lot harder for the protagonists to take them out.
As far as the cowboy hats, it's an appropriate look considering the setting. Total Film reports that the sequel will follow a Mexican couple, Juan (Tenoch Huerta) and Adela (Ana de la Reguera), after they've gotten away from a drug cartel and have carved out a quiet life for themselves on a remote ranch in Texas. It sounds like that setting causes problems for the couple as they run into a group who continues to purge even after the holiday has been abolished. Director Everardo Gout went on to tell Total Film, "It's an amazing story of Latinos and Americans coming together to overcome despair and evil."
"The Purge" series has remained one of the most socially conscious film series in the last decade, and given what we know so far, it sounds like "The Forever Purge" will keep those themes going. Hopefully, this new image is a sign that an official trailer isn't too far behind, so keep checking back with Looper for more information as it comes out.