The Man From Toronto Release Date, Cast And Plot - What We Know So Far
A good buddy-action film has a special kind of magic to it. Watching two strangers come together to accomplish a shared goal while simultaneously causing a great deal of chaos is fun, plain and simple. It's also a formula that actor Kevin Hart has seemingly mastered. With movies like "Ride Along," "Central Intelligence," and "Get Hard" under his belt, the comedic legend knows the ins and outs of the genre at this point.
Well, for those who have enjoyed Hart's other forays into buddy-action, there is still more on the way. Now wrapped up with production, the Patrick Hughes-directed "The Man from Toronto" is awaiting release. Another genre veteran, Hughes is known for directing "The Hitman's Bodyguard," starring Ryan Reynolds and Samuel L. Jackson.
Now, like Hart, he is returning to the buddy-film fold — ensuring that the movie has two genre professionals to make it a success. Unfortunately, "The Man from Toronto" has had a rough production cycle due to recent events. Right now, we have scant information on the project, but there's enough here to learn a bit more about the film. Here is what we know so far about "The Man from Toronto."
When will The Man from Toronto release?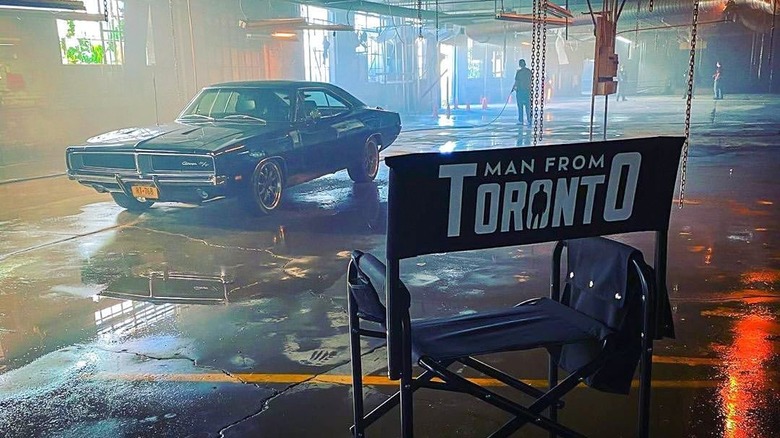 Sony Pictures Releasing
Thanks to the COVID-19 pandemic, "The Man from Toronto" has had a rather tumultuous time. According to The Daily Hive, the movie began filming in its namesake location in October 2020. The movie finished production in December that same year (via Variety). Afterwards, it was originally supposed to receive an April 2021 release date. Unfortunately, the worldwide quarantine interfered with that plan, and the film was delayed until further notice.
Now, "The Man from Toronto" has a brand new release date scheduled for Friday, January 14th. Perhaps not so coincidentally, that happens to be the first day of a holiday weekend, as Martin Luther King Jr. falls on the 17th. It seems as if Sony is inclined to give audiences an extra day of free time to go see the movie. Despite this, the film has no trailers released to build up to its release date, but it shouldn't be long before we get our first glimpse of the movie in action.
Who will star in The Man from Toronto?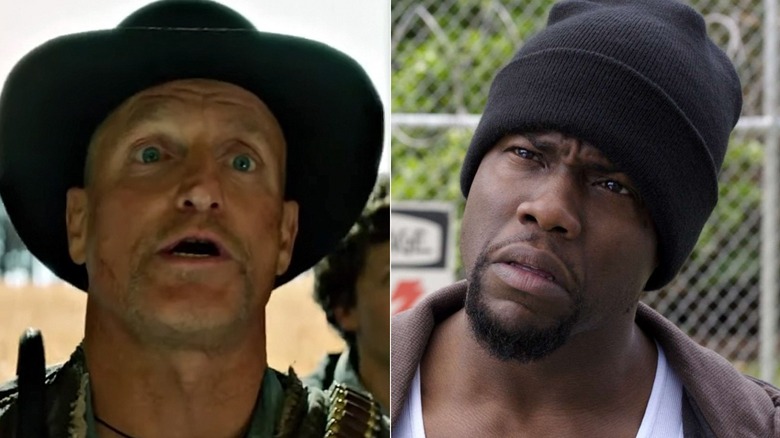 Sony Pictures Releasing/Warner Bros. Pictures
The fact that there are no trailers for "The Man from Toronto" is a shame, because it has a star-studded headliner in the form of a team-up. Kevin Hart and Woody Harrelson are coming together to form the two halves of a buddy cop (minus the cop) partnership.
Harrelson will be the one playing the eponymous "Man from Toronto," a mysterious and infamous assassin. However, the role was originally supposed to go to Jason Statham. According to Deadline, Statham quickly stepped away from the project, opening the way for Harrelson to take his place. 
Joining the two actors are Ellen Barkin, Jasmine Mathews, Melanie Liburd, Pierson Fode, Lela Loren, Alejandro De Hoyos and Tomohisa Yamashita. Of that cast, IMDb only lists the role for De Hoyos, who plays a character named Colonel Marin. Beyond that, very little is known about the cast or characters of "The Man from Toronto."
What will The Man from Toronto be about?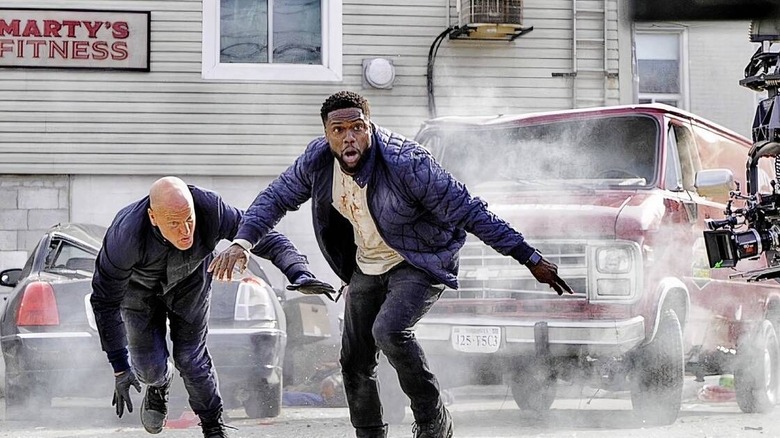 Sony Pictures
Because "The Man from Toronto" has no trailers, there is hardly any information floating around regarding the film's plot. It focuses on Teddy (Hart), "New York's biggest screw-up," who ends up being mistaken for The Man from Toronto at an Airbnb. From there, the two must team up to "save the day," according to Deadline.
While that's a solid premise for the beginning of a buddy-action film, it still doesn't give us a great idea about what "The Man from Toronto" is about. We don't know who the villain is, or how Teddy and The Man from Toronto come to oppose him. Heck, we don't even really know how they decide to form a partnership. Being mistaken for another person at an Airbnb doesn't usually lead to going on a dangerous adventure with a trained killer.
Hopefully, Sony sees fit to release some more information between now and January. Until then, "The Man from Toronto" will remain more of an enigma than anything else. On the bright side, the film's strong cast and premise are good indicators that the movie will deliver once it releases.