The Friends Show Did This To Pay Tribute To Courteney Cox's Marriage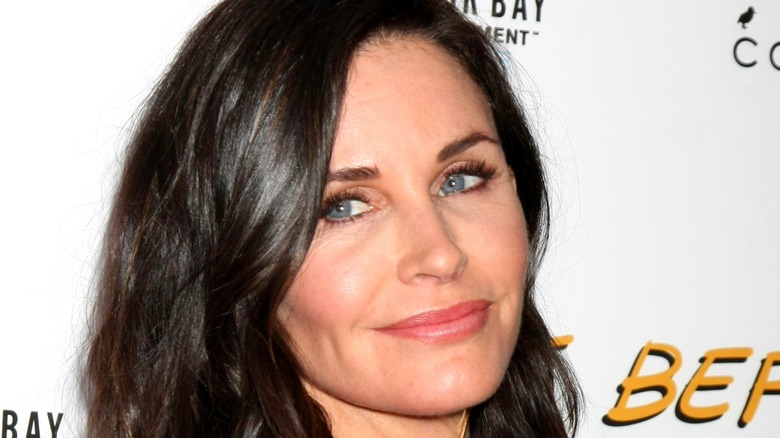 Shutterstock
"Friends," without a doubt, is one of the most iconic shows of the past 30 years, and thanks to the recent HBO Max special "Friends: The Reunion," fans of the show are revisiting their love for Monica, Rachel, Phoebe, Joey, Ross, and Chandler.
With a series so popular and hugely syndicated, even casual viewers of the hit comedy will know now the show's intro sequence well. Featuring the sounds of The Remembrandts' "I'll Be There For You," the intro shows the gang dancing and splashing around a fountain dressed in black and white. 
Over the course of the show's 10-year run, clips of the characters in episodes were integrated into the title sequence, updating season to season. Of course, over a decade, the actor's appearances changed quite a bit, as did their fashion choices. However, there was another change to the title sequence in Season 6, and the cast and crew of "Friends" decided to have a bit of fun with it.
The Friends cast & crew had some fun with the opening credits
In 1999, Courteney Cox married fellow "Scream" star David Arquette. Cox elected to take her husband's last name in addition to her own, thus becoming Courteney Cox Arquette.
The actress opted to use her new last name professionally as well, and the opening sequence of "Friends" for Seasons 6 through 10 reflects this. In fact, the "Friends" team hilariously decided to pay homage to their friend and co-star's marriage in the Season 6 premiere, with the entire cast adding "Arquette" to the end of their names for the opening credits. The show-runners also dedicated the episode to the newly married couple. Prior to this, Arquette himself actually appeared in a Season 3 episode of "Friends" when he and Cox were just dating, playing a crazy ex-boyfriend of Ursula, Phoebe's twin sister. 
Though Cox and Arquette would sadly go on to divorce in 2013, we always love the change to the Season 6 premiere title sequence in our many rewatches of the series.