The Good Doctor Season 5 Release Date, Cast And Plot - What We Know So Far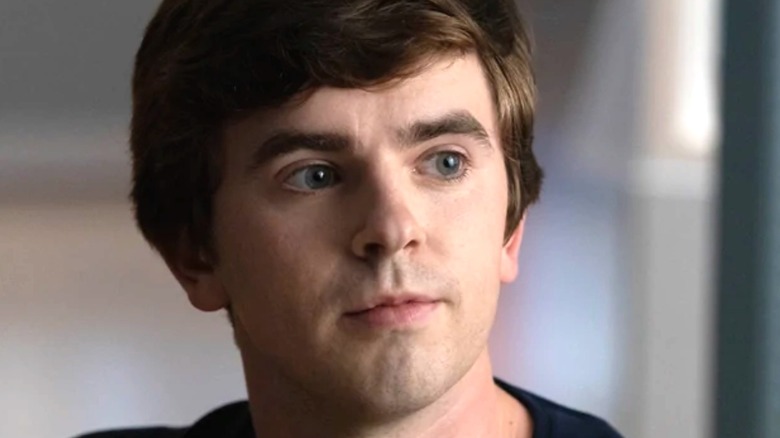 ABC
"The Good Doctor" is a medical drama on ABC based on the South Korean award-winning series, "Good Doctor." The ABC series stars Freddie Highmore, who many will recognize from "Charlie and the Chocolate Factory" and "Bates Motel," as Dr. Shaun Murphy. At the beginning of Season 1, Shaun is around 26 years old and a young, talented surgeon who starts working at to the prestigious San Jose St. Bonaventure Hospital. While he has almost photographic memory and is extremely intelligent, Shaun faces social challenges while going through life with autism spectrum disorder.
Alongside Highmore, "The Good Doctor" stars Antonia Thomas as Dr. Claire Browne, Hill Harper as Dr. Marcus Andrews, and Richard Schiff as Dr. Aaron Glassman, president of the hospital and a mentor to Shaun. After it first premiered, "The Good Doctor" was extremely well-received by critics, with Highmore receiving a Golden Globe nomination for his performance. Since then, the series has had four seasons, and a fifth is officially on the way.
For everyone patiently waiting for more "The Good Doctor" episodes, here's what we know about Season 5.
When will The Good Doctor Season 5 premiere?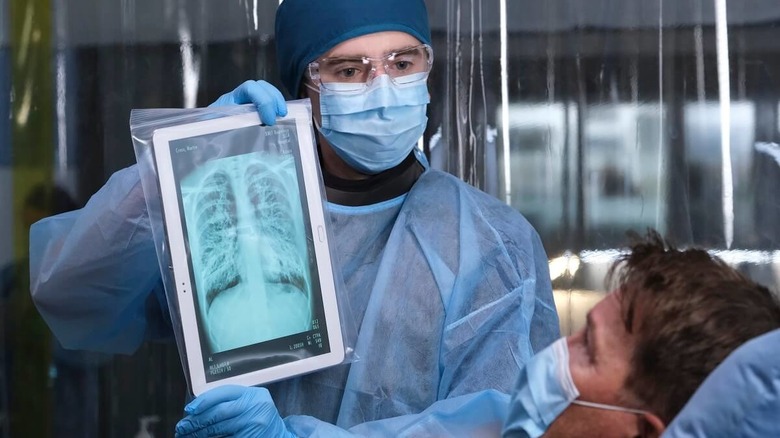 ABC
Fortunately for fans of "The Good Doctor," ABC has officially renewed the medical drama for a fifth season (via Variety). The show has had continued success throughout its run so far, so it's no surprise that ABC wants to keep it going. Along with "The Good Doctor," ABC handed out renewals for the long-running series "Grey's Anatomy" and "The Goldbergs," along with rookie crime drama "Big Sky." 
As for when Season 5 might be coming, fans of the medical drama can expect to see new episodes sometime this fall. Looking at past seasons, a season premiere usually happens sometime in late September, although Season 4 started late in November 2020 because of production delays due to the pandemic. It's possible that the fifth season might face a slight delay due to similar issues, but this would only push the premiere into October or November. So if everything stays on schedule, you can expect a Fall 2021 premiere date for "The Good Doctor" Season 5.
Who is in the cast of The Good Doctor Season 5?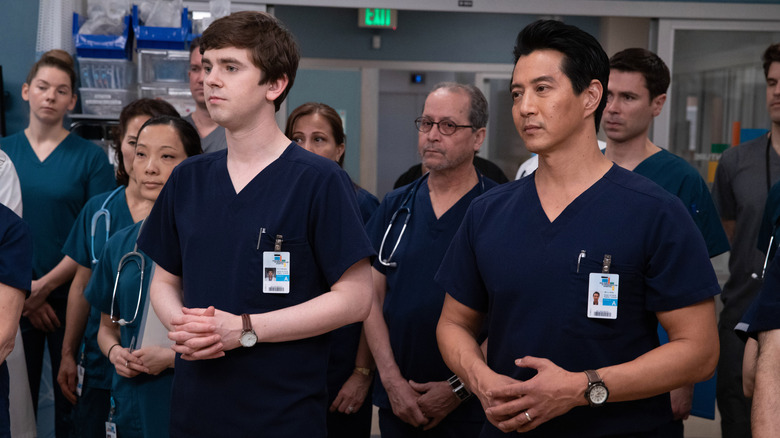 ABC
As a long-running series, "The Good Doctor" has a group of main characters who are expected to continue on. This includes Highmore as Shaun, as expected, along with Schiff and Harper, while regular cast member Thomas is finishing out her run on the series and will be leaving after Season 4. Other cast members that are likely to return in Season 5 are Christina Chang, Will Yun Lee, Fiona Gubelmann, Paige Spara, Sheila Kelley, Brian Marc, Bria Henderson, and Noah Galvin. This is subject to change at any time, depending on the decision of "The Good Doctor" team or the actors to continue on with certain characters.
Along with the cast of returning characters, "The Good Doctor" Season 5 will probably feature a handful of new faces, both in supporting and guest roles. In just Season 4, "The Good Doctor" features Elizabeth Mitchell from "Lost," "Suicide Squad" actor Adam Beach, Lochlyn Munro from "Riverdale," and Lindsey Craft from "Grace and Frankie." The list of guest actors is long and winding, as the main characters meet many various patients and other people on the show. Fans will just have to wait and see what familiar faces might appear as in the fifth season. Along with that, "The Good Doctor" might add a few new supporting cast members throughout production, but that's all dependent on where the story goes and the creative team's decisions.
What is the plot of The Good Doctor Season 5?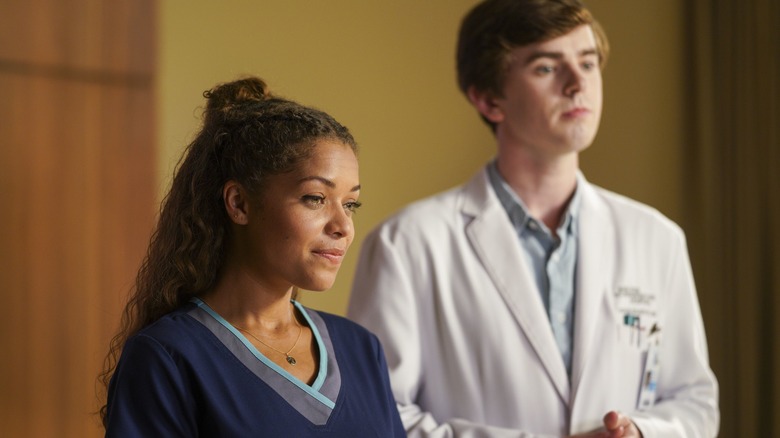 ABC
A lot of "The Good Doctor" Season 4 focuses on Shaun and his first serious relationship with his girlfriend, Lea (Spara). Things have been going relatively well, with the pair successfully navigating all the challenges of a romantic relationship. Then Lea drops a bomb on Shaun, announcing that she's pregnant. Unfortunately, the couple goes through a lot over the course of the season, and by the finale, the two's relationship is at its breaking point as they grieve the loss of their baby from a miscarriage, and Lea considers moving back with her parents.
Elsewhere, Claire (Thomas) and Lim (Chang) learn to trust one another, as Lim deals with PTSD and possibly going to therapy. They travel to Guatemala to help out for 10 days, along with a group that includes Shaun, Lea, and a few more. While there, Lim makes a significant connection with a man at the hospital, Dr. Mateo Rendón Osma (Osvaldo Benavides), while Andrew reflects on his marital issues. After packing up to leave, Lea changes her mind and decides to stay with Shaun, leading the couple to get engaged. Still, this fantastic news is offset by a sad goodbye, as Claire decides to stay on as a staff doctor in Guatemala. 
Despite the farewell of a major cast member, Season 4 sets up many major storylines and character development for Season 5, and fans are likely very excited to see where things go with Shaun and Lea, Lim and Osma, and more of the characters. Throughout its long run, "The Good Doctor" has been unafraid to address difficult topics through its episodes, in tune with how the show brings new representation with its focus on a main character living with a disability. In Season 4, the show takes on coronavirus, racist bias at hospitals, and similar topical issues, and fans should expect similar stories in Season 5.