What Charles Dance Has Been Doing Since Underworld: Awakening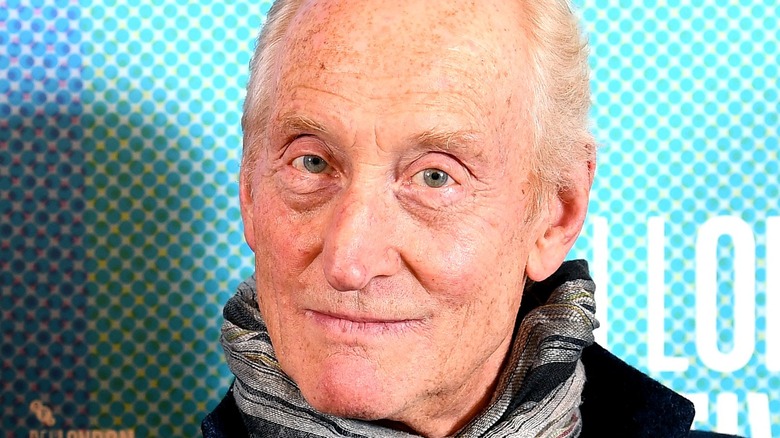 Jeff Spicer/Getty Images for BFI
Charles Dance is one of the best go-to guys if you need a Shakespearian performance in your genre fare. Sure, he could only work in prestige pictures and period dramas, but he seems to have too much fun being in the silliest sci-fi and fantasy imaginable. For example, Dance played the patriarch to a coven of vampires in "Underworld: Awakening." It doesn't get much more absurd than the "Underworld" films, where vampires and werewolves — sorry, lycans — are at war. Except the two that want to kiss, of course.
In the fourth "Underworld" film, humans appear to be hunting both vampires and lycans to extinction. Our heroine Selene, played by Kate Beckinsale, has been in cryogenic storage for 12 years while the world went to hell in a handbasket. She escapes from the facility where she was being held, finds her now 12-year-old daughter, and retreats to a vampire coven led by Charles Dance's Thomas. Spoilers for a nearly 10-year-old movie, but Thomas also appeared in 2016's "Underworld: Blood Wars," the most recent film in the series so far. So what else has Dance been up to?
He came to an ignoble end on Game of Thrones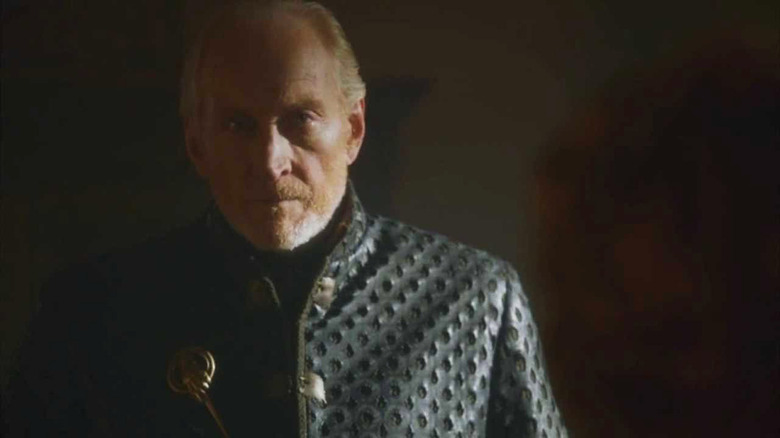 HBO
Dance had already been playing Tywin Lannister for a year when "Underworld: Awakening" came out. The scheming papa of the Lannister clan did a real number on all his children. Two of them were knocking boots, and one of them wound up murdering him. This is what happens when you raise a family based on fear, not love. 
Fans and critics loved to hate Tywin Lannister, with The New Yorker writing that Tywin was "not only the best role of its kind that Dance has ever had; it is the best role of its kind that anyone has ever had." Tywin was a manipulative strategic genius, putting "family" first. But that only really meant the status of the Lannister name, not the well-being of his children. He disowned his son, tried to marry his daughter off to cover debts, and slept with his other son's mistress. That little peccadillo got Tywin in trouble, and he died on the privy. It was a fitting end for a guy obsessed with appearances.
He was a bad guy with good intentions in Godzilla: King of the Monsters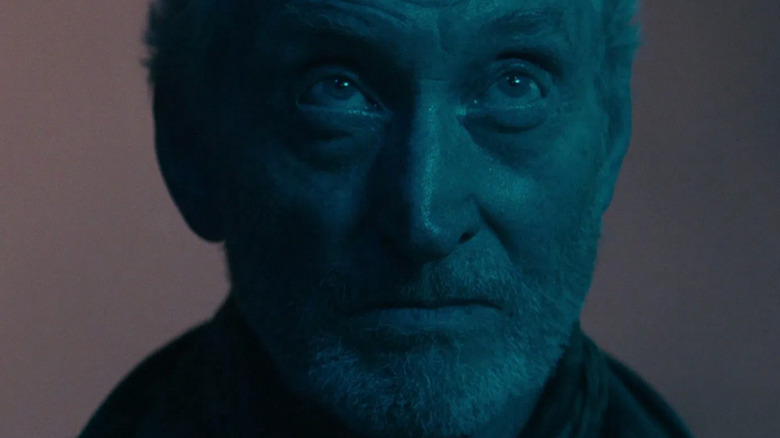 Warner Bros.
Dance played eco-terrorist Alan Jonah in "Godzilla: King of the Monsters." It was a perfect role for someone with Royal Shakespeare Company training, as Jonah was fond of pontificating about how man has ravaged the earth and it's time for titans to rule, etc., etc. Jonah uses a device that alters the behaviors of Titans to compel them to end the world. He wants to destroy humanity because of the devastation we as a species have caused. 
"Godzilla: King of the Monsters" was the third film in Legendary's MonsterVerse, a shared universe for Godzilla and King Kong. In the MonsterVerse, both creatures are Titans, apex predators that cannot abide each other. Titans are biologically compelled to fight each other, which is essentially the plot of "Godzilla vs. Kong." "Godzilla: King of the Monsters" introduces Mothra to the MonsterVerse, as well as King Ghidorah. The film was a box office disappointment, according to Forbes, but that didn't stop a sequel from being made (and doing big numbers streaming during the COVID-19 pandemic).
He played everyone's favorite newspaper tycoon in Mank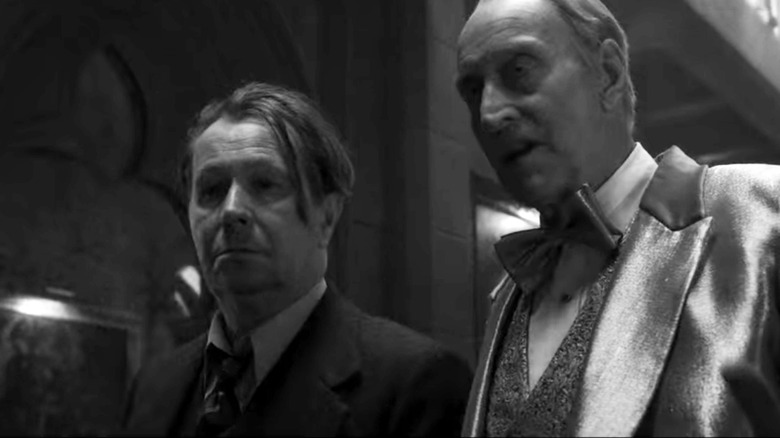 Netflix
Charles Dance took on the role of William Randolph Hearst in David Fincher's "Mank." The film, written by Fincher's father, fictionalizes the story of how Herman J. Mankiewicz (aka Mank) wrote the first draft of what would become "Citizen Kane." Mank had been in Hearst's inner circle, and many saw it as a betrayal when Mank helped create the roman a clef about him. In the movie, Mank is disgusted by Hearst's political machinations. Hearst's yellow journalism, along with MGM's faux newsreels, crush Upton Sinclair's campaign for governor. Hearst and MGM head Louis B. Mayer also seem pretty indifferent to the rise to power of the Nazi party in Germany. 
"Mank" follows the argument put forward by Orson Welles' haters that he wasn't particularly involved in the writing of "Citizen Kane." In the movie, Welles receives a co-writing credit on the finished movie despite not writing a word. This theory was lifted up by folks like Mank's son Frank and Pauline Kael, per The New Yorker. Both wrote books claiming Welles was uninvolved with the scripting process. But according to the Smithsonian, a corrections script of the film shows that Welles significantly rewrote what Mank had produced.
Another scheming aristocrat in The Crown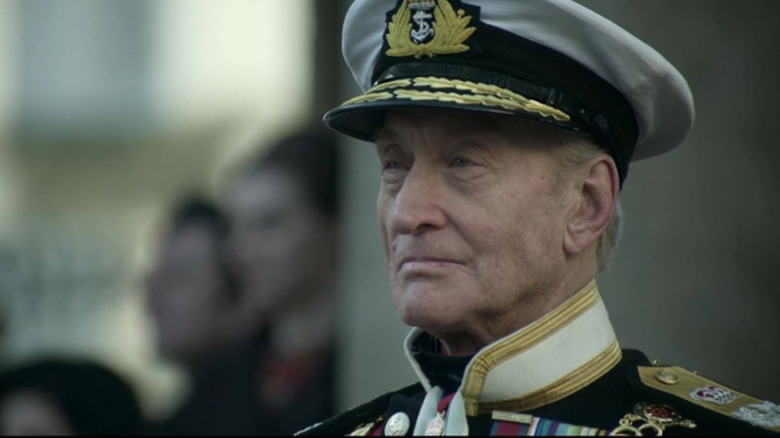 Netflix
Dance played Lord Mountbatten on Seasons 3 and 4 of Netflix's "The Crown." Mountbatten was the last Viceroy of India. His role in India's independence comes before Dance's tenure on the show. India gained independence in 1948 during King George IV's reign. That time is somewhat glossed over in Season 1 of "The Crown," where the character is played by Greg Wise. Lord Mountbatten is also something of a father figure to Charles. He is instrumental in breaking up Prince Charles and Camilla Parker Bowles, which subsequently leads to all the drama of Season 4. Drama that, for the most part, Mountbatten wasn't alive to see.
In Seasons 3 and 4 of "The Crown," Queen Elizabeth II is played by Academy Award-winning actress Olivia Colman. The show also stars Helena Bonham Carter as Princess Margaret, Tobias Menzies as Prince Phillip, and Josh O'Connor as Prince Charles. Season 4 saw the introduction of Emma Corrin as Princess Diana and Gillian Anderson as Margaret Thatcher. "Promising Young Woman" writer and director Emerald Fennell plays Camilla Parker Bowles.
Big Fat Quiz's resident fancyman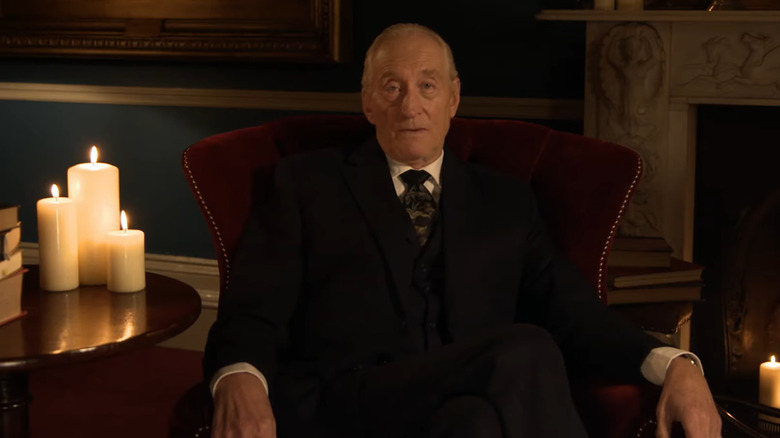 Channel 4
Starting in 2012, Charles Dance has done a dramatic reading from a significant book in pop culture for Channel 4's annual "The Big Fat Quiz of the Year." The show usually airs on Boxing Day, December 26. Dance reads a passage from a supposedly trashy book, usually a celeb tell-all, and panelists have to guess whose book he is dramatically reciting. Dance brings his full Shakespearian training to the bit — giving import to such titles as "Fifty Shades of Gray," one-star reviews of "Jane Eyre" and "Moby Dick," "The Meaning of Mariah Carey," and Morrissey's execrable debut novel. 
"The Big Fat Quiz of the Year" has been running for 15-plus years, including specials for Channel 4's anniversary, and a series of general knowledge questions called "The Big Fat Quiz of Everything." The show is hosted by Jimmy Carr and features comedians like Jonathan Ross, Kristen Schaal, "Brooklyn Nine-Nine" star Chelsea Peretti, "Jungle Cruise" actor Jack Whitehall, Joe Lycett, and Aisling Bea.