Is Lennie James Actually Leaving Fear The Walking Dead?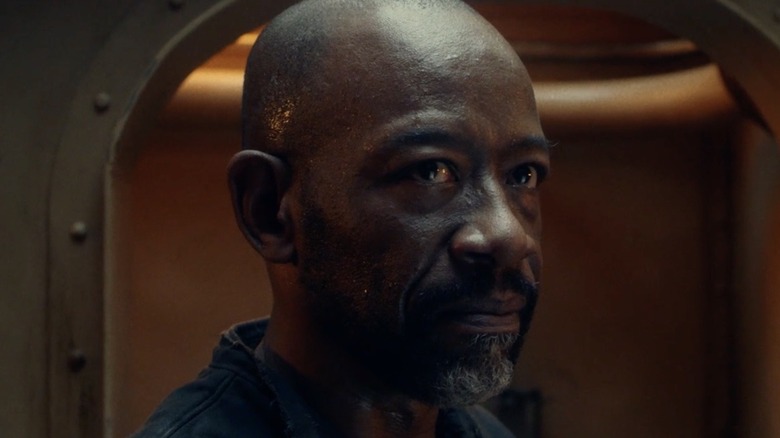 AMC
So far, over the course of multiple "The Walking Dead" TV shows, Morgan Jones (played by Lennie James) has proven to be bulletproof — a true accomplishment, when it comes to the long-running zombie franchise. He survived being shot at by Ginny (Colby Minifie) in the Season 5 finale of "Fear the Walking Dead," but the question is, will he be able to live through the season once again? 
By the sixth season of "Fear the Walking Dead," Jones has had quite a journey. He is once again contemplating failure and death (of himself, and those he's leading) following the events of the episode "USS Pennsylvania," which provided him with some close shaves, no thanks to Victor Strand (Colman Domingo) — who actually shoved him into a mass of the undead while on the infected submarine to save himself (and then, is shocked when Morgan shows up in time to save him just a few minutes later). And the show's season finale is coming up on Sunday, June 13, promising more opportunities to endanger Jones and everyone else. 
There are plenty of questions to focus on in the upcoming final episode, including what will happen with the nuke launched by the cult members of The End Is the Beginning. Is Morgan Jones (and maybe the rest of humanity) doomed, and is James actually leaving the series this time? Here's what we know.
It's hard to say, but James has been in some hair-raising situations before, and survived them all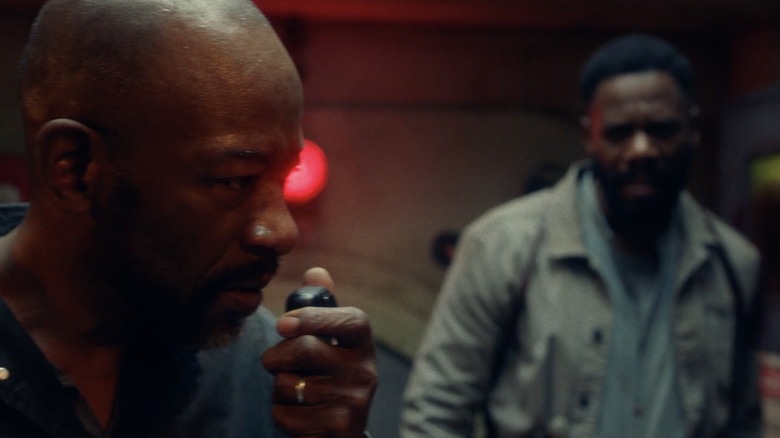 AMC
It's uncertain what James' fate will be. Though no announcements have been made that the actor is leaving the show, that doesn't mean much when it comes to the way people get killed off on "The Walking Dead" shows all the time. "The way the guys are telling the story through this season, and right all the way to the end of it, actually, is a bit like the audience and a bit like you: I've never felt my position being more precarious," the actor told Decider.
James is the only actor currently on the series who was there at the beginning — his character appeared in the pilot episode of "The Walking Dead" before he crossed over into the long-running spinoff series. In fact, there's some speculation that Morgan can't die — as in, that it may be a plot element. This concept all comes down to his character saying, in an eighth season episode of "The Walking Dead" called "The Damned" back in 2017, "I don't die." 
What does that mean, exactly, though?
Can Morgan Jones die?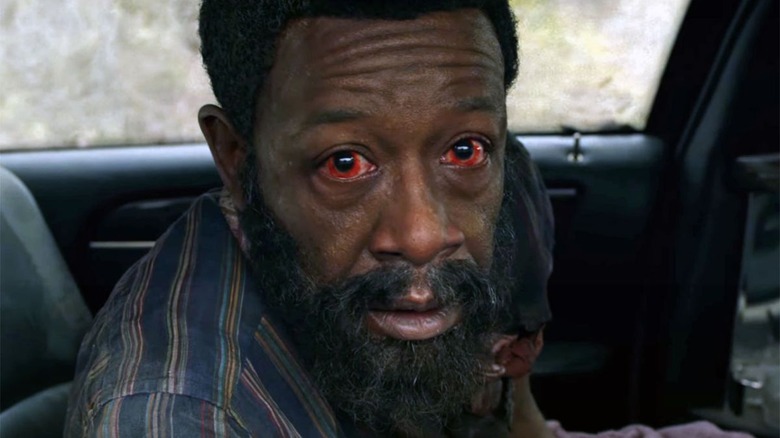 AMC
James himself has spoken about that phrase, telling a crowd at 2017's Walker Stalker Con in Atlanta, "I think he's speaking out loud what he believes to be his curse. I think the fact that he doesn't die isn't something that he celebrates. I think it's something where he's making a statement of fact. There have been plenty of opportunity when Morgan probably should have died and could have died and he didn't, and I think he's cursed." It's a punishment, the actor said, "for not doing what he should have done." More recently, though, James told ComicBook.com that his character has evolved beyond that sentiment. "I think that he has gradually allowed himself to believe in a future that isn't just about him living out his curse. And I think that John Dorie has been a large part of that, and I think that Grace has been a huge part of that."
However, the declaration has spawned theories that he's immune to the virus (via Undead Walking) and immortal to boot. If this is true, fans don't need to worry that James will leave the series, or that Morgan Jones will ever kick the bucket, no matter how many zombie swarms he gets thrown into. However, nothing is certain and no one is ever truly safe on "The Walking Dead," so you'll just have to stay tuned to find out.