Casting Surprises That Shook Up The Entire Franchise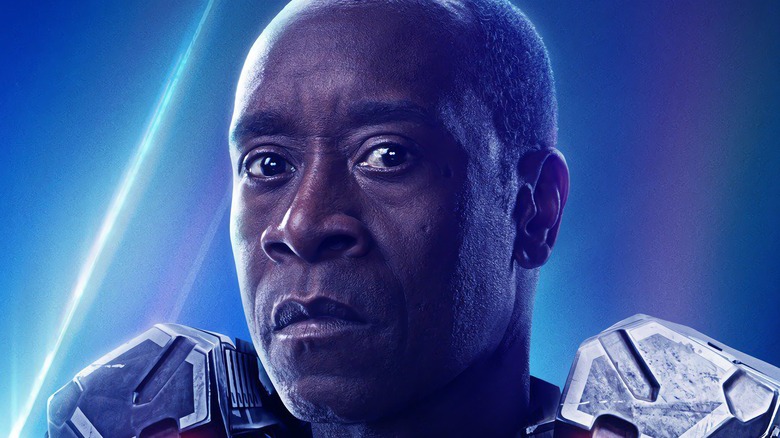 Marvel Studios
When one is watching a long-running franchise, one expects some level of consistency in casting. It'd be weird if Ron Weasley suddenly went from being played by Rupert Grint to some other ginger actor between the third and fourth "Harry Potter" movies, right? The same can be said for any major franchise role. 
But even these behemoth movies cannot escape the forces of reality, which tend to throw wrenches into the casting process. Sometimes, this means a new actor takes over a famous role. Other times, it entails unexpected performers entering an established series to play fresh characters. In still further instances, it means old actors making surprise returns in famous parts. The reasoning behind these maneuvers is varied. These kind of actions can be done out of sheer necessity, but sometimes, they're an attempt to shake up a franchise that could use some rejuvenation.
Taking these kind of big swings will always inspire some sort of reaction: Outright hate and jubilant praise are both possible. Whatever the response ended up being, however, these casting surprises undoubtedly changed their franchises forever.
George Lazenby brought endless possibility to James Bond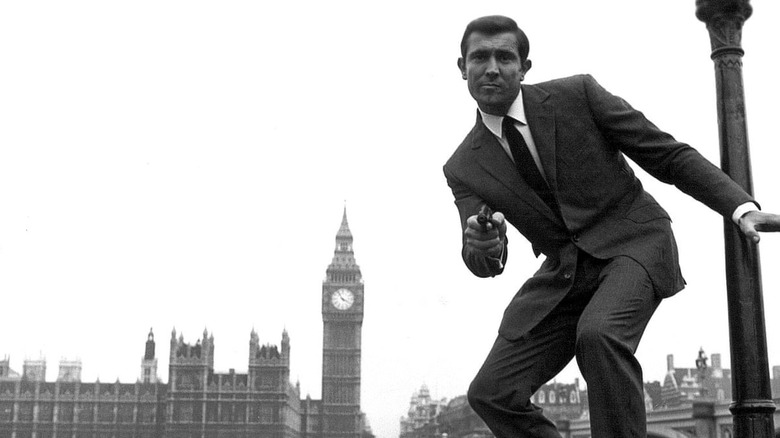 MGM/United Artists
Nowadays, it's a foregone conclusion that new actors can inhabit the role of James Bond. It's become such a normalized part of pop culture, in fact, that rampant rumors regarding who might replace Daniel Craig began long before he'd even confirmed he'd be leaving the role. But once upon a time, there was dire uncertainty over whether or not someone besides Sean Connery could successfully take over the part. Were audiences going to be able to accept someone new?
Once Connery vacated the part of 007, the producers of the James Bond franchise were forced to confront this daunting query. Enter George Lazenby, who made history as only the second man ever to take up the mantle of James Bond. Taking on the part in the 1969 movie "On Her Majesty's Secret Service," Lazenby didn't last long, handing the role back to Connery after just one appearance. "I had advice that James Bond was over anyway," Lazenby later explained. "It was Sean Connery's gig and, being in the '60s, it was love, not war. You know, hippy time. And I bought into that ... So I didn't feel like I was losing the million dollars." Though he wasn't a long-time staple of the series, Lazenby did establish the norm of the James Bond character being far bigger than just one actor.
Richard Pryor brought comedy to Superman III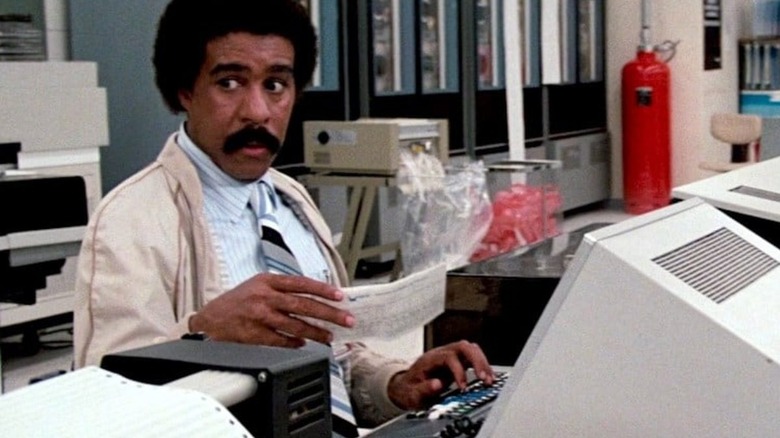 Warner Bros.
The first two live-action "Superman" movies have plenty of moments of humor. But they're staunch in their refusal to reduce Superman to being a gag machine: His exploits are treated with a seriousness that invites audience to get emotionally invested. In 1983's "Superman III," the tone begins to shift into a more outwardly comical direction, as established by an opening credits sequence comprised of extended slapstick.
This emphasis on over-the-top comedy is further solidified by Richard Pryor being part of the film's cast. Serving as the co-lead of the production, Pryor's presence was a boon from a marketing standpoint, given how popular the seminal stand-up comic was in this era. However, the heavy emphasis on his antics is one of the many ways "Superman III" moves from the atmosphere of its predecessors towards that of the infamous 1987 sequel, "Superman IV: The Quest for Peace." 
Pryor is not the exclusive reason the first series of "Superman" movies goes awry. Moreover, the fact that he got cast in such a high-profile production is a tremendous testament to the powerful pop culture presence he'd cultivated by the early 1980s. However, him having a sizeable part in "Superman III" is emblematic of creative choices that ended up dooming this franchise.
Mark Wahlberg's Texas daddy upended Transformers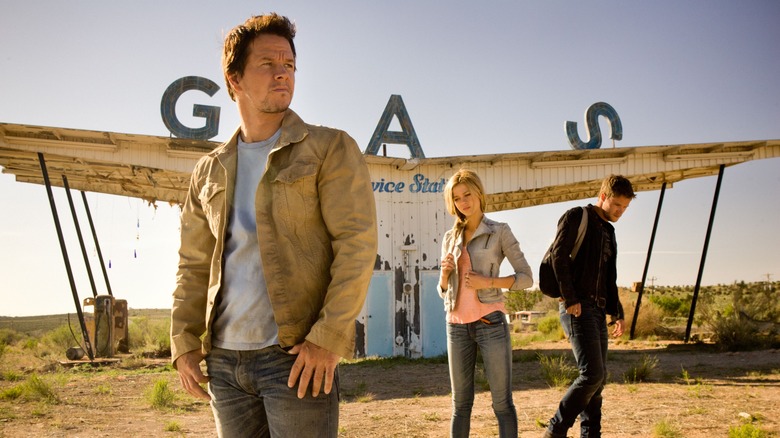 Paramount Pictures
Mark Wahlberg has never shied away from action-oriented genre fare. Save for 2001's "Planet of the Apes," though, Wahlberg has largely restricted these forays into mid-budget affairs like "The Italian Job." But Wahlberg opted to depart from this norm when it came time for 2014's "Transformers: Age of Extinction." Here, Wahlberg shares the spotlight with gigantic CGI robots and all the explosions director Michael Bay can imagine. Even Wahlberg recognizes what a unique role this was for him: "It's very different," the actor said to Collider. "But I enjoy the idea of playing the dad, and I hadn't really envisioned myself doing that until recently, but I enjoy it. I am a dad, I've got four small children; my oldest is a girl ... And, of course, just having the chance to work with Michael on a movie like this ... We've collaborated a lot together, so it's been a great experience."
Wahlberg's presence in the fourth and fifth "Transformers" movies was a shake-up for this franchise, as previous films in the series center around lead characters who are in high school or college. With Wahlberg's entrance, the franchise became headlined by middle-aged inventor Cade Yeager, whose offspring are about the same age as Sam Witwicky in the original "Transformers." "Age of Extinction" signalled a new creative direction for both the franchise and Wahlberg himself.
Ryan Reynolds was a superfluous addition to Blade: Trinity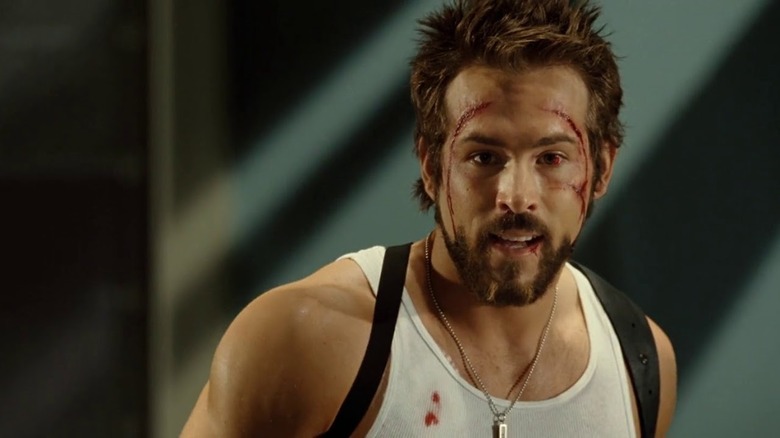 New Line Cinema
One way you can tell your franchise is getting past its prime is when the creative team begins adding in "cool" teammates to spice things up. The first two "Blade" movies excel due to Wesley Snipes' conviction and charisma in the lead role. The franchise's third entry, 2004's "Blade: Trinity," falls prey to the problem of changing the formula too much by adding in a new partner. This newbie character is Hannibal King, played by Ryan Reynolds. He might be a figure ripped from the comics, but he feels most reminiscent of Scrappy-Doo.
While Reynolds would end up nailing Deadpool, his turn as King is less successful. He never quite manages to make the character feel anything but extraneous. The "Blade" movies are at their best when they're "The Wesley Snipes Show" — giving him a new partner just fails to work. It doesn't help that King's presence couldn't even fulfill its cynical purpose in broadening the movies' appeal: "Blade: Trinity" made less than "Blade II" and hit a new critical low for the entire franchise. This is the film that sent the whole series spiraling. If something's broke, don't fix it — and especially don't fix it with a character like Hannibal King.
Busta Rhymes signaled the end was near for Halloween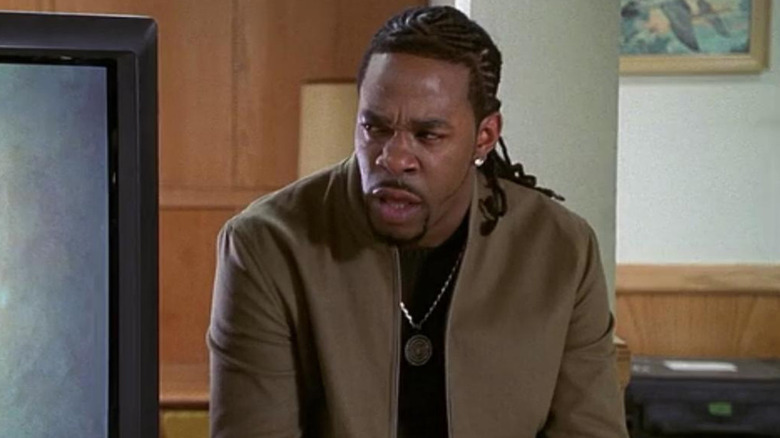 Over the years, the "Halloween" franchise has employed a string of unexpected performers ranging from Paul Rudd to "Weird Al" Yankovic. Also appearing in this series is none other than Busta Rhymes in 2002's "Halloween: Resurrection." Getting top billing as reality TV director Freddie Harris, this is Rhymes' only appearance in the franchise. A pronounced part of both the feature and its marketing campaign, Rhymes brought a lot of himself into the role. "Oh most definitely," Rhymes replied, when asked if he brought his own personality to his line delivery. "Rick Rosenthal is one of the greatest directors. I mean, for the most part, he's gonna give you his direction ... but he's not a close-minded director ... he loves to give you the freedom to feel comfortable and offer what you have as a flavor to your character."
While this approach is good for Rhymes as a performer, it does signal how "Resurrection" prioritizes stunt casting over delivering scares. This lopsided set of priorities is also reflected in the premise of "Halloween: Resurrection," which concerns a reality show inspired by the killings of the original "Halloween" movie. This tongue-in-cheek detour clearly aims to cash in on the success of "Scream." The casting of Rhymes is just another way "Resurrection" is trying to wink at the audience. The serious scares of the original "Halloween" are long gone here, now replaced by derivative meta-humor gags.
Dwayne Johnson put the pedal to the metal for Fast Five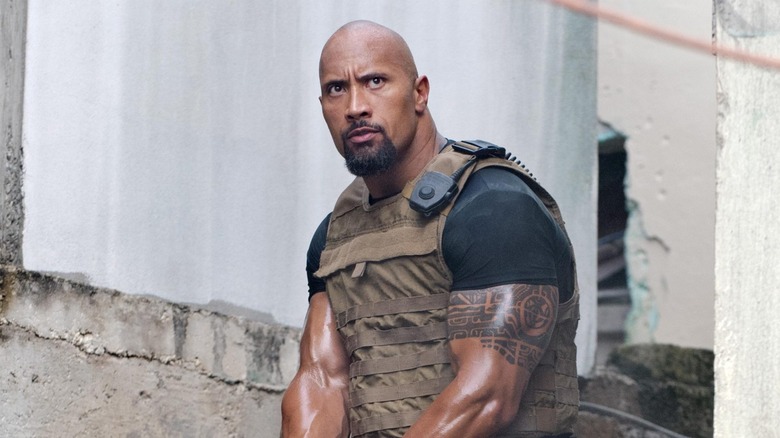 Universal Pictures
Apparently, it all comes down to the fans. In regards to 2011's "Fast Five," Vin Diesel maintains that there weren't originally plans for Dwayne Johnson to play Luke Hobbs. "Back in the fifth film, I was asking ,'Who should I work with?,'" Diesel said. "The reason why we brought Dwayne Johnson into 'Fast Five' was because of you. There was a girl named [Jen] Kelly who said, 'I would love to see you guys work together on-screen.' And so, we gave a role that was initially written for Tommy Lee Jones ... to Dwayne, and he shined in it."
This was a bold approach in many ways, especially since "Fast Five" is all about bringing back fan-favorite characters from prior films. Johnson plays the biggest new figure in the entire story: If his role didn't work, the whole film would be dragged down. Luckily, Johnson lights up the screen as Hobbs, and became an immediate fan-favorite. 
Since then, this once-newbie to the franchise has become a staple of the whole saga. He's appeared multiple "Fast & Furious" films, and even got his own spin-off film, 2019's "Hobbs & Shaw." It's hard to imagine the film series without Johnson, at this point. Thank goodness for all that fan campaigning — the "Fast & Furious" franchise would have missed out on one of its most important ingredients otherwise.
Josh Brolin made time for a bold turn in Men in Black 3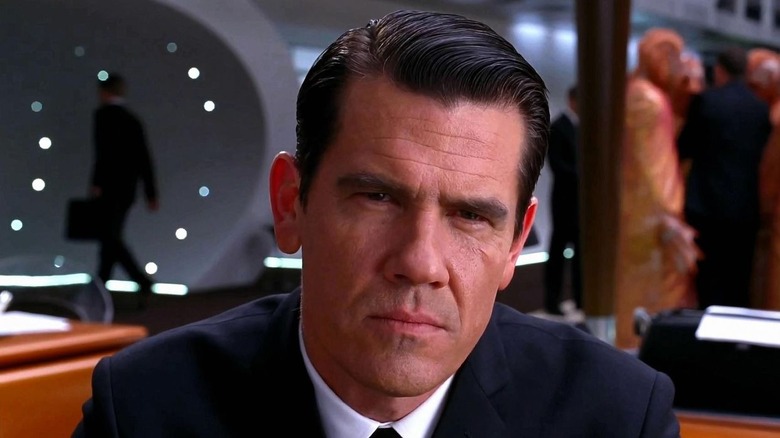 Sony/Columbia Pictures
Considering Josh Brolin has played Thanos across multiple Marvel Cinematic Universe movies and portrayed Cable in mega-hit "Deadpool 2," it can be hard to imagine a time when he wasn't a regular fixture of blockbuster cinema. But for years, Brolin was more at home in independent fare, with his achievements in this field culminating in roles in Best Picture nominees "No Country for Old Men" and "Milk." But after those films, Brolin was apparently ready to jump to the next level. He did just that with 2012's "Men in Black 3."
In this installment of the franchise, the formula gets slightly tweaked by pairing Will Smith's Agent J with a younger version of his partner, Agent K. This incarnation of the character is portrayed not by Tommy Lee Jones, but by Brolin. Doing a dead-on Jones impression, Brolin helps establish that "Men in Black" movies don't necessarily have to have Smith bounce solely off of Jones. Smith's charisma can work with any actor — particularly talented artists like Brolin. This, and the time travel factor that makes Brolin's character possible, opened up a whole new universe of storytelling possibilities for the "Men in Black" series.
Don Cheadle stepped into the suit in Iron Man 2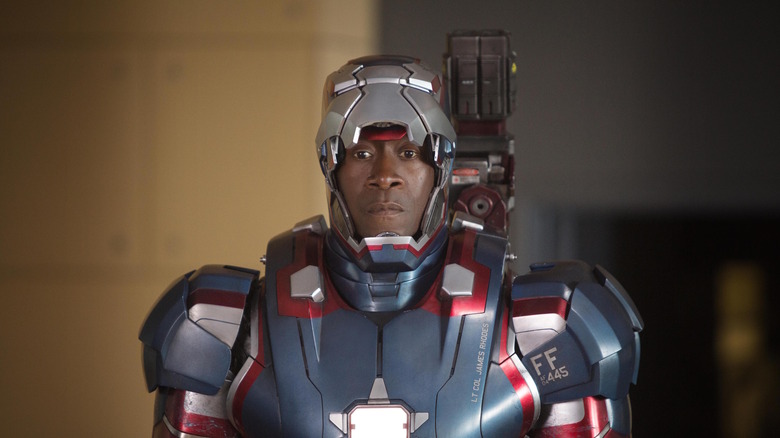 Marvel Studios
By now, the saga of Terrence Howard dropping out of the Marvel Cinematic Universe has exceeded the notoriety of Howard's performance in the original "Iron Man." After initially signing on for multiple movies, Howard was offered a severely reduced salary for "Iron Man 2," which inspired the actor to walk away from the role. After this development, Marvel Studios quickly got Don Cheadle to sign a multi-movie contract to take over the role of Colonel James Rhodes. Despite the daunting prospect of signing on to a decade-spanning role, Cheadle didn't sweat it. "Why wouldn't you want to be in more?" Cheadle said back in 2009. He continued, "All that aside, you want to do good movies ... it's cool to sign for multiple films."
Howard opted to make his turn as Rhodes a one-and-done, but Cheadle has managed to become one of the most enduring parts of the Marvel Cinematic Universe. Since first taking on the role in 2010's "Iron Man 2," Cheadle has played Rhodes in multiple MCU movies, and is set to take on his first leading role in the franchise in the upcoming Disney+ TV series, "Armor Wars." In Cheadle's hands,  Rhodey has expanded greatly and become a superhero who can stand on his own two feet. Not too shabby for recasting that, at one point, seemed too drastic to pull off.
Ian McDiarmid in The Rise of Skywalker was a surprise to be sure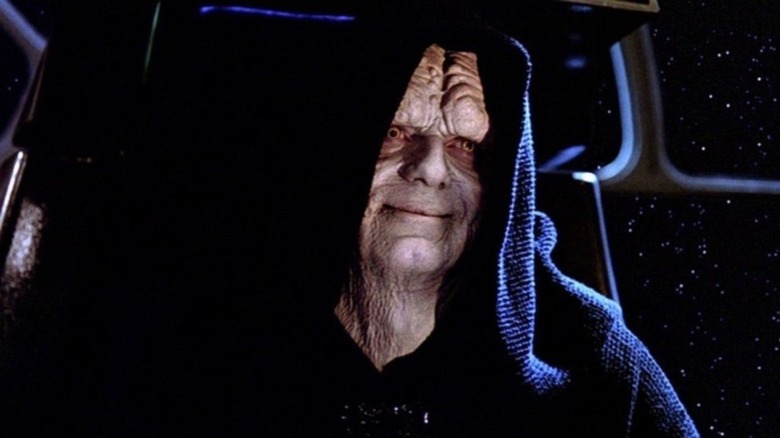 Lucasfilm/Disney
The "Star Wars" sequel trilogy movies were shrouded in such intense pre-release secrecy that even their titles were kept under wraps. So it went with 2019's "Star Wars: The Rise of Skywalker," the ninth entry in the Skywalker Saga. In a panel dedicated to the feature during 2019's Star Wars Celebration, however, a title and teaser trailer were unveiled, and Ian McDiarmid came out to reveal that he was back to reprise the role of Emperor Palpatine. The actor had portrayed the character in five previous "Star Wars" movies, but there had been no expectation of the actor returning to the part in further live-action endeavors. Fans went nuts.
Rumors abounded in the ensuring months. With this surprise casting news, the trajectory of the entire trilogy had changed. Speculation over the franchise suddenly incorporating Legends lore was everywhere, and discussions took place everywhere regarding how McDiarmid's presence would tie "The Rise of Skywalker" into earlier films. Palpatine's presence in "The Rise of the Skywalker" didn't meet every fan's expectations, but it can't be denied that it certainly did shake things up.
Jeremy Renner attempted be born again with The Bourne Legacy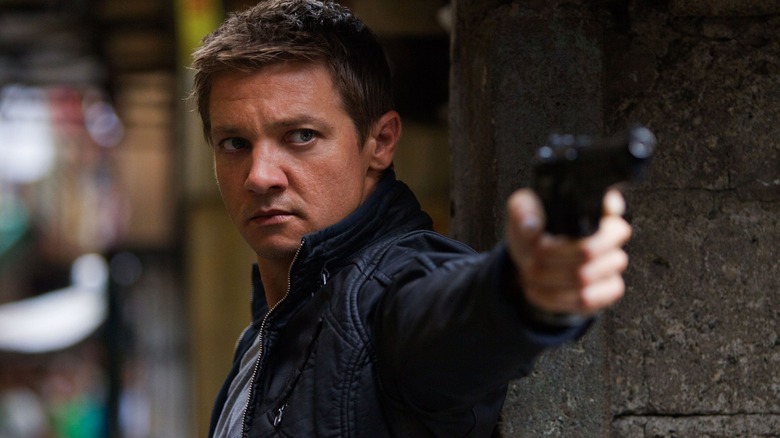 Universal Pictures
The "Bourne" movies are built on the appeal of seeing Matt Damon beat the crud out of bad guys. Could there really be a franchise if he wasn't around? Universal, dazzled by the massive box office success of these movies, intended to find out. In the fourth entry in this saga, 2012's "The Bourne Legacy," the focus of the story shifts to a new agent named Aaron Cross. Oscar-nominated performer Jeremy Renner takes over the lead role in this production, a part the actor initially couldn't inhabit. "He was off-limits," director Tony Gilroy explained. "And then ... when we were getting right up to the moment of desperation, all of a sudden, 'Avengers' pulled their schedule together and all of a sudden he was free."
With Renner officially onboard, "Legacy" became almost entirely devoid of Damon. Casting Renner in the lead role in a "Bourne" feature upended notions of what kind of stories could be told in this franchise. No longer was this saga restricted to the exploits of Jason Bourne: Renner's Aaron Cross kicked down a door leading to a whole universe of other agents. Unfortunately, moviegoers just didn't fall in love with Cross, and the "Bourne" movies returned to Damon with the 2016 film "Jason Bourne."
Edward Furlong would not be back in Terminator 3: Rise of the Machines
Warner Bros.
For many of the years "Terminator 3" was in development, it was widely presumed that Edward Furlong would reprise the role of John Connor. Furlong even signed on in August 2000, with speculation at the time bubbling that Furlong's Connor might transform into the leader of a post-apocalyptic resistance. However, once production got further along, it was revealed that a new performer would take on the part, due to Furlong's legal troubles at the time. Nick Stahl was the new John Connor, a total shake-up for the "Terminator" franchise considering how much Furlong had been connected to the series.
Stahl was the first person to succeed Furlong in the part of John Connor, but he wouldn't be the last. With this casting, Stahl established a new trend: Actors take over the role of John Connor for a single film before moving on. Subsequently, Christian Bale and Jason Clarke also put their own spins on John Connor, which moved further and further away from Furlong's. Stahl's recasting may have seemed inconsequential when cameras began to roll on "Terminator 3," but it set up a precedent that has lingered throughout the rest of the franchise.