The DC Comics Fantasy Series Everyone's Binging On Netflix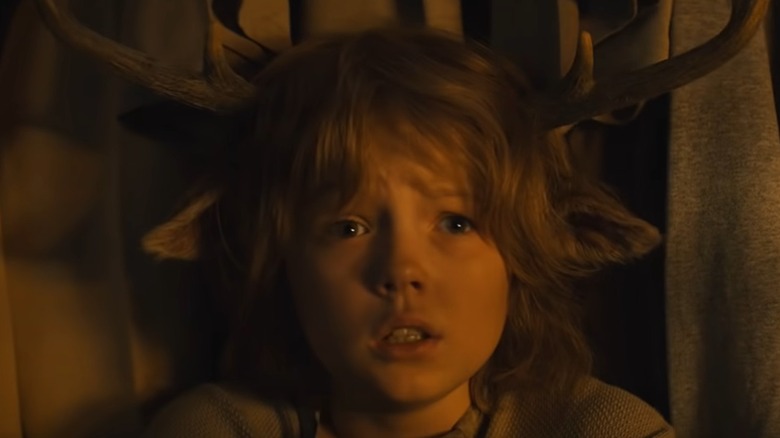 Netflix
Disasters at a global scale can lead to all sorts of unexpected hijinks, can't they? Sometimes they peter out embarrassingly, like when Y2K left a lot of eager preppers shuffling their feet and unsure what to do with 50 crates of canned peaches. Other times, they lead to the emergence of a new and inexplicable series of human-animal hybrid children, watching their "Minecraft" twitch streams while they grow rhino horns or elephant trunks or whatever. You know, that old trope.
At least that's what's happening in the world of "Sweet Tooth," the piping hot new Netflix original series based on the Vertigo comics written by Jeff Lemire. The show explores a post-apocalyptic landscape, ten years after a catastrophe called "The Great Crumble" started wiping out the population through a viral plague. It just so happened that around the same time that folks started dropping off, kids started being born with unusual features — dog ears, pig snouts, and the like. Correlation and causality being pretty much one in the same to your average Joe, these bouncing baby "Island of Doctor Moreau" callbacks wind up serving as scapegoats. Also, scaperabbits, scapepuppies, and so on.
A sheltered little deer boy named Gus (Christian Convery, "Pup Academy") finds himself thrust into this unforgiving environment when he's pulled from his secretive refuge by an adventurer called Jeppard, played by Nonso Anozie of "Game of Thrones."
Sweet Tooth is charming Netflix viewers around the world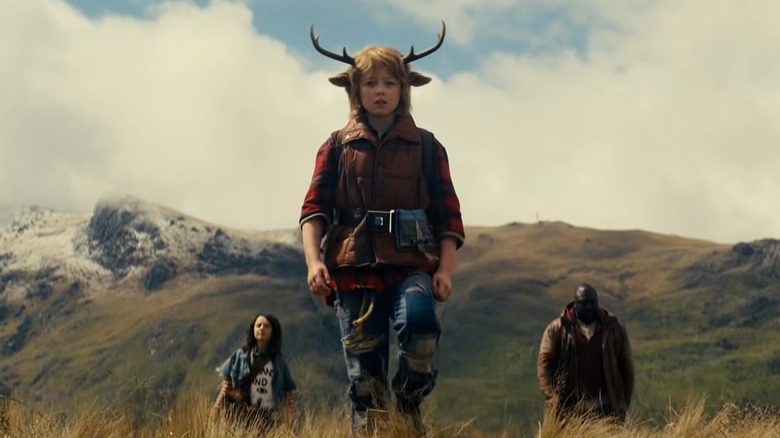 Netflix
Season one of "Sweet Tooth" hit Netflix on June 4, 2021, and was instantly hit by a wall of critical acclaim and emotions. Rotten Tomatoes currently has the show at a staggering 98% critical approval rating.
The first eight episodes, which were developed by Jim Mickle and co-produced through Susan and Robert Downey, Jr.'s Team Downey production company, didn't leave a dry eye in the proverbial house. Rolling Stone lauded "Sweet Tooth's" ability to reel audiences in with what, by rights, should have been a grim fantasy, only to t-bone them with a "mostly optimistic fairy tale — and a very entertaining one, at that." The publication — along with more than a few others — heaped praise on Convery's work as Gus, continuing in the proud tradition of "Stranger Things" by offering viewers a child actor who, flying in the face of reason and pop culture history, isn't even a little annoying. Anozie's Jeppard, James Brolin's narration, and Will Forte's heartstring-tugging turn as Gus' father have also been pointed to as unrelenting propagators of the feels.
"Sweet Tooth" is currently available to stream on Netflix.