The '90s Law Dramedy Hidden Gem You Can Binge On Hulu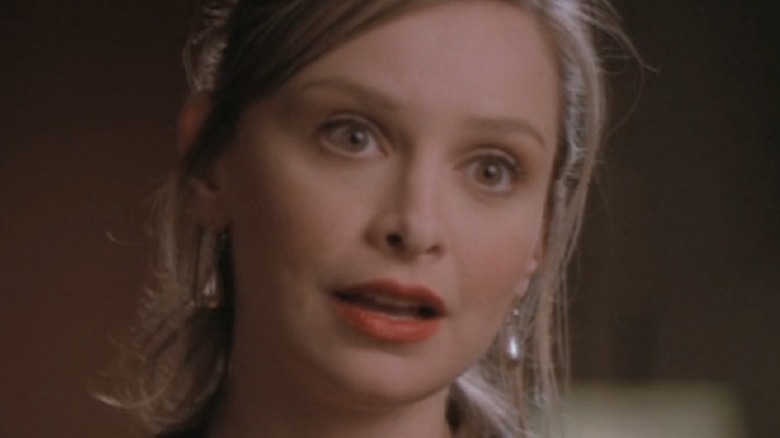 Fox
These days, David E. Kelley is known for bringing twist-filled crime dramas like "Big Little Lies" and "The Undoing" to the small screen. But in the 1990s and early 2000s, he was recognized for creating and producing a slew of legal dramas that focused on the personal and professional lives of lawyers. One of his most popular shows from that period that has since flown a little under the radar is the Calista Flockhart starring comedy "Ally McBeal," which is currently available on Hulu.
What set "Ally McBeal" apart from Kelley's other legal dramas like "The Practice" and "Boston Legal" was its eponymous protagonist. Ally (Flockhart) was a distinctly modern woman who could be a ferocious litigator one minute and get tongue-tied upon seeing her ex the next. The series saw her working at the unconventional law firm Cage and Fish, where office flings were the norm and everyone convened to gossip in the large unisex bathroom. Ally's dual-identity as a talented up-and-coming attorney and a flustered single woman in her 20s won the show lots of praise. But the series wasn't without its backlash.
While that might all sound like pretty standard TV workplace comedy fair, "Ally McBeal" proved to be quite controversial when it originally began airing in the '90s. From Ally's collection of mini-skirt business suits to the series' frank depictions of casual sex and dating, critics found a lot to pick at. It even led to the character appearing on the cover of a notable issue of TIME Magazine.
Ally McBeal generated a fair amount of controversy when it first aired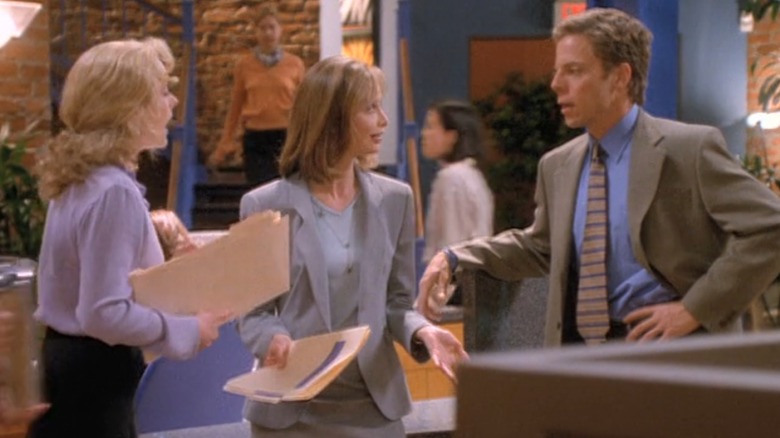 Fox
The cultural conversation about "Ally McBeal" came to a head on the June 29, 1998 cover of TIME Magazine. Ally's face was pictured next to prominent activists Susan B. Anthony, Betty Friedan, and Gloria Steinem with the caption "Is feminism dead?"
The accompanying article, written by Ginia Bellafante, didn't exclusively focus on Ally, but it did cover the character in a larger discussion about feminism at the end of the millennium. In the piece, Bellafante argues, "much of feminism has devolved into the silly," citing "Ally McBeal" as an example.
"The show ... focuses on a ditsy 28-year-old Ivy League Boston litigator who never seems in need of the body-concealing clothing that Northeastern weather often requires," Bellafante wrote. "Ally spends much of her time fantasizing about her ex-boyfriend, who is married and in the next office, and manages to work references to her mangled love life into nearly every summation she delivers."
There were other viewpoints on Ally's dating obsessions and love of a short skirt, though. In a 1998 piece in The Baltimore Sun, writer Mary Corey explored the phenomenon of Ally's wardrobe. In the article, a Maryland lawyer named Ariana Wright gave Corey an alternate take on Ally's choice of business attire. Wright argued, "'[She's] making fun of the whole attempt to portray professional women as trying to be like men ... The character is rebelling against the idea of having to look a certain way or act a certain way to represent a feminist or enlightened professional female.'"
You can check out what all the fuss was about by binging "Ally McBeal," which is currently available to stream on Hulu.