The $20 Civil War Pocket Watch That Sold For Hundreds On Pawn Stars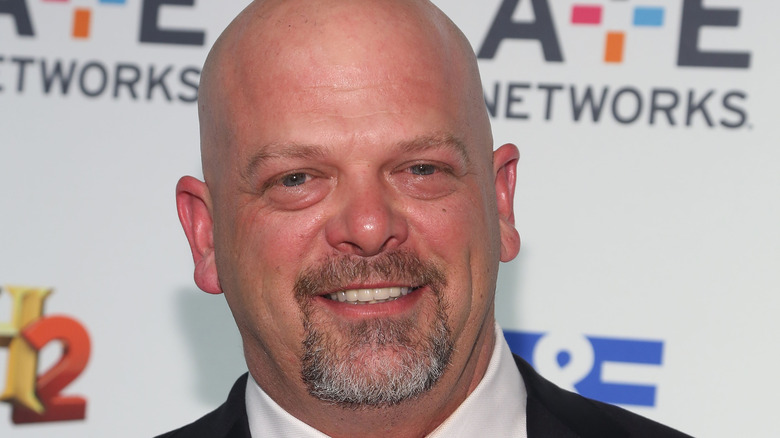 Taylor Hill/Getty Images
It goes without saying that because the American Civil War is one of the United States' most important historical events, many collectors are interested in items from that era. It was one of the bloodiest wars ever fought, and it makes sense why people would want to appreciate items from a time where people fought and died so brutally for their ideals. Because there's a market for this field of historical collection, Civil War memorabilia is no rare sight in the display cases of the "Pawn Stars" shop. 
The market for authentic Civil War items is so lucrative that a trader or collector like "Pawn Stars" host Rick Harrison can make big bucks from relatively innocuous items. This occurs in one Season 6 episode of the show, when a woman brings in an engraved silver pocket watch that was supposedly owned by a Civil War soldier. She claims that she bought the watch for just $20. By the end of the day, however, she sold the watch for hundreds more.
Time really is money in this episode of Pawn Stars
When the seller first brings the watch into the shop in the "Jet Setters" episode, Rick is excited by the item. Silver pocket watches were a big deal in the 1800s. In particular, the engraving reveals that this one was a gift between two soldiers after one saved the others' life in the Battle of Cross Keys. This is good, because it adds a story to the watch that will increase its value. On top of that, everything else about the watch seems authentic — from the manufacturer and materials to the handmade engraving. Even Rick's expert seems convinced that the watch is not a fabrication.
However, Rick's expert also neglects to give the item a specific appraisal. This does not deter the seller, who walked in expecting to make just a few hundred bucks. After learning there was more to the watch than she imagined, she quickly changed her price to $2,000. Thankfully, Rick is also an expert at playing hardball, and counter-offers with just $700. This begins a stubborn bout of bartering, where the two whittle each others' offers down to something both can accept. In the end, Rick buys the pocket watch for a stunning $1,300. That's not a bad profit return on a $20 watch, and it'll probably make Rick more than that if he ever sells it.